The thought of that pimple that has just popped up, or that red pointy protrusion on your nose oozing pus, might make you want to hide your face. But, you do not need to anymore! Understand the underlying causes behind the types of acne that you are suffering from. And use this information to say good bye to your ever popping pimples.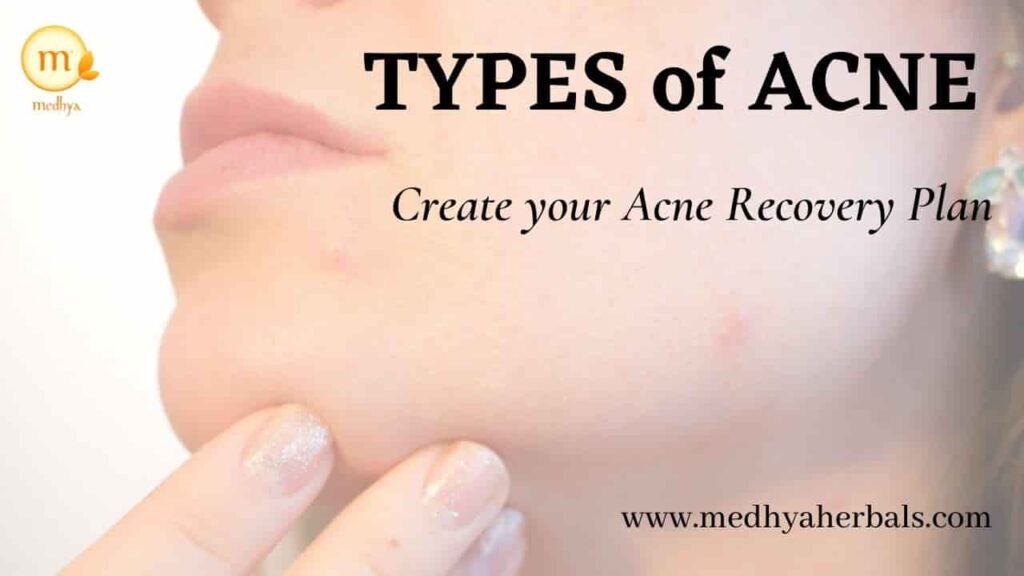 What You'll Learn | Click on Topic to Go There
Acne saps Physical, Social, and Emotional Health!
Acne, also known by its Ayurvedic name, Yauvan Pidika, is a potentially debilitating skin condition, and not just physically, but also emotionally and socially.
When pimples cover visible parts of your skin, specially your face, it is all but natural to get shy for social functions and public places altogether. You find yourself with scarfs all the time, when you can't easily mask it with make-up!
Women are more prone to Acne Breakout
Acne is a general problem for anyone who has entered adolescence and is passing through puberty. Acne is more prevalent among women than men. At the adolescent stage, there's not much of a difference in the prevalence of acne among these two gender groups, but once the twenty-year threshold is crossed, the prevalence swings so much that 85% of people above twenty years old with acne just happen to be women.
So, if you've come here seeking remedies for acne, keep in mind that you're not alone. But the fact that you're not alone does not mean that it's okay that you're one of the numbers with this worry.
At Medhya Herbals, we are dedicated to provide you with holistic health care regimens that can help to relieve the health issue from the roots.
Check your Health and Hormone Balance with 2 Mins Quiz
Identify your health imbalances through the lens of Ayurveda. Receive specific step-by-step recommendations from Medhya Herbals on Ayurvedic diet and lifestyle to achieve optimal health.
Types of Acne based on affected Body Parts
Acne can breakout in different and multiple body parts at once. Usually, the affected area is dependent on your specific imbalances and most affected body organs. Here is a modern medicine's classification of acne according to the body parts:
Acne Vulgaris, which is most commonly present.
Acne Rosacea – This is primarily find in middle aged women or those nearing the menopause. Pitta dosha imbalance during perimenopause triggers development of rosacea.
Perioral Dermatitis – It usually occurs with small papules around the mouth and chin. It primarily affects young women.
Acne Conglobata – This is categorized into severe type of acne. It affects the back, chest, and other parts besides the face.
Types of Acne based on the Symptoms
The affected doshas have given a good idea of the symptoms of acne that are commonly manifested. Summarily, depending on the type of acne, health symptoms could include:
Blackheads – these are microscopic inflammations that develop when the pores are closed.
Whiteheads – IF the pores are open, acne inflammation takes the form of whiteheads.
Large and firm inflammations that appear below the skin.
Pus-filled, yellowish areas of skin.
In severe cases, one will develop sac-like, pus-filled areas that spread under the skin with diameter of or greater than 5mm. These are categorized as cysts.
Types of Acne in Ayurveda – Symptoms based Diet and Lifestyle Solution
Acne breakout is a distress signal from your body of the prevailing health imbalances. Generally, health conditions arise when there's an imbalance involving any of the three doshas, be it the Pitta Dosha (Fire & Water), Vata Dosha (Air & Space), or the Kapha Dosha (Earth & Water).
Since acne is a skin condition, one can be more specific about what happens with the skin when you are struggling with imbalances in your body.
Skin Conditions Due To Vata Imbalance
When you suffer from Vata Dosha Imbalance, then your skin tends towards following skin health symptoms. If any of these problems are bothering you, then follow the Vata balancing diet here.
Black/brown discoloration
Rough and dry skin
Piercing pain
Numbness and loss of sensation
Cracks in affected area of skin
Skin Conditions Due To Pitta Imbalance
Pitta Dosha Imbalance leads to inflammation and burning sensation. It is also one of the primary Doshas that trigger Acne breakouts, especially adult acne. If any of the following skin health issues are bothering you, then follow the Pitta balancing diet here.
Coppery or bright red discoloration
Burning sensation
Pus formation
Fever
Inflammation
Ulceration, etc
Hives and rashes
Skin Conditions Due To Kapha Imbalance
Kapha Dosha Imbalance leads to clogged pores and development of fungal infections in the skin. While Pitta Imbalance triggers the breakouts, Kapha Dosha Imbalance is the leading cause behind development of Acne in the first place. If any of the following skin health issues are bothering you, then follow the Kapha balancing diet here.
Pale or white discoloration
Fluid retention and clammy skin
Oiliness
Itchiness
Heaviness
Ayurveda provides us a clear framework to understand various types of acne and its accompanying symptoms. We have shared with you specific diet and lifestyle regimen that you can take to remove the underlying dosha imbalance that is creating your acne symptoms.
So, get started and do leave your comments and questions below!
Interested to join like-minded women to share and learn about holistic health care for your health issues? Join Medhya's Women Exclusive Community on Facebook.