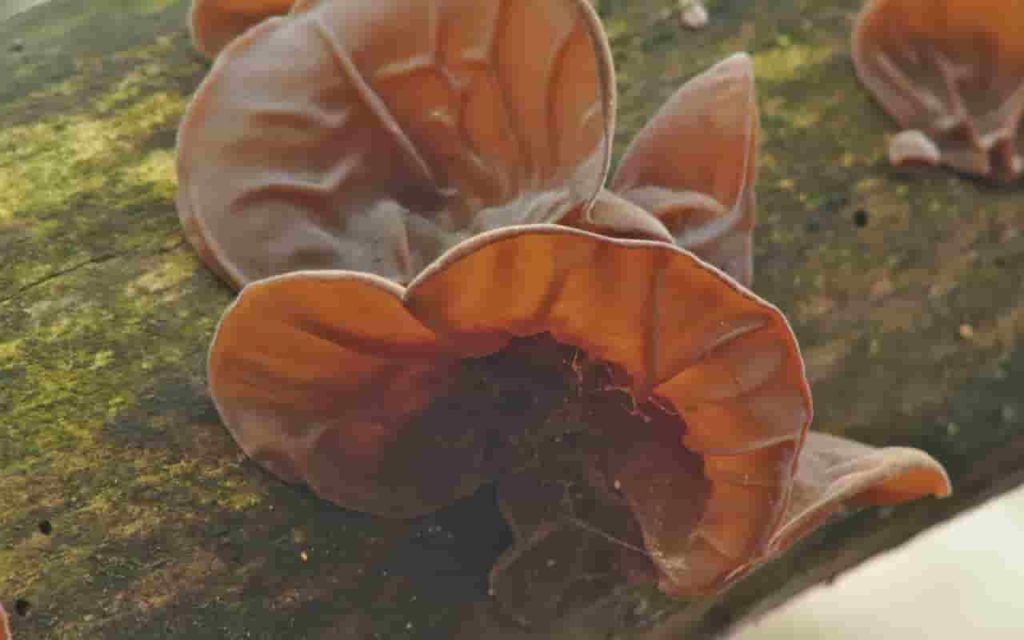 Black Fungus or Wood Ear Mushroom is an edible fungus and delicious food ingredient. It is a functional food, which means it has nutritional and therapeutic benefits.
Wood ear is a popular mushroom across Eastern Asian countries. In this post we will learn about health benefits, nutritional value, and delicious recipes of black fungus. Let's go!
The scientific name for black fungus is Auricularia polytricha. Some of the common names are wood ear, cloud ear, Buddha's ear, or jelly ear.
What You'll Learn | Click on Topic to Go There
How does Wood Ear Mushroom taste like?
Black fungus has chewy and crunchy texture. It looks like a thin layer of solidified jelly. And unlike Shiitake mushrooms and Enoki mushrooms, fresh wood ear doesn't carry strong flavour.
Hence, it is much easier to adapt if you are just starting to venture out on mushrooms.
Check your Health and Hormone Balance with 2 Mins Quiz
Identify your health imbalances through the lens of Ayurveda. Receive specific step-by-step recommendations from Medhya Herbals on Ayurvedic diet and lifestyle to achieve optimal health.
Black Fungus Consumption
According to Chinese medicine, Black fungus promotes heart health, gut health, and prevents inflammation. It is usually available in dried form in the market.
But, you can also find delicious, succulent, and fresh wild black fungus during the season (from early summer to early winters).
It is quite easy to cook. You can easily stock dried varieties and turn them into delicious meal options in a jiffy!
You can add Black fungus mushrooms to a variety of dishes such as stir-fries, soups, curries, and salads. It adds in healthful nutrients, fullness, and good texture to the meals.
Wood ear is cooling in nature. Therefore, you should cook it with herbs and spices such as ginger, onion, and garlic to balance the meal.
Can you eat Wood Ear Mushroom?
Wood ear is an edible fungus. In moderation, it is highly beneficial for health. It promotes growth and nourishment. Avoid raw form and always cook wood ear before eating.
Also, you should limit wood ear mushroom, when you are:
Suffering from high viscosity of the blood or taking blood thinners.
During pregnancy and breastfeeding.
How to cook Wood Ear Mushroom?
Soak dried wood ear mushroom in water for at least 30 mins. This will help to get right texture and moisture. However, do not soak them for more than 2 hours.
Dried wood ear can swell up to four times of its original size in water. After that you can drain the water, wash it properly, and use it for cooking.
Fresh varieties on the other hand do not require much to do. You can simply wash them and cook.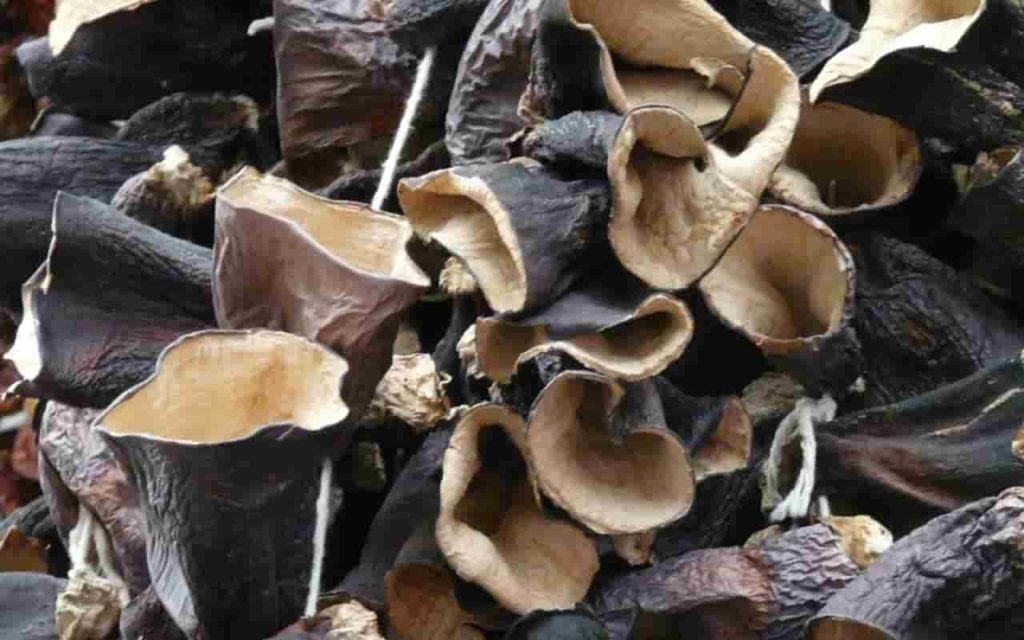 What are the health benefits of Black Fungus Mushroom?
1. Nutritional Value of Wood Ear
Fiber: Black Fungus or Wood Ear is a rich source of fibre.
Prebiotics: It has high content of polysaccharides, which act as prebiotics and support gut health.
Vitamins: Wood ear is a good source of Vitamin K, Folate, and Vitamin B2.
Minerals: It is rich in Minerals such as Iron, Magnesium, Potassium, Calcium, and Phosphorus.
2. Promotes Heart Health and Weight Loss
Black Fungus increases blood circulation and prevents formation of blood clots.
It reduces bad cholesterol LDL levels and prevents oxidation damage to heart from free radicals.
Regular consumption of wood ear can help in heart conditions such as atherosclerosis and coronary heart disease.
It supports gut health, boosts digestive system functioning, and supports Weight loss.
3. Anti-Microbial, Prevents Inflammation, Boosts Immunity
Wood Ear is a rich source of antioxidants in the form polyphenols. It prevents inflammation, boost immunity, and prevents oxidative damage.
It is anti-microbial in nature. Therefore, it prevents stomach disorders such as dysentry and diarrhea.
4. Supports Healthy Liver and Brain Function
Wood Ear mushrooms contain enzymes and bioactive compounds that prevent brain cell degeneration and increase blood circulation to brain.
Wood Ear mushroom prevents fat accumulation in the liver. Also, it supports detoxifying function of the liver.
It purifies the blood and boosts blood cell generation.
1. Dried Black Fungus Mushroom and Cauliflower stir-fry Recipe
Print Recipe
Dried Black Fungus and Cauliflower Stir-fry
A delicious yet supernutritious meal option made with dried black fungus and cauliflower. Turn this recipe around in a jiffy when you run out of groceries or ideas! Healthy and Kids friendly.
Ingredients
50

g

Dried Black Fungus Mushroom

Replace with Fresh about 200 g.

250

g

Cauliflower

Medium sized

1

inch

Ginger

2

tbsp

Cooking Oil

Sesame Oil, Peanut Oil, or Olive Oil

1

Medium

Onion

3

Cloves

Garlic

1½

tbsp

Soy Sauce

Or Salt to Taste

1½

tsp

Rice Vinegar

Optional

2

tbsp

Roasted Sesame Seeds

Optional. Black or White.
Instructions
Preparing the Dried Black Fungus Mushroom
Heat 2 glasses of water in a pan.

Once the water is nearly boiling, close the heat.

Add the dried black fungus mushrooms and leave it soaked for 30 minutes.

The mushrooms will nearly swell to four times of their original size during soaking.

Drain the mushrooms. Wash and cut them into smaller size. Keep aside.
Preparing the stir-fry
Wash and cut the cauliflower.

Finely chop the onion, garlic, and ginger.

Heat the pan and add cooking oil.

Once the oil is slightly hot, add in onion, garlic, and ginger. Mix well.

Once the mix is slightly brown, add in the cauliflower.

Mix well, cover, and lower the heat.

After 5-7 minutes, the cauliflower will turn soft. Keep the heat low.

Add in mushrooms, vinegar, and soy sauce. Mix well.

Keep heat low and cover for another 5 minutes.

Sprinkle the roasted sesame seeds for garnishing.

Serve with steamed rice or noodles. Enjoy!
2. Fresh Wood Ear Mushroom Stir-fry – Indian-style Recipe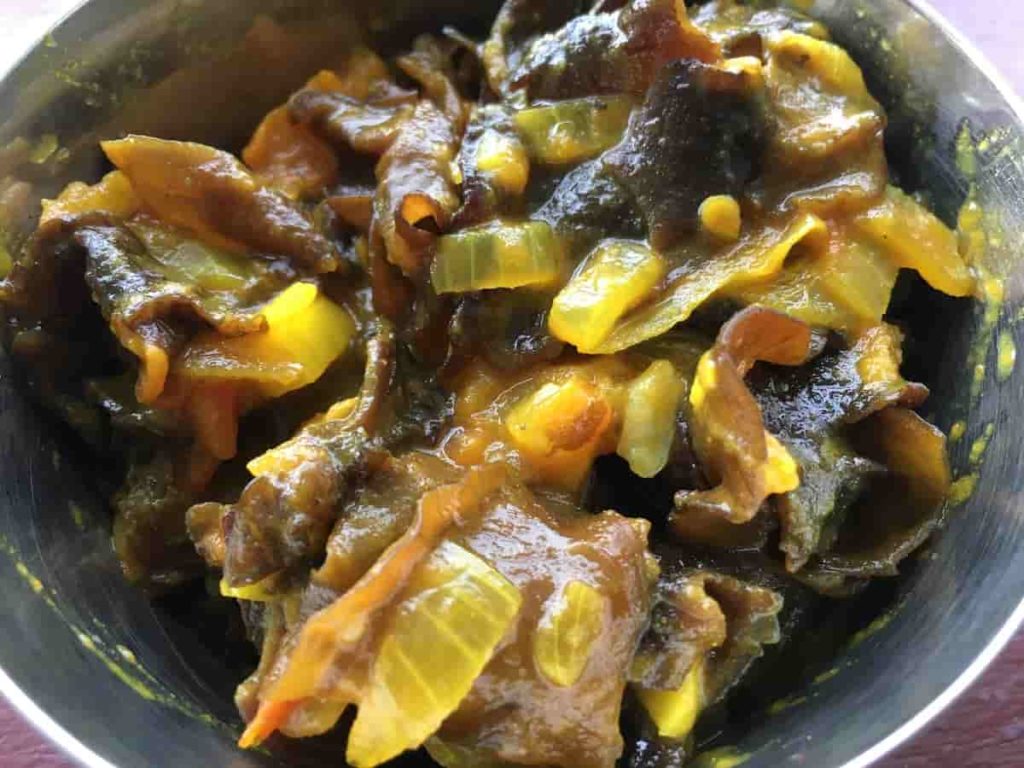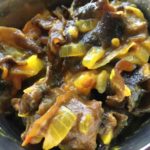 Print Recipe
Fresh Wood Ear Mushroom Stir-Fry – Indian Style
This black fungus stir-fry is an easy one pot recipe prepared with Indian herbs and spices. It is delicious and nutritious. Add this side to your meals for better nutrition and health profile.
Ingredients
250

g

Fresh Black Fungus or Wood Ear Mushroom

1

tbsp

Cooking Oil

Olive Oil, Mustard Oil, Sesame Oil, Peanut Oil

1½

tsp

Turmeric Powder

1

inch

Ginger

Grated or Pounded

3

cloves

Garlic

1

Medium

Onion

1

Medium

Tomato

It can be replaced by 1½ tsp Rice Vinegar.

Pinch

Asafetida

1½

tsp

Soy Sauce

or Salt to taste
Instructions
Wash and cut the black fungus mushrooms.

Finely chop onion, ginger, garlic, and tomato.

Heat oil in a pan. Once the oil is hot, add chopped onion, ginger, and garlic.

Mix well till the ingredients turn golden brown.

Add soy sauce, chopped tomato, and turmeric powder. Mix well and Stir for another 2 mins.

Add in the mushrooms. Mix well.

Lower the heat and cover for 3-4 mins.

Serve with steamed rice or noodles. Enjoy!
We would love to hear from you! If you try these recipes, do leave a comment and rate the recipe! Don't forget to take a photo, tag @medhyaherbals, and hashtag it #medhyaherbals on Instagram. Eat Well, Feel Happy, and Look Awesome!
References