Chana Sundal is a street snack and temple food from the South of India. It is super easy and quick to make too. This recipe yields a delicious, healthy vegan/gluten free dish. It is very versatile dish; you can adjust the quantity of spice according to your taste.
This recipe makes for a great protein packed breakfast option. You can also have it with some veggies and grains to make your complete meal.
It is a balancing recipe for Vata and Pitta dosha. For Kapha, please take both coconut and chickpeas in moderation.
Serving: 4-5 persons
Time to cook & Prepare: 45 mins
Soak Time: 6-8 hours
Ingredients
200 grams or 1 cup boiled chickpeas (canned or boiled at home)
1tablespoon vegetable oil or coconut oil/butter/ghee
A pinch of asafetida Hing (optional)
1 teaspoon mustard seeds
1 teaspoon urad dal (optional)
1 dried red chili
2 springs of curry leaves
1 green chili sliced (as per your taste)
4~5 tablespoons grated coconut fresh or frozen or desiccated coconut
2teaspoons lemon juice
¼ teaspoon Salt
if using canned chickpeas add extra ¼ teaspoon salt
2~3 tablespoons of fresh coriander leaves
Optional: Add chopped onion, tomatoes, cucumber, and green mango (or lemon juice), coriander leaves. mint leaves for variation.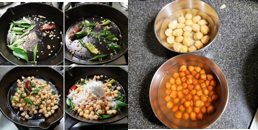 Method of Preparation
Drain the chickpeas in a sieve; rinse and set aside. (You can boil canned chickpeas in plain water to make them soft and then drain)
In a pan heat the oil on medium heat. Add the asafetida and mustard seeds. Once they begin to splutter add the urad dal along with the red chili. Cover with a lid if mustard is popping out.
Stir for a few seconds and add the curry leaves and green chili. Let them infuse the oil for a minute.
Add the chickpeas and then grated coconut.
Add 1or 2 teaspoons water if spices are burning.
Mix well and fry for 2-3 minutes. Turn the heat off and add lemon juice and salt.
Garnish with coriander leaves if you like. • This can be eaten warm or cold。
If you are using dried chickpeas
Wash 1/2 cup (100 grams) of chickpeas and soak in about 2 cups of water for at least 6~8 hours. Chickpeas after soaking will become about 2 times the volume of the original.
Drain the chickpeas and wash them.
In a pressure cooker add chickpeas with 1 cup of water and 1/4 teaspoon salt. Cook on medium-high heat.
As the pressure cooker starts steaming turn the heat down to medium, and cook for about 8~10 minutes.
Turn off the heat and wait until steam has stopped before opening the pressure cooker.
Chickpeas should be soft and tender.
Or cook in pan
Cook soaked chickpeas in 2~3 cups of water in a pan. Add more water as needed. Cook until soft and tender.
Notes
You can use cooked brown chickpeas or whole green moong dal/Gram lentil/chana dal. Do not overcook them.