Diabetes is a heterogenous health disorder in which blood glucose level rises above normal values due to the body's inability to process the sugar into energy. It is more commonly known as Sugar and has been increasing at an alarming rate, even in the younger generation.
While it can be managed by changes in diet and lifestyle, it can also lead to serious complications if the blood sugar level is not managed properly.
This post is dedicated to understanding diabetes, its causes, disease development process, Diagnosis, and Symptoms.
What You'll Learn | Click on Topic to Go There
Understanding Glucose – The Primary Fuel for our body
Glucose is the main source of fuel for our bodies. When food is digested it is metabolized (broken down) into fats, proteins, and carbohydrates.
These macronutrients are further processed by our digestive system into smaller molecules such as Carbohydrates are broken into Glucose and Fructose, Proteins into Amino Acids, and Fats into Lipids.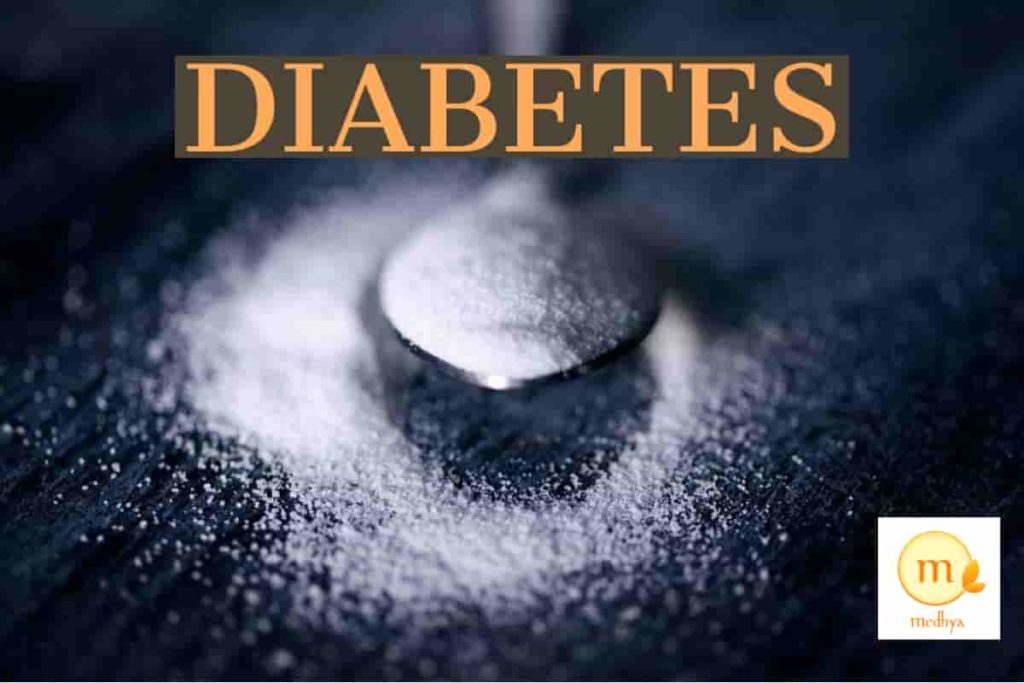 These smaller molecules then move into the bloodstream through our digestive tract, primarily the small intestine. From the bloodstream, these molecules reach the organs and tissues, and provides them with the required energy and nutrition.
What is Insulin?
For the conversion of blood Glucose to energy, a hormone called Insulin is required. Insulin is produced by Pancreas in the body and it acts as the gatekeeper to allow the movement of Glucose from blood stream to the body's cells.
Our body cells can convert Glucose into energy only under the action of Insulin. In case, insulin is not there or does not act properly, this glucose will keep building up in our bloodstream.
A condition when the blood sugar levels stay in high range on chronic basis is termed as Diabetes.
What is the main cause of Diabetes?
Diabetes can be triggered by faulty lifestyle, faulty diet, and or excessive stress. It can also exist as a secondary disease in relation or other health disorders such as Coronary Heart Disease.
1. Faulty Diet
One of the primary causes of high blood sugar levels is constant intake of high calorie foods that overload and destroy the functioning of our organs.
Some of the organs that are on the forefront of food assimilation and glucose metabolism such as Pancreas and Liver are fairly robust.
However, due to chronic abuse and overload, they start to malfunction. This is what happens in the case of current status of Diabetes Mellitus II.
2. Lack of Physical Activity
Additionally, any form of physical activity assists in the removal of glucose from bloodstream. It speeds up glucose metabolism, supports functioning of liver and pancreas, and also increases insulin sensitivity of both blood cells and pancreas.
So, if one is physically active, they may still be able to prevent high blood sugar to large extent. But if somebody lacks movement, they are bound to see worse results and very fast appearance of the Diabetic symptoms.
How does Diabetes progress? – Disease Development Process
One of the keystones in Diabetes development is chronically high blood sugar level resulting from either lack of Insulin or Insulin Resistance.
1. Chronic High Blood Glucose Levels
Here is a step by step guide to development of high blood sugar levels.
Whenever you eat food, it is broken down into different smaller molecules by digestive system organs. Read this article to understand the process.
If your organs and body system is functioning well, there is a short spike in blood sugar levels when your food has high levels of simple carbohydrates and low levels of fibre in the short term. But, this spike goes away as your body is highly efficient to locate the nutrients where they are needed. Read here to understand what is simple carbohydrate and how it affects your blood sugar levels.
However, even if your body is working well, if you constantly keep adding glucose to bloodstream, your organs will get overloaded and will give up.
At the same time Insulin resistance develops, meaning your body's cells stop responding to the excess Insulin that your pancreas have been producing day and night.
2. Insulin Resistance and Insulin Deficiency
This is the condition, when there is either insufficient insulin hormone or a situation when your body cells and pancreas start ignoring the signals received from insulin, termed as insulin resistance. Following malfunctions can happen:
The pancreas does not produce any insulin
The pancreas produces very little insulin – Since, your pancreas are constantly overloaded, they do not function as efficiently as they should, hence leading to insufficient Insulin production.
When the body cells do not respond appropriately to insulin, a condition called "insulin resistance" – Diabetes Type II
The result? Glucose cannot move out from blood stream and keeps building up leading to chronic conditions of metabolic syndrome, obesity, hypertension, and Diabetes.
Types of Diabetes
1. Type I Diabetes Mellitus (Insulin dependent diabetes mellitus IDDM or juvenile diabetes)
It can occur at any age but it is mostly seen in children and young adults. It occurs in 5-10% in diabetic patients, mainly in children.
It occurs due to autoimmune disease or infections which causes destruction of beta cells of pancreas. This leads to low levels or absence of insulin.
2. Type II Diabetes Mellitus (Non-Insulin dependent diabetes mellitus NIDDM)
It is much more common and accounts for 90-95% of all the cases. It is also known as Diabetes Mellitus. Type 2 primarily affects adults, however recently Type 2 has begun developing in children as well. There is a strong correlation between Type 2 and lifestyle factors such as physical inactivity, diet, and lifestyle.
It occurs during pregnancy. It occurs in obese, older age women with family history. It may lead to Type II diabetes.
4. Diabetes Secondary to disorders
As pancreatic disease, glucocorticoids use, AIDS treatment, cystic fibrosis or after organ transplantation.
How is Diabetes Diagnosed?
Diabetes diagnosis test is conducted when typical symptoms are observed related to health condition. This involves a series of blood sugar levels assessment. It is compared with the benchmark and if observed in high range, then the condition is declared.
Clinically, following symptoms also require blood sugar test to check the existence of the Diabetic condition:
Polyuria – Frequent Urination
Polydipsia – Excessive Thirst
Polyphagia – Excessive hunger
Excessive Weight loss
Dry skin
Higher tendency to catch infections
1. Blood Glucose Level Test
Random blood sample: ≥200 mg per dL (11.1 mmol per L)
Fasting blood glucose level: ≥126 mg per dL (7.0 mmol per L)
2 hour postprandial OGGT: ≥200 mg per dL (11.1 mmol per L)
A1C: ≥6.5% (48 mmol per mol)
2. GDM Blood Glucose Level Test
Gestational diabetes blood glucose screening can be done on women (24 – 28 weeks of gestation) who were not previously diagnosed with diabetes using one of these strategies:
One step Strategy
Carry out 75 g Oral Glucose Tolerance Test OGGT in morning with overnight fasting (at least 8 hours). Results
Fasting blood glucose level: ≥92mg per dL (5.1 mmol per L)
1 hour OGGT: ≥180 mg per dL (≥10.0 mmol per L)
2 hour OGGT: ≥153 mg per dL (≥8.5 mmol per L)
Two Step Test
Pregnant women should take 1 hour 50 g glucose load test GLT (non-fasting).
If positive results (more than or equal 130, 135, 140 mg per dL or 7.2, 7.5, 7.8 mmol per L respectively), then patient proceeds to fasting 3 hours 100 g OGGT.
GDM is considered if two out of four plasma levels meet or exceed these blood glucose levels.
| | | |
| --- | --- | --- |
| Glucose Blood Level | Carpenter Coustan | OR: National Diabetes Data Group (NDDG) |
| Fasting | ≥95 mg per dL (5.3 mmol per L) | ≥105 mg per dL (5.8 mmol per L) |
| 1 hour OGGT | ≥180 mg per dL (10.0 mmol per L) | ≥190 mg per dL (10.6 mmol per L) |
| 2 hour OGGT | ≥155 mg per dL (8.6 mmol per L) | ≥165 mg per dL (9.2 mmol per L) |
| 3 hour OGGT | ≥140 mg per dL (7.8 mmol per L) | ≥145 mg per dL (8.0 mmol per L) |
What is Prediabetes?
Prediabetics are those, who have above normal glucose readings, but still below glucose readings of Diabetes. With high blood glucose levels, even though occasionally, they are prone to develop full blown condition at any time, hence need to take extra caution with their diet and lifestyle.
Prediabetes Blood Glucose Level Ranges
Fasting blood glucose level: from 100 mg per dL (5.6 mmol per L) to 125 mg per dL (6.9 mmol per L)
2 hour postprandial OGGT (75 gram glucose): from 140 mg per dL (7.8 mmol per L) to 199 mg per dL (11.0 mmol per L)
A1C: 5.7-6.4% (39-47 mmol per mol)
Common Diabetes Symptoms and Early Signs of Diabetes
People usually fail to acknowledge the symptoms and realize only after the disease has reached its long phase. Regular health checkups should be taken into consideration by the families.
That is the only way they will know about the disease their family members are suffering.
Blurred vision
Unusual thirst
Frequent urination
Slow-healing cuts
Unexplained tiredness
Rapid weight loss
Numbness or tingling in hands or feet
Higher blood glucose levels
Lower Energy levels of body
What are the Symptoms of Diabetes in Children
The most common symptoms of both Type 1 and Type 2 Diabetes among children and adolescents include increased thirst, urination, and fatigue.
Some children may also experience an increase in hunger and blurred vision.
Girls might develop a yeast infection and polycystic ovarian syndrome.
In Type 1, weight loss is often a common symptom before diagnosis.
For those with Type 2, signs of insulin resistance, such as dark velvety patches of skin, called acanthosis nigricans,
Symptoms of Type 1 in children tend to develop rapidly over a period of a few weeks, while Type 2 symptoms develop more slowly and may go undiagnosed for months or years.
Criteria for Testing of Blood Glucose in PreDiabetic or Diabetic asymptomatic patients
People with high BMI in the range of larger than or equal to 25 kg/m2 should take blood sugar test.
Additionally, people with BMI higher than or equal to 23kg/m2 should take Diabetes test if following conditions are applicable.
First degree relative with diabetes
Cardiovascular disease
Blood pressure ≥140/90 mmHg or taking antihypertensive drugs
HDL cholesterol level < 35 mg per dl or triglycerides >250 mg per dl
Physical inactivity for long time
Women with polycystic ovaries
Also, blood sugar test be done on regular basis if following conditions are applicable.
Women diagnosed with GDM should check up glucose every 3 years.
Patients with prediabetes A1C ≥5.7% (39 mmol per mol)
People at age of 45 years old should begin check their blood glucose level.
Children with high BMI: overweight (BMI ≥85 percentile) or obese (BMI ≥90 percentile) at age of 10 or puberty whichever comes earlier with following:
Mother with diabetes or GDM during pregnancy.
First or second degree family relative with diabetes type II.
Children with diseases as hypertension, dyslipidemia, polycystic ovary syndrome or small size gestational birth weight.
References