Elephant Yam is a popular cash crop originating from India and South Asia. It has a delicious tuber root that is full of nutrition and carries multiple medicinal benefits for the prevention of diseases.
It is also known as Suran, Elephant foot yam, or Jimikand in different parts and the scientific name is Amorphophallus Paeoniifolius.
For the ease of cultivation and speed at which it grows, it is also termed as a "famine crop".
Tips for Consumption and Handling of Elephant Yam
The tuber of the plant is usually fried, boiled, baked, or pickled. Since it has high oxalate content, hence mouth can become itchy if it is consumed raw.
Elephant yam should be treated before cooking. You can blanch, steam, or soak it before it is ready to be consumed.
To avoid itching and allergy on your hands, apply mustard oil or use gloves before you peel the yam.
Nutrition Profile and Benefits of Elephant Yam
It is a rich source of Vitamins, Minerals, Fiber, and health fatty acids.
It is a rich source of Potassium and Magnesium a good source of minerals as Phosphorus, Calcium, Iron, Copper, Selenium, and Zinc.
Elephant yam is a rich source of antioxidants and polyphenols that have a biologically positive effect in preventing degradation and oxidation by free radicals.
It contains high levels of Vitamins B6, Vitamin C, and A. It is a good source of Vitamins B1 and B2.
Jimikand is also a moderate source of Omega 3 fatty acids and molecular hormone Diosgenin that has an anti-cancer effect.
Health Benefits of Elephant Yam
With such a rich nutritional profile, this delicious tuber has multiple positive effects on our health. Traditionally the tuber of the plant is used to treat health disorders of multiple body systems.
Prevents inflammation
In Ayurvedic medicine, the whole plant of the elephant yam, including leaves and flowers are used to treat inflammatory disorders such as Ulcerative Colitis, Rheumatism, and Hemorrhoids.
The paste of the tuber is applied externally to treat rheumatoid arthritis.
Supports digestive system
It supports gastrointestinal health and removes abnormalities.
The tuber is used to treat constipation, flatulence, ulcerative colitis, hemorrhoids, dyspepsia, and abdominal pain.
There is high amount of polysaccharides present in the yam. As a prebiotic it supports our gut microbiome.
Liver Tonic and Supports Blood Sugar Levels
Regulates blood sugar levels and provides a consistent source of energy due to a high concentration of fiber.
Supports the health of the liver and spleen, hence used as a liver tonic and a rejuvenating medicine in Ayurveda.
Supports heart health and Weight Loss
Supports heart health, lowers blood pressure and cholesterol levels due to a high concentration of Potassium and antioxidants.
Elephant yam is micronutrient and fiber-rich, hence a great food to support weight loss and overall well being.
Antimicrobial Properties
It has anti-bacterial and anti-fungal properties. Prevents disorders of the digestive system.
Hormone Balance and Plant Based Estrogens (Phytoestrogens)
Regular consumption of suran yam can help relieve the period cramps as it regulates hormone levels.
As a phytoestrogen, jimikand provides plant based estrogen that supports hormone balance and action of Estrogen in the body.
Elephant Yam Recipe – Indian style curry with green peas
This is a delicious and nutritious soup recipe. It is prepared with Indian spices and green peas. It is a complete meal in itself as it provides all essential macro nutrients and micro nutrients.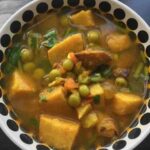 Print Recipe
Elephant Yam Soup with Green Peas – Jimikand or Suran Curry
An easy yam soup recipe cooked in Indian style! This preparation is slightly tangy, and carries a high density of proteins, fibre, vitamins, and minerals. It is loved by kids and adults alike.
Equipment
Pressure Cooker

Frying Pan (optional)
Ingredients
600

g

Elephant Yam tuber

Medium sized

1

Medium

Onion

Finely chopped

2

cloves

Garlic

1

tbsp

Ghee

Or any other pure cooking oil

200

ml

Pure peanut oil

For frying. Replace with other oils of your choice

1

inch

Fresh ginger root

2

Large

Tomatoes

Finely Chopped

2

tsp

Turmeric Powder

2

tsp

Rock Salt

To taste

1

tsp

Coriander Seeds Powder

2

tsp

Cumin Seeds (Jeera)

1

pinch

Asafetida or Hing

200

g

Green Peas

Frozen or Fresh

2

Sprigs

Fresh Coriander Leaves

Chopped for garnishing

2

Cups

Water

To make a nice soup, you will need good amount of water, otherwise the curry will become very dry.
Instructions
Peel the yam and cut into half-inch cubes as shown in the picture.

Heat frying oil in the pan and start frying them till they turn golden brown. Keep aside. (Caution: Don't fry the yam pieces to too dark brown as the taste won't be good afterward.) 

Heat a cooking pan. Put the ghee in it.

Once hot, add the cumin seeds and asafetida. As the seeds start to splutter, add the chopped onions, garlic, and ginger and keep stir-frying till the mix turns golden brown.

Add turmeric, salt, and coriander powder and stir-fry for another 2 minutes.

Add the chopped tomatoes and keep stir-frying till the tomatoes are mashed down.

Add green peas, yam, and water to make a nice soupy mix.

Cook on meium heat for another 10 mins till everything is mixed well and tastes of ingredients are blended in together.

Close and garnish with coriander leaves.

Serve with rice or chapati! Enjoy!!
Notes
Since elephant yam contains oxalates that can cause itchiness r rashes to the skin while cutting, one would need to oil the hands well with mustard oil to prevent contact with the raw yam pieces. Another option would be to wear gloves while handling the yam.
We would love to hear from you! If you try this recipe, do leave a comment and rate the recipe! Don't forget to take a photo, tag @medhyaherbals, and hashtag it #medhyaherbals on Instagram. Eat Well, Feel Happy, and Look Awesome!
References
Antioxidant potential of Amorphophallus paeoniifolius in relation to their phenolic content
Beneficial effect of Amorphophallus paeoniifolius tuber on experimental ulcerative colitis in rats