Green Banana is a rich source of bioactive compounds, minerals, vitamins, and fiber. In fact, nearly all parts of the banana plant such as banana flower and banana stem are consumed for their nutritional value and for their immense health benefits!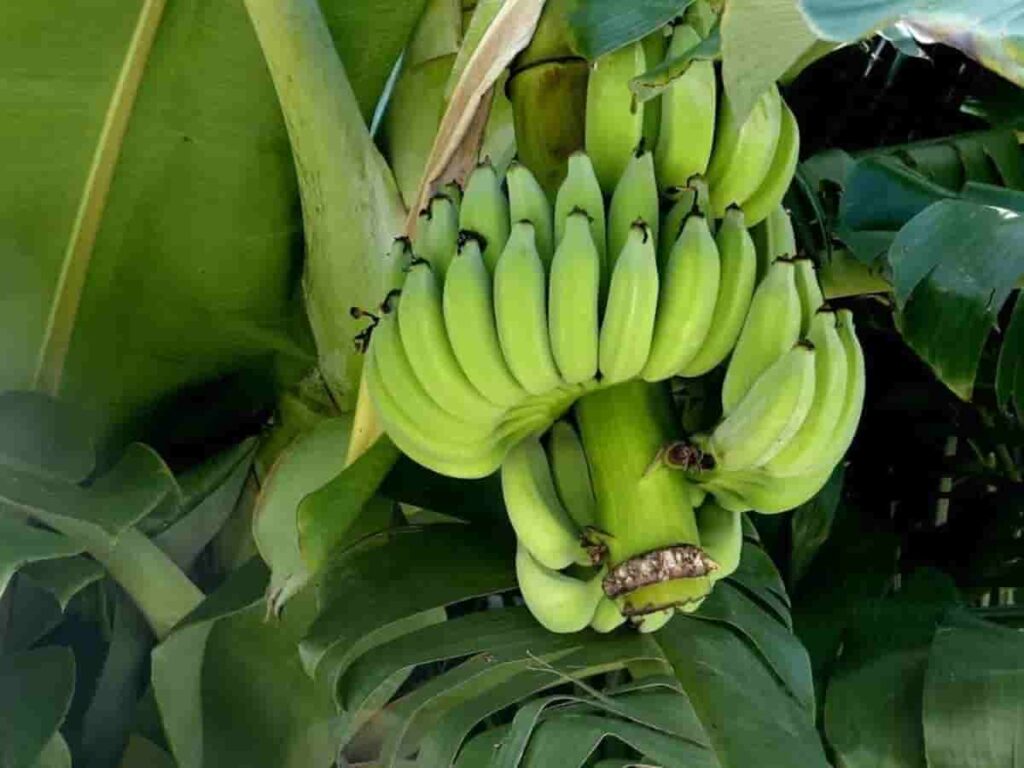 Green Banana is also one of the favorite weaning foods for the babies as it provides with ample nutrition and healthful enzymes to the little ones.
It can be dried and floured, boiled and added into some curries/gravies, fried to make chips, or simply stir-fried to make delicious dishes! Green banana is recommended in Ayurveda for patients suffering from gastrointestinal issues such as constipation, IBS, Diarrhoea, and Colitis.
What You'll Learn | Click on Topic to Go There
Green Banana is a favorite baby weaning food for its high nutritional value
There are plenty of variations of Banana available in the market today. The nutritional value and health benefits vary per the breed being considered, however, the best would be those that are closer to wild varieties or locally produced rather than those commercially produced with tonnes of chemicals. Since it is a perishable food, usually plenty of preservatives are applied on the skin to enhance the shelf life and hence the availability.
We highly recommend consumption of only locally produced variations as they are tastier, healthier, and relatively free from chemicals.
Nutritional Value of Green Banana
It is a rich source of phenolic acids, resistant starch, Vitamins, and Minerals.
It is essentially gluten-free, hence highly recommended for those suffering from gluten allergies such as Celiac Disease.
It is an excellent source of Potassium and a good source of minerals as Magnesium, Copper, and Manganese.
It contains a good concentration of provitamin A carotenoids, vitamins B1, B2, and B6, and Vitamin C.
It is a good source of antioxidants such as Dopamine, catechin, epicatechin, and gallocatechin that boost metabolism and have positive effects on cognitive abilities.
It contains resistant starch as polysaccharides that is essentially prebiotic to support and feed the gut microbiome.
Health Benefits of Green Banana
Green Banana is excellent health food for all ages ranging from babies to elderly with a positive effect on various body parts. It is recommended to be consumed during pregnancy, post-pregnancy, and various health disorders such as Diabetes, Obesity, Hypertension, and Arthritis.
Promotes Heart Health
Heart-friendly – it helps to regulate blood pressure for those suffering from cardiovascular diseases.
Significantly reduces cholesterol, free fatty acids, and triglycerides in blood, kidneys, liver, and brain.
Prevents Diabetes and Cancer
Diabetic friendly – Regulates blood sugar levels and supports metabolism.
Prevents cancer in the colon.
Antimicrobial and Would Healing Nature
Green Banana speeds up wound healing and have anti-ulcerative effects.
Lectins found in green banana have an anti-viral effect against HIV, Hepatitis, and Ebola.
Prevents Inflammation and Slows Down Aging
It has an anti-inflammatory effect and helps relieve symptoms of gastrointestinal disorders such as IBS, Colitis, Piles, and Constipation.
Antioxidants present in green banana significantly reduce neurodegenerative disorders.
Digestive System Health and Weight Loss
Supports gut flora, hence helps increase the digestive power and boosts the functioning of multiple organs via the metabolites released via gut microbiome.
Cooked green banana has been shown to prevent Diarrhea in babies.
Brings the digestive system back on track and helps to lose weight.
1. Recipe of Raw Banana Fry with Indian herbs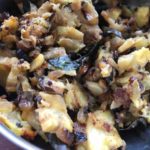 Print Recipe
Raw Banana Fry with Indian herbs
A delicious yet super nutritious raw banana stir-fry cooked with Indian herbs and spices.
Ingredients
2

Medium

Green Banana

1

Medium

Onion

3

cloves

Garlic

1

sprig

Curry Leaves

Or a couple of fresh curry leaves

1½

tsp

Mustard Seeds

Pinch

Asafetida

1

tsp

Salt

To taste

1

tbsp

pure oil

mustard, olive, coconut, or ghee
Instructions
Peel and fine chop garlic and onion.

Peel the green skin of the banana.

Once peeled, quickly chop the banana into small pieces.

Wash and chop the curry leaves. Chopping them small makes it easier to eat them in the cooked dish.

Once the pan is hot, add cooking oil and put the heat to medium.

Add Asafetida powder and mustard seeds.

Once the seeds start to crackle, add onion, garlic, and curry leaves to it.

Stir till the onion and garlic mix turns golden brown.

Add salt and cut banana to the mix.

Stir fry and cover. Bring the flame to low level.

Cook for another 5 mins till the banana is soft. Close the heat and let it be covered for another round of cooking in steam.

Serve with rice, chapati, or dosa. Enjoy!
2. Mashed Green Banana Recipe – A Healthier substitute for mashed potatoes!
Print Recipe
Mashed Green Banana – Kela Bharata
This is a one-pot recipe, super easy to turnaround, delicious, soft in texture, and highly nutritious. It is recommended for babies, pregnant, and new mothers. It goes well with chapati or rice (along with a curry).
Ingredients
4

Medium

Green Banana

7

Cloves

Garlic

Pounded or Finely Chopped

12

pieces

Curry Leaves

Fresh preferred for the aroma and texture

1

Chili

optional

1

pinch

Asafetida (Hing)

1

tbsp

Split Black Gram (Chana Daal)

1

tbsp

Black Lentils without skin (Urad Daal)

2

tbsp

Virgin Coconut Oil

Or Peanut Oil or Olive Oil or Ghee

1

Cup

Water

2

tsp

Salt

Rock Salt

1

tsp

Mustard Seeds
Instructions
Peel the banana and cut into small cubes ½ inch.

Put for boil in 1 cup water. Boil till it is soft and mushy.

Add cooking oil once the oil is little hot.

Add mustard seeds and let the seeds splutter.

Break the chili in 2 pieces by hand and add to the pan. This is more for flavor and little taste. If chili is chopped fine, it will make the vegetable hot.

After 10 seconds or so, add curry leaves and garlic.

Stir for few seconds. Add split black gram and split black lentils.

Stir for another few seconds till garlic turns golden brown and lentils are light brown

Now add the boiled banana. Mix and mash well till the texture is soft and smooth.

Close the heat and cover. This will allow the mix to blend well with all the flavours.

Serve with chapati or rice. Enjoy!
Notes
Do not keep peeled green banana in open air for too long as it will get oxidised and turn black. Instead, soak the banana in water with salt in it. Better would be to cook it straight away after peeling and cutting it.
We would love to hear from you! If you try this recipe, do leave a comment and rate the recipe! Don't forget to take a photo, tag @medhyaherbals, and hashtag it #medhyaherbals on Instagram. Eat Well, Feel Happy, and Look Awesome!
References
LET'S GO BANANAS! GREEN BANANAS AND THEIR HEALTH BENEFITS
Traditional and medicinal uses of Banana