How long a hot flash lasts usually varies from individual to individual. The frequency and duration of hot flashes is dependent on your age and the level of imbalances you are struggling with. Learn here about the causes of Hot Flashes.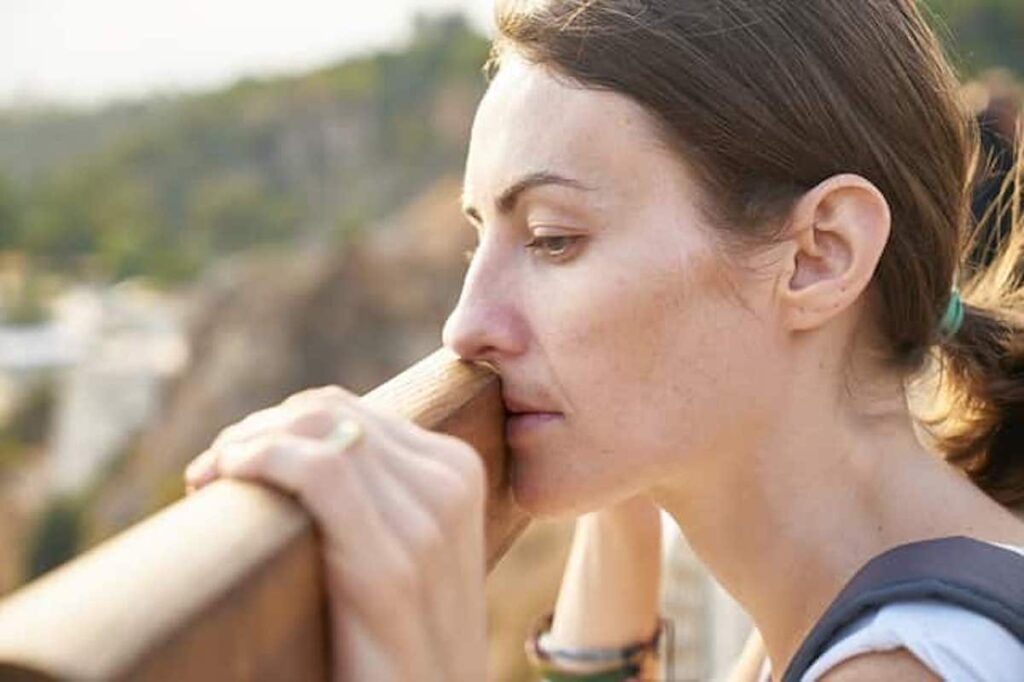 Usually, hot flushes lead to a highly uncomfortable and often stressful condition for women. A hot flash can occur at any time, whether you are eating food, in the middle of a meeting, attending to important tasks, or under emotional turmoil. And when it happens, it muddles up and interferes with the task that needs your immediate attention.
What are Hot Flashes?
Hot flashes are episodic sensations of heat, intense sweating, and flushing affecting the face and chest. A hot flash feels like a wave of warmth is passing all over the body. It leads to a highly uncomfortable feeling of unbearable heat and restlessness.
And soon, the brain recognizes this heat and fires off the cooling system of the body. This leads to excessive sweating and flushing of the body, resulting in redness around face and neck portions.
It is a well established fact that Hot Flashes disrupt the daily life and poorly affects the energy levels, quality of sleep, and sexuality in the long term.
What are Night Sweats?
When hot flushes occur in the night, it is termed as Night Sweats and is associated with marked perspiration. The level of discomfort is high and it often disturbs the sleep of women, who may have already been struggling with insomnia.
Night sweats, when they do occur, are almost always associated with day-time observance of hot flashes.
How long do Hot Flashes last?
Each particular episode of hot flash may last for few seconds or up to 10 minutes or more. Usually hot flash episodes recur with varying frequency.
For some women, hot flash events may occur only a few times in a week. While others may experience hot flushes or night sweats hourly or daily, with numbers going til 40 a day.
What are Hot Flashes Symptoms? How do I know if I'm having a hot flash?
Following steps list down a typical sequence of the symptoms faced by anyone who is experiencing a hot flash:
The intense heat in the upper body including the upper arms, face, neck, and chest
Flushing of the skin follows
Profuse Sweating
Followed by chills
Hot flash symptoms are often accompanied by tingling in fingers, palpitations, and anxiety
FREE Menopause Symptoms Health Assessment
Take Medhya Herbals' Menopause Symptoms quiz, for a complete Ayurvedic analysis of your body tissues, your current health imbalances, and your Aging status.
You will also get recommendations to achieve optimal health. Access Ayurvedic Recipes, Yoga and Exercise routines, and Guidelines for herbs that match with your needs.
Whether you are experiencing severe Menopause symptoms or just mild discomfort, you will be able to understand the underlying causes and hence heal and nourish your body.
At what age do Hot Flashes start?
Hot Flashes during Menopause
Hot Flash symptoms related to Menopause typically start during the perimenopause phase. Hot Flashes are considered to be signature sign of Menopause symptoms as nearly 85% of menopausal women struggle with it.
It is not a necessary symptom, however, as there is still 15% of women who fare through Menopause smoothly. According to Ayurveda, intensity and age of Hot Flashes during Menopause depends on your level of imbalances.
If imbalances are high, then you may experience hot flashes starting in early 40s. Vasomotor symptoms such as heat sensations, hot flushes, or night sweats are commonly observed in the 40s.
And if these imbalances are not corrected, then hot flashes worsen off during years near to Menopause, from about 48 to 53 years. Usually, one experiences high intensity symptoms 2 years after Menopause.
Hot Flash symptoms may last upto 10 -15 years after Menopause with duration dependent on how quickly you start to bring your Imbalances in control and let your body adjust to the changes.
For some who experience early menopause, hot flash symptoms may even be visible in their late 30s.
Hot Flashes during Menstruation
A minority of women develop the symptoms even during regular menstrual cycles. Similar to the variability in the frequency of this symptom, the age at onset of symptoms also varies in females.
Hot Flashes in Cancer Survivors
Hot flash symptoms affect 40 – 85% of all women, being more frequent and severe in breast cancer survivors and women with chemotherapy-induced ovarian failure. This is because these women receive multiple treatment options that can induce an estrogen deprivation state.
Hot Flashes in Men
For men, the phenomenon of hot flash often occurs as a result of medical or surgical treatment for prostate cancer. Up to 75% of men treated with androgen deprivation therapy may experience hot flashes.
When do Hot Flashes end?
Vasomotor symptoms of hot flushes and night sweats do not just occur during the perimenopause phase. If left untreated, the symptoms may last up until 10 years or more post-menopause. The majority of the women suffer from hot flash symptoms for 1 – 2 years. However, approximately 15% may have persistent symptoms for up to 30 years.
Hence, it is important to find relief through natural measures, remove the causes and triggers, and get appropriate treatment.
How does your brain control your body temperature?
The thermoregulatory zone in the hypothalamus section of the brain tightly controls our core body temperature. Temperature regulation happens through a series of actions that result in heat release or heat generation.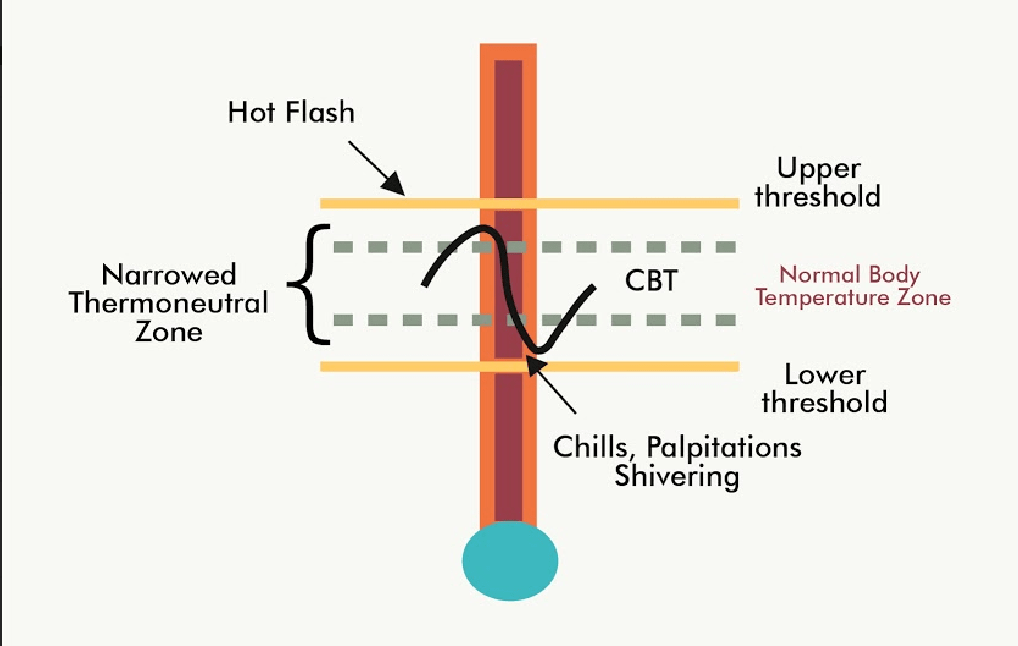 When the body's core temperature increases above the upper threshold of the thermo-regulatory zone, sweating occurs, which allows your body to cool down.
What happens to your body when you have a Hot Flash?
A typical hot flash wave can be explained in three steps as listed below:
Step 1: Heat wave is triggered due to food, emotions, or environmental factors
A Hot Flash may be triggered by simple daily stuff such as spicy food, hot weather, or stress. Hot Flash triggers often tend to increase our body temperature. As the brain is not able to regulate the body temperature in time, patients often observe intense feeling of heat.
Step 2: Flushing and Sweating to cool the body down
The delayed action of brain shoots the body temperature. It brings the body temperature back to normal by increasing blood circulation and causing perspiration. If this action doesn't go well, patients may experience palpitations and severe anxiety.
Step 3: Chills and Excessive Sweating
It usually happens in severe cases of circulatory malfunction such that your brain and body are highly disconnected.
When the brain sends too many signals to cool off the body, it may go down much below the targeted temperature. This can lead to excessive sweating and chills.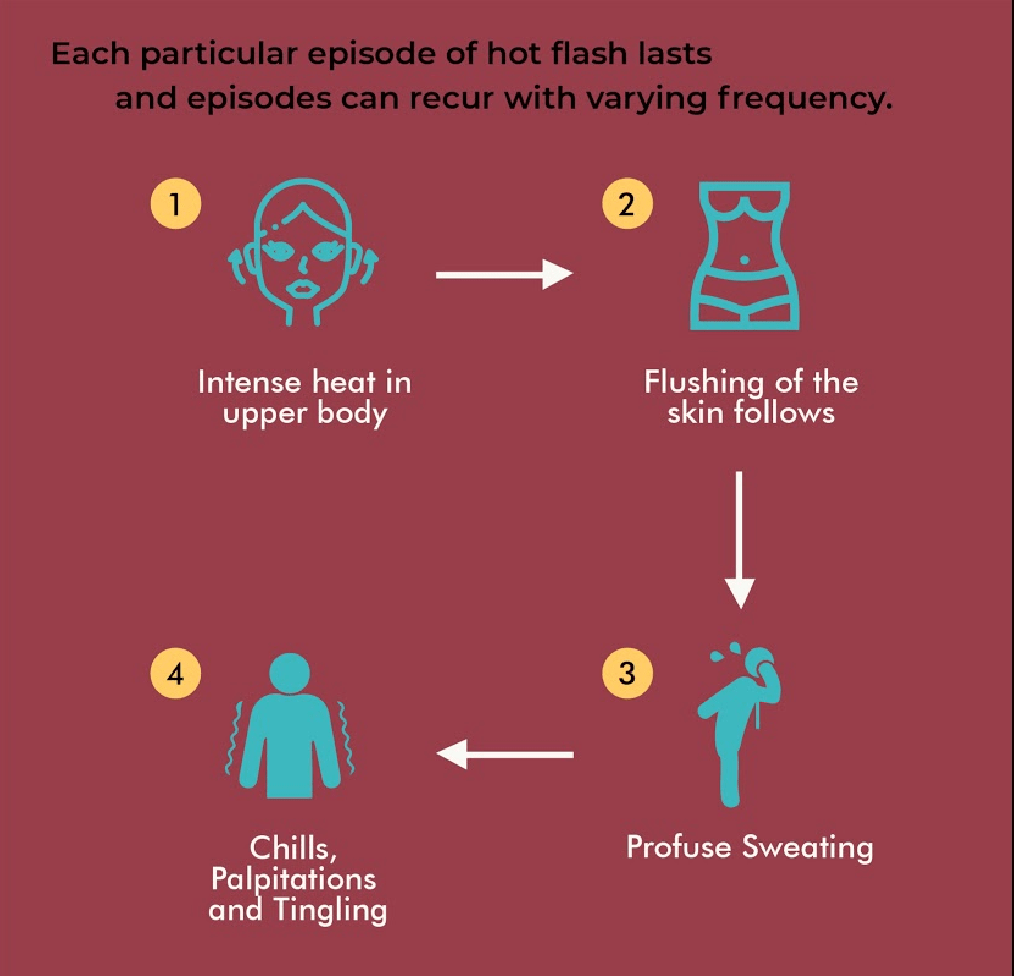 Interested in learning about how to manage your Menopause Symptoms with Ayurvedic diet, lifestyle, and yoga? Join Medhya's women exclusive community here.
References
Physiology of Hot Flushes
Managing Menopause: The Ayurvedic Way