One can survive for days without food, but not without sleep! According to Ayurveda, sleep is one of the most essential pillars for physical and mental health. In this post we are sharing Ayurvedic principles on how to sleep well and feel rested after you wake up! Let's dive in.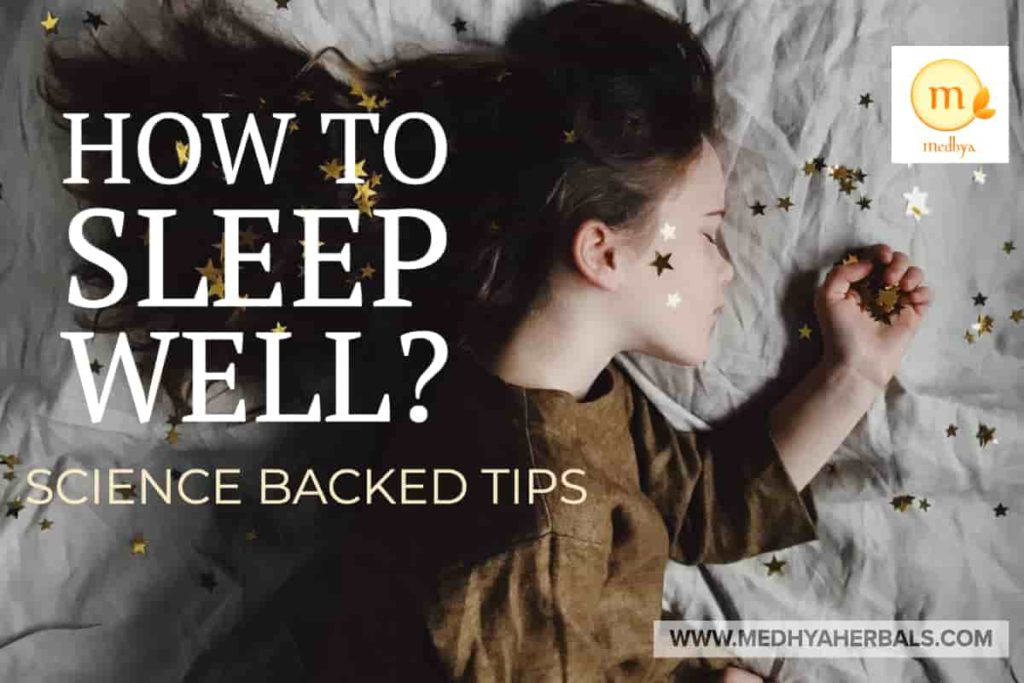 1. Follow an Ayurvedic Night Routine
Here is a list of activities that form part of an Ayurvedic night time routine. Whether you perform all of these activities or select a few, it will be helpful for better sleep.
Establish regular sleeping hours. It will put your circadian rhythms in sync and support a natural sleep cycle.
Practice relaxation techniques such as meditation, deep breathing, and pranayama at bedtime. It helps to balance Vata dosha, calm your mind down, and provide much needed prana – life giving force to rejuvenate during sleeping hours.
Drink a warm glass of milk, with cardamom or nutmeg before you go to bed. Take the milk at least 30 mins before you sleep. The herbs promote good sleep. Calcium and Magnesium in milk help in generation of sleep hormone.
Perform gentle massage of your scalp and soles of your feet with warm coconut oil or sesame oil.
Use essential oils such as Lavender oil with diffusers to calm your mind.
Listen to soothing music or chanting to calm your mind.
Gratitude and positive thoughts! Close your day with the thought of the best thing of the day and be grateful for what you have. It will keep your worries away and calm down your mind.
2. Have an early dinner
Take a light and warm meal for your dinner. Light foods are easy to digest, hence your belly doesn't feel heavy when you go to bed. It allows for a restful and sound sleep.
A late dinner leads to incomplete digestion. Undigested food particles in your digestive tract interrupt the natural sleep cycle of your body.
Hence, one should always keep a gap of 2-3 hours between dinner time and bed time. This provides a long enough window to your digestive system to break down your last meal, when the digestive fire is still at optimal level.
Additionally, remove evening time caffeine and nicotine from the menu! Do NOT drink any caffeinated beverage after 2 PM as it will interfere with your sleep.
Get your Beauty Sleep!
If your food is properly digested before you go to bed, your body will also be able to channel the energy towards much needed detoxification and healing.
On the other hand, if you take very heavy meals for dinner or take late night snacks; your digestive system will suck up all the energy to assimilate the food that you took in. Hence, you end up missing on the BEAUTY part of the sleep.
So, get an early and light dinner for a clear and gorgeous skin. This rule also applies for a healthy BRAIN behind the BEAUTIFUL skin.
3. Always sleep between 10 PM to 6 AM
According to Ayurvedic principles, the best time to sleep is between 10 PM to 6 AM.
Always sleep before 10 PM
One should avoid staying up beyond 10 PM as it disturbs Vata balance and leads to related health disorders.
It becomes really difficult to sleep well beyond 10 PM as Pitta increases or cortisol hormone starts to rise. It creates an unnatural, yet second shift of wide awake eyes, which will finally droop at about 2 AM, when Pitta goes down again.
When you stay up beyond 10 PM, you also struggle with unnatural night time food cravings. It happens due to the rise of fiery Pitta. This disturbs your digestive fire and causes weight gain.
Always get up before 6 AM
One should rise before 6 AM to prevent Kapha Imbalance in the body. If you are waking up late, you will struggle with Kapha lethargy, even after sufficient sleeping hours.
4. Do not sleep during the day-time
Ayurveda recommends a short nap of few minutes on your left-side after lunch-time to promote digestion. It is termed as Vamkukshi.
However, sleeping during the day is contraindicated in Ayurveda as it leads to Kapha imbalance in the body. This rule is not applicable for infants, sick people, new mothers, elderly, and small children.
Sleeping during the day time disturbs the circadian rhythm of the body. It poorly affects your capability to sleep during the night time.
5. Align your pillows in the right direction!
Ayurveda recommends sleeping with your head pointing towards the East or the South, but never towards the North or West.
Do not Sleep with your head in the North or West direction
Sleeping with you head towards North creates an opposing effect with the Earth's North pole, leading to restlessness, migraines, confusion, irritability, and an increase in stress hormones.
Sleeping with head towards West has opposing effect on the body's thermal energy flow. It leads to warm head and cold feet.
Sleep with your head in the East or South direction
Sleeping with your head towards the East increases intellect as the Earth's magnetic field enters our body in the right direction, creating warm feet and cool heads.
Sleeping with your head towards the South creates calmness, a well rested body. It leads to mental clarity and satisfaction.
6. How long should you sleep?
Ayurveda recommends specific number of sleeping hours for respective Dosha.
Vata body constitution or those with Vata Imbalance need maximum rest to preserve the small amount of energy they have. Usually, about 8 – 9 hours each night is recommended for Vata Dosha.
Pitta body constitution or those with Pitta Imbalance should aim for 7 – 8 hours of restful sleep every night.
Kapha body constitution or those with Kapha Imbalance need the least amount of sleep of about 6 – 7 hours each night. In fact, the priority is to get the basic essential rest and bust off Kapha inertia as soon as possible.
7. Set a closing ritual to working hours
Keep your work limited to office hours only! Set a closing routine to your working hours by following a daily cut-off limit like 6 pm. Stick to your set time limits and make it a point to not open your phone or device for another small task and neither to check any email or message.
Once you set this limit, your subconcious mind accepts the boundary. This way, you are conciously able to keep your work anxiety away and set the path for better sleep.
Use your bed for nothing else but sleep! Perform all things such as doing work, eating food, or watching TV/screen at their designated places only. Doing busy tasks that require your brain to be active at the bed defeats the idea of peaceful sleep at the same place.
Wrap up all the work, an hour before going to bed. This includes both mental and physical work. For example, kitchen errands, laundry, or any other tasks that need energy and attention. Instead, spend this time with your loved ones and doing light activities.
8. Go for exercise in the morning
Regular exercise promotes sound sleep and good state of health. However, physical activity releases cortisol and adrenaline that increase energy and alertness for a short while.
Hence, you will feel less sleepy after you go for a run or rigorous physical activity! So, keep your exercise time for morning when you want to be awake and alert.
On the other hand a light stroll after dinner promotes digestion. So, it is better to keep after dinner time for light activities that do not stress your body and mind.
9. Keep Electronic Devices in a different room
Reduce the presence of electronic devices from the room in which you sleep. Keeping your phone or laptop interferes with your sleep consciously and subconsciously too!
When you allow your work or entertainment devices in the bedroom, it also subconsciously seeps into the mind that late working/entertainment hours are fine, which sets you en route to a never ending cycle.
Electronic devices also prevent your ability to disconnect with the world and connect with your own self during sleep! Their presence in the bedroom may also trigger unnecessary worries and anxiety about unaccomplished tasks or deadlines.
Hence, designate a space for your electronic devices and keep them away from your bed!
10. Your Bedroom should be noise free, cool, and dark
Presence of light interferes with your ability to sleep in the first place. It also reduces release of Growth Hormone and Melatonin, hormone that determines sleep quality. Keep your room dark to ensure good sleep!
Make sure the temperature in the bedroom is comfortably cool. Also, a well ventilated room allows for passage of fresh air, which promotes prana and a restful state of mind.
However, if noises or light from outside of your bedroom prevent sleep, try closing windows, close the curtains, and removing all possible distractions that are causing sleep disturbance.
Still struggling to sleep? It maybe due to underlying health Imbalances.
1 Week Ayurvedic Diet Plan and Ayurvedic Health Assessment
Take Medhya Herbals' Health quiz, for a complete Ayurvedic analysis of your body tissues, your current health imbalances, and your Aging status.
You will also receive 1 week Ayurvedic Diet and health plan with meal suggestions, workout and yoga guidelines, and daily routine specifics to well manage your health.
Whether you are experiencing severe health symptoms or just mild discomfort, you will be able to understand the underlying causes and hence heal and nourish your body.
Why you need to sleep? The Importance of downtime!
Sleep is the time when you body gets into the maintenance mode! Sleep is critical for our existence and sanity! Here is a list of some vital functions that happen when you are sleeping:
Health functions related to growth and development happen during sleep hours. New cells are produced while we are asleep.
A restful sleep improves the efficacy of our natural detoxification process of removal of oxidized cells.
Our immune cells set out to repair and heal any damages that may have occurred internally and externally. This also involves replacement of the dead cells with new cells.
Growth hormone is secreted during sleep. It directs regeneration of body and brain cells and controls the rate of our overall growth.
Interested to join like-minded people to share and learn about healthy food, Ayurvedic Diet and lifestyle? Join Medhya's Ayurvedic Diet and Lifestyle Community on Facebook.