Tindora is a perennial climber that grows very fast. It is also known as Ivy Gourd, Kundru, Dondakaya, Tendli in various parts of the world. Its scientific name is Coccinia Grandis.
Over the past decade, ivy gourd has also been extensively scientifically researched upon and has been proven to be beneficial against Diabetes Type 2.
What You'll Learn | Click on Topic to Go There
Tindora Consumption and Uses
Ivy gourd has been used for centuries for both culinary and medicinal purposes across India, Africa, South East Asia, and in the Middle East.
It is rich in antioxidants and has a positive effect against hyperglycemia and hypertension. Tender fruit of this plant is used as a vegetable. It can be prepared by adding it to curries, by frying it, or by adding it to stews along with other vegetables.
Ivy Gourd is a medicinal vegetable in Ayurveda
The medicinal properties of ivy gourd are well documented in Ayurvedic texts.
Tindora has a balancing effect for Kapha Dosha Imbalance and Pitta Dosha Imbalance.
It has a bitter and pungent rasa and hence subsequent action on the body.
Tindora has a toning effect on the body, hence works as a great meal option to help cleanse and get rid of the accumulated toxins.
It is a rich source of Proteins, Iron, Calcium, Fiber, Vitamin C, and Beta-Carotene (Vitamin A).
Ivy gourd also has a high concentration of bioactive compounds that impart its multitude of health benefits:
Regulates Blood Sugar and Prevents Diabetes
Tindora has high pectin content.
It stimulates glucose oxidation and suppresses gluconeogenesis (generation of glucose from non-carbohydrates), hence helps to manage blood sugar levels.
It can lower blood sugar levels in Diabetic patients.
Supports Heart Health and Healthy Liver
It helps to reduce bad cholesterol levels and has a positive effect to improve the triglyceride levels.
Tindora promotes HDL – good cholesterol.
It supports healthy liver for its high flavonoid and bioactive compounds content.
Tindora has antimicrobial properties
It has antibacterial effect against some pathogenic bacteria.
The leaves of the plant are rich in alkaloid content. Therefore, you can also use them as tea to get a good dose of anti-oxidants.
Has anti-carcinogenic and anti-allergic properties for its rich concentration of antioxidants
Is anti-pyretic and can fight off high fevers.
Supports Respiratory System
It helps fight off respiratory disorders such as Asthma and Bronchitis due to high concentration of bioflavonoids.
Ivy Gourd Recipe
This recipe of Ivy Gourd / Tindora is an Indian style stir-fry with potatoes (aloo). It has a crunchy texture and it is dry in nature.
This tindora recipe goes well as a side along with other sweet or savory preparations. It also goes well with a Chapati or a Prantha.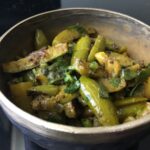 Print Recipe
Tindora sabji with Potato – Indian style stir-fry
A delicious tindora stir-fry recipe with potato. It is a great meal option for Diabetics, children, pregnancy, and during menopause. This recipe is easy to make and quick to turn around.
Ingredients
400

g

Tindora

Salt to taste1 teaspoon Turmeric1 teaspoon Coriander PowderA couple of Coriander leaves – finely chopped (for garnishing in the end)2-3 tablespoons Mustard Oil1 teaspoon Mustard seeds

2

Medium

Potatoes

Cut thin along the length

2

Garlic Cloves

optional

1

Medium

Onion

finely chopped (optional but recommended)

2

tsp

Rock Salt

To Taste

1½

tsp

Turmeric Powder

1½

tsp

Coriander Seeds Powder

2

tbsp

Mustard Oil

Or any other pure unrefined oil

1½

tsp

Mustard Seeds

2

Twig of Coriander leaves

for garnishing (optional)
Instructions
Wash and cut the Tindora along the length. Each piece of the gourd should be cut into 4 long pieces.

Cut the potatoes thin along the length – almost same size as that of the gourd.

Heat a pan. Add Mustard Oil.

Once the oil is a little hot, add the mustard seeds.

Let the seeds splutter and then add onions and garlic till they turn golden brown.

Add salt, Tindora, and potatoes. Keep stirring for 2-3 mins.

Now cover and keep the heat low.

After 5 mins add turmeric powder and coriander powder. Mix well and cover again.

Let the mix cook on low heat for 10-15 mins till the vegetable is mashed/softened.

Keep stirring in between.

Garnish with coriander leaves and serve with chapati, parantha, or rice.
Notes
While cooking tindora in the pan and after adding the spice powders, keep the flame at low. This is because, the powders tend to stick to the bottom of the pan and start getting burnt. So, either keep mixing or add 1 tbsp water to avoid this.
References