Jackfruit curry with pumpkin seeds consists of all essential micro nutrients and macro nutrients along with ample fiber to keep your digestive tract intact. It is super delicious, simple, home cooked comfort food that would nourish and heal your body.
This recipe is great for all Dosha, specifically for Kapha dosha balance. Hence, it is recommended for Diabetics, weight loss, PCOS and
Health Benefits of Jackfruit
Jackfruit or Kathal is one of the healthiest fruits, offering a range of micronutrients, ample fiber, and proteins. It has a low caloric content: 100 g of jackfruit only contains 94 calories.
It is great for expecting mothers and new mothers as it has very rich nutritional profile and carries lot of fiber to help the digestive tract intact.
Raw fruit can be used as a vegetable and ripe (sweet) version as a fruit. We used raw jackfruit to make this yummy curry. And the beauty of cooking raw jackfruit is that you get to cook the seeds along with the pulp itself.
Jackfruit (ripe) is great for babies as puree can be added to their food, giving them ample nourishment. Ripe fruit is also great finger food for toddlers.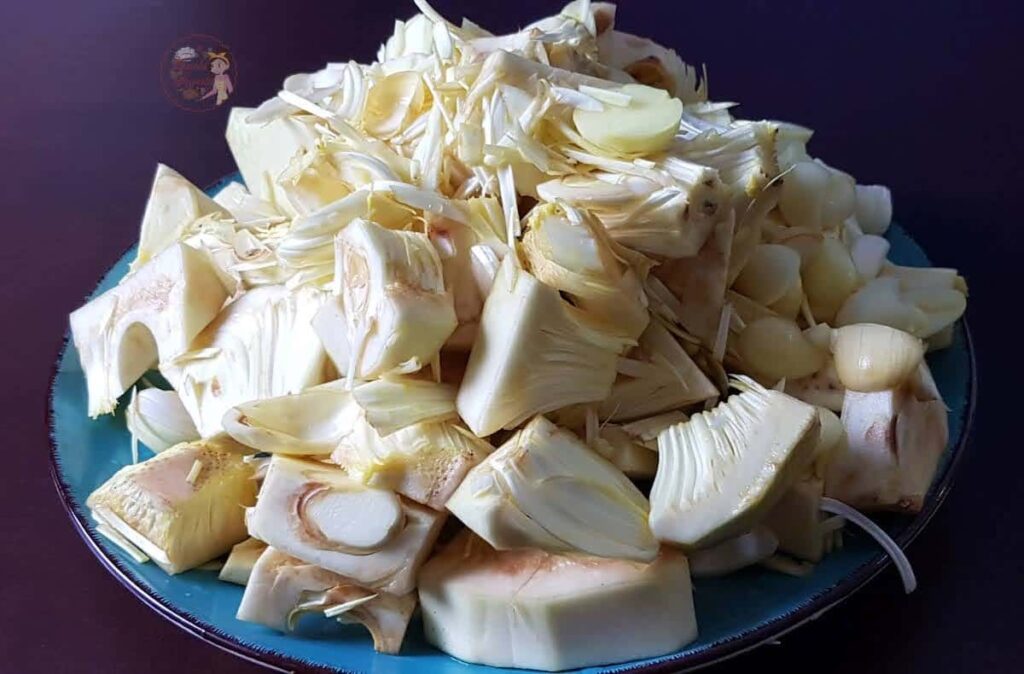 Jackfruit is the largest fruit on the Earth.
Contains vitamin A, Vitamin C, thiamin, riboflavin, calcium, potassium, iron, sodium, zinc, and niacin among many other nutrients.
Rich source of potassium with 303 mg found in 100 g of jackfruit. Studies show that foods rich in potassium helps to lower blood pressure.
Contains phytonutrients: lignans, isoflavones, and saponins that impart it anticancer, antihypertensive, antiulcer and antiaging properties.
Rich source of niacin that is known as vitamin B3 and necessary for energy metabolism, nerve function, and the synthesis of certain hormones.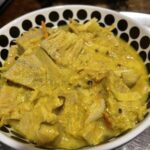 Print Recipe
Delicious and Flavourful Raw Jackfruit Curry with Pumpkin Seeds
This raw jackfruit curry recipe carries the goodness of Indian seeds and spices. It is recommended for Diabetics, PCOS, people suffering from digestive disorders and inflammatory disorders.
Equipment
Heavy Bottom Pan or Pot

Grinder
Ingredients
500

g

Raw Jackfruit

1

Large

Onion

finely chopped

1

Medium

Tomato

finely chopped

2

tbsp

Pumpkin Seeds

This can be replaced with peanuts, Cashew or with Coconut cream depending upon availability and choice of ingredients. The taste would have variations accordingly.

2

tsp

Mustard Seeds

1

tsp

Cumin Seeds

2

Cloves

Garlic

Optional

1

Red Chili

Dried. Optional.

1

tbsp

Mustard Oil

Replace with Coconut Oil or Ghee or Olive Oil

1

tsp

Turmeric Powder

1½

tsp

Salt

To taste

1

tsp

Coriander seeds Powder

1

inch

Fresh ginger root
Instructions
Preparing the Raw Jackfruit
Wash and cut the raw jackfruit into small – half-inch cubes.

Add the jackfruit cubes with salt, Turmeric powder, and 2 table spoons water in a pan.

Cover the pan and boil the jackfruit cubes on low heat till it turns soft (about 10-15 mins)
Preparation of the Spices Paste
Add pumpkin seeds, 1 tsp mustard seeds, garlic and ginger to a grinder.

Add 1 tbsp water to allow the spices to grind well.

Grind to make a smooth paste. Keep aside.
Preparing the Dish
Heat the pan and add cooking oil to it.

Add 1 tsp Mustard seeds and 1 tsp Cumin Seeds. Let the seeds splutter.

Cut red chili into 2-3 pieces. Add to the pan and stir for a few seconds.

Finely chop the onion and add it to the pan. Let it turn golden brown.

Add the ground paste of the spices and salt to the pan and roast it well for 3-4 mins.

Now add chopped tomatoes, mix well and cover on low heat for another 2 mins.

Add boiled jackfruit, mix well and let it cook for few minutes on medium to high heat.

Stir well and let it cook on low heat for another 4 – 5 minutes.

Turn off the heat. Serve hot along with boiled rice, porridge, dosa or Chapati – Indian bread.
Notes
You can also boil the jackfruit in a pressure cooker. In this case, you will need to wait for 1-2 whistles.