Lotus root is a rich source of polyphenolic compounds that have multiple health beneficial effects ranging from anti-inflammatory, anti-oxidative, and hypoglycemic properties.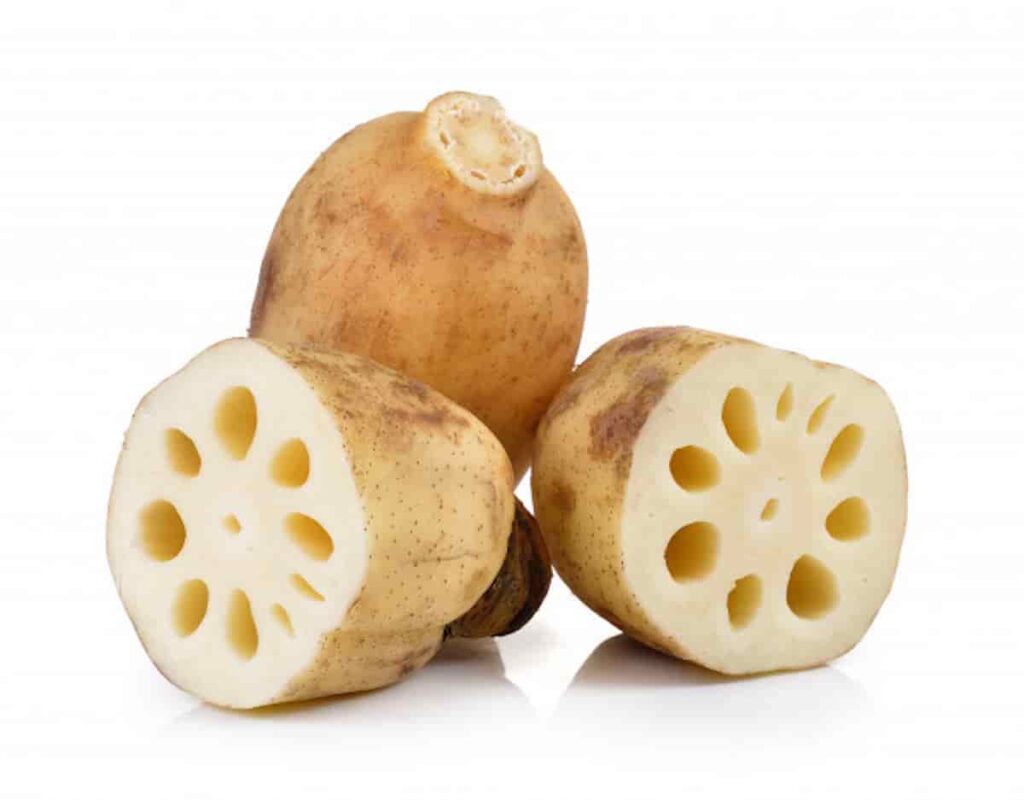 Lotus root is the rhizome of Nelumbo Nucifera. It is highly popular in Eastern cuisine, specifically in China, India, Korea, and Japan, where it is prized as a delicacy and also consumed in the herbal medicinal system.
In India, it is known as "Kamal Kakri", "Padmanala", or "Bhe", in Japan as "renkon", and in China as "Lian Ou".
What You'll Learn | Click on Topic to Go There
How to cook Lotus Root? Consumption and Cooking Tips
Lotus roots have a mild flavor and crunchy texture. They can be used in salads, fried, boiled, pickled with vinegar, or cooked along with other vegetables in soups.
The tender roots are good to be eaten in raw form as a salad, while mature with high fiber should be cooked before consumption.
The texture of the roots changes as they are cooked. Little boiling gives them a soft and crunchy texture, which goes well in soups and as a side dish. However, when it is boiled even more, it turns starchy and hard, hence can be ground into gravies, curries, or a thick soup.
Lotus Root in Ayurveda
Lotus root or rhizome is used as a tonic in traditional medicinal systems due to its high concentration of antioxidants, vitamins, and minerals.
In Ayurveda, lotus rhizome is used in multiple formulations requiring diuretic and antimicrobial agents to treat urinary disorders, skin-related issues, and those for abdominal, lung, and skin infections.
All parts of the lotus plant are used in cuisines and medicines across Asia.
The plant has an astringent, hence toning and cooling effect on the body.
Nutrition Value of Lotus Root – Rich Source of Antioxidants
Lotus roots are a good source of dietary fiber, low in cholesterol and saturated fats.
It has a high concentration of alkaloids, phytochemicals, Vitamins, and Minerals, with negligible calories (100g stem provides with only 74 calories).
Good source of Minerals as Calcium, Phosphorus, Potassium, Iron, Copper, and Manganese
B Vitamins as Vitamins B6, Thiamin, Riboflavin, and Niacin, and Vitamin C as Ascorbic Acid
Good source of dietary fiber with 100g roots providing 4.9g fiber.
Health Benefits and Medicinal Uses
It is diuretic (supports urinary system), emollient (good for skin), antifungal, and antipyretic (reduce fever) in nature.
Support Heart Health and Prevents Inflammation
Supports heart health and can be used as a tonic for the cardiovascular system due to a high concentration of minerals, especially Potassium.
For its anti-inflammatory properties, lotus root finds its use in the treatment of hemorrhoids, tissue inflammation, cancer, and chronic liver-related disorders.
Regulates Blood Sugar Levels and Prevents Diabetes
The rhizomes help lower blood sugar levels and increase glucose tolerance due to a high concentration of dietary fiber and antioxidants, hence highly recommended for Diabetics
Antimicrobial – Supports Digestive System Health
In Chinese and Asian systems, lotus root soup is given to new mothers as it is highly nutritious and helps protect the mothers and newborn from any infections
Supports digestive health and cures abdominal disorders such as diarrhea, chronic dyspepsia, and dysentery.
The powder of the rhizome is used in external applications to cure skin infections of microbes such as bacteria, fungi, yeast, and ringworm.
Supports gut flora, boosts immunity, and also flushes toxins out of the body via excretory systems such as sweat and urine.
Prevents excessive bleeding, Cooling in nature, and Nourishes the skin
Lotus root is an excellent ingredient for various homemade skin products, it can be applied in paste form or dry powder can also be used for the same.
The nodes of the root are used to arrest bleeding, such as nasal bleeding, hemoptysis (blood in cough), haematuria (blood in urine), haematemesis (blood in vomit), and functional bleeding of the uterus.
Lotus Root Recipe – Indian style curry with green peas
Print Recipe
Lotus Root Recipe – Indian style Spicy Aromatic Curry
This is a delicious yet super easy lotus root recipe that requires a medium level of preparation. It is an excellent meal option for lunch and dinner. This recipe is kids friendly for its texture and taste.
Ingredients
3

Medium

Nodes of the lotus root

About 500g

1

Medium

Onion

2

Cloves

Garlic

1

Medium

Tomato

3

tsp

Turmeric Powder

2 tsp for cleaning the roots and 1 for the curry

1

tsp

Coriander Powder

1½

tsp

Fennel Powder

1

cup

Green Peas

Frozen or Fresh (optional)

2

tbsp

Mustard Oil

2

tsp

Rock Salt

To taste

3

Twig of Coriander leaves

For garnishing

1½

tsp

Mustard Seeds

Or Panchforn (an equal mix of five seeds as Fennel, Cumin, Nigella, Mustard, and Fenugreek)
Instructions
Peel the lotus root, cut horizontally as shown in the picture.

Add 2 glasses of water, 1 teaspoon turmeric, and a pinch of salt, and cut lotus roots in a pan and bring to boil.

This step can also be done in a pressure cooker, which also helps to soften the roots (as they are quite fibrous and hard). The pressure cooker will take about 10 mins, while closed pan cooking may require 20-30 mins of boiling.

Keep aside and let it cool down to normal temperature.

Once cold, grind the roots to make a paste-like consistency in a food processor.

Heat a pan, add mustard oil. Once the oil is a little hot, add the panchfotan and let the seeds splutter.

Add chopped onion and garlic. Keep stirring till the mix turns golden brown.

Add turmeric, salt, and coriander powder. Stir for another 2 mins.

Add chopped tomatoes and stir for another 2-3 mins till tomatoes are mashed.

Add the lotus roots paste. Add little water if required.

Keep stirring for another 5 mins till all the ingredients are blended well together.

Close the heat and garnish with coriander leaves.

Serve with chapati or rice! Enjoy!
We would love to hear from you! If you try this recipe, do leave a comment and rate the recipe! Don't forget to take a photo, tag @medhyaherbals, and hashtag it #medhyaherbals on Instagram. Eat Well, Feel Happy, and Look Awesome!
References
Lotus – A potential nutraceutical source
The sacred lotus (Nelumbo nucifera) – Phytochemical and therapeutic profile.