Maitake mushroom is used for general well being and as an adoptogen to increase the strength and vigor, across China and Japan.
It is added to foods and also used as a medicine to treat various health conditions such as chronic fatigue syndrome, chronic vaginal Candida albicans, and proliferation of uterine fibroids.
What You'll Learn | Click on Topic to Go There
What is Maitake Mushroom?
Maitake mushroom is an edible fungus with large fruiting body and overlapping caps. "Mai" means dance and "take" means mushroom, hence it is named Maitake in Japanese language, where it is most commonly consumed as a food item.
Are Maitake and hen of the woods the same?
The technical name is Grifola Frondosa and popular names include Maitake in Japanese, or Hen of the Wood, Sheep's head, or Ram's head. It usually grows and flourishes well on roots of oaks, elms, and other trees. It is used China, Korea, and Japan for culinary and medicinal purposes.
Maitake mushroom also grows in northern temperate forests in South East Asia, Europe, and eastern North America.
Maitake is a rich source of Proteins, Vitamins, and Minerals
Maitake is a good source of complex carbohydrates that act as immune boosting agents and prebiotics for gut health. Often more than 50% of the dry matter in mushrooms consists of polysaccharides and beta-glucans as carbohydrates.
Maitake also contains high amounts of proteins and are a rich source of essential amino acids.
Maitake provides minerals as Potassium, Calcium, Magnesium, Iron, and Zinc.
It contains Vitamins as thiamine, niacin riboflavin and pyridoxine, and ergosterol: provitamin D2.
How does Maitake benefit our health?
Main active constituent in Maitake is polysaccharide as beta glucans attached to proteins. There are fractions of beta glucans that possess immune-modulatory effect.
It also contains other carbohydrates as fructo oligosaccharide, lactulose, glactomannan, indigestible polydextrose, and indigestible dextrin. These carbohydrates act as food for the gut mircobiome and hence support the health of our digestive system.
Health Benefits: What is Maitake mushroom good for?
Maitake has Immune-modulatory Effect – It enhances our Immunity
Studies showed that beta glucan of Maitake has antitumor and immune-modulatory effect. They aid in production of macrophage, T-cells and release of cytokines.
Maitake protein has immune system stimulating effect.
The mushroom potentiates the action of macrophages, T cells and natural killer cells of our immune system.
It also supports the production of interleukin I and II, which are signalling molecules that indicate the presence of antigens that need to be attacked and memorised.
Maitake protects from Cancer
The mushrooms slow down and inhibit the growth of tumor cells.
It protects neighboring healthy cells and prevents cancer cells from metastasis, which is the development of secondary malignant growth near the cancer cell site.
They also synergize the effect of chemotherapy, potentiating its positive effect and lowering its side effect.
Clinical trials with Maitake indicate that it has beneficial effects against breast, lung, and liver cancer. However, it is less effective against stomach, bone cancers, and leukemia.
Also, Maitake with chemotherapy had synergistic effect. It decreased the side effect of chemotherapy, such as nausea, vomiting, pain and hair loss.
Maitake has anti-viral effect – Get your doses before flu season!
Research indicates that the mushrooms have anti HIV action through several pathways, such as direct inhibition of HIV growth, stimulation of growth of T helper cell, and decreased infection through opportunistic bacteria.
Also, topically applied Maitake liquid extract with DMSO (dimethylsulfoxide) is used to treat Kaposi sarcoma, skin tumor which affects many HIV patients.
Maitake clinical trials in China on hepatitis B patients indicated normalisation in ALT level.
Whole Maitake mushroom powder has anti-diabetic effect. It increases insulin sensitivity and lowers blood glucose.
Whole mushroom powder decreases high blood pressure and prevents development of hypertension.
It also lowers total serum cholesterol, VLDL, and triglycerides, and promotes production of HDL.
Other Health Benefits
Studies indicate that Maitake powder 20% of diet prevents fat accumulation in liver.
Maitake aids in weight loss due to its high fiber content with low calories.
What does Maitake Mushroom taste like?
The texture of Maitake is fairly smooth, light, and crunchy, unlike other chewy mushrooms. It is fairly flavourful and lightly aromatic.
What are the Uses of Maitake Mushroom?
The mushrooms can be added to soups, sauteed, grilled, stir-fried, or added to curries. They can be simply eaten in salads as well. Lightly stir-fried mushrooms can also be added to pasta, rice, or consumed as a side dish along with other preparations.
Most of the recipes across Asia constitute light cooking the mushrooms along with garlic, onions, salt, and pepper. This adds both flavour and spice, and boosts absorption of the active nutrients present in the Maitake mushrooms.
Word of Caution with Maitake Mushroom as Supplement!
Maitake has been used for many years as a food item and no side-effects are reported when used in moderation, as once or twice a week in your meals. However, current use as a supplement or as extract takes out powerful compounds from the mushrooms.
These compounds can have deeper effect on the functioning of body and mind. Hence, its use as a medicine is not recommended without supervision of a medical professional. Such large or concentrated doses can have interactions or allergic reactions affecting the health of the person.
At Medhya, we suggest against the use of herbs and food items in concentrated form or in high concentrations. Since our body systems and organs are not prepared to handle heavy dosages of foods and herbs, even healthful items can have harmful effects, and should be avoided.
Maitake Mushroom Recipe: Maitake Stir-Fry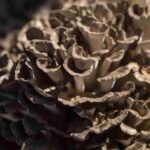 Print Recipe
Maitake Mushroom Stir-fry
This maitake stir-fry recipe is super simple and a quick turnaround. It preserves the active constituents and nutritional value of the mushrooms as the cooking steps are minimal but essential. Addition of rest of the ingredients enhances the absorption capacity and assimilation of the nutrients from the mushrooms.
Ingredients
300

g

Maitake Mushrooms

1

tbsp

Soy Sauce

Naturally Brewed Light soy Sauce, free from MSG

1

tsp

black pepper

1

Medium

Onion

5

cloves

Garlic

1½

tsp

Sesame Oil

Pure unrefined

1

tsp

Rice vinegar

or lime juice

1

tsp

Sesame Seeds

Roasted

½

tsp

Brown Sugar

or Molasses
Instructions
Wash and drain the mushrooms. Make sure that they do not carry any excess water before cooking. Use towel to lightly tap and absorb any extra water.

Break the mushrooms into smaller pieces with hand or use knife (optional).

Finely chop garlic and onion.

Mix the soy sauce, 1 tablespoon oil, vinegar, and sugar separately in a small bowl.

Heat 1 tablespoon oil in the pan.

Add garlic and onion. Mix until it turns golden brown.

Add the mushrooms and stir fry for 5 mins or until they start to wilt a little.

Pour the mix of soy sauce and vinegar over the mushrooms.

Sprinkle the sesame seeds and black pepper on the top.

Close the heat. Serve with steamed rice or bread.
We would love to hear from you! If you try this recipe, do leave a comment and rate the recipe! Don't forget to take a photo, tag @medhyaherbals, and hashtag it #medhyaherbals on Instagram. Eat Well, Feel Happy, and Look Awesome!
References
Maitake Extracts and their Therapeutic Potential, Alternative Medicine Review.
Critical Review on Health Promoting Benefits of Edible Mushrooms through Gut Microbiota, International Journal of Molecular Sciences.