This Maitake mushroom recipe is suitable for children and adults alike. It can be consumed during pregnancy and lactation as well.
It is recommended for Menopause, for Diabetics, heart patients, and cancer patients. It should also be added to the recovery diet of people suffering from immune system disorders.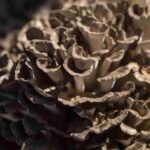 Print Recipe
Maitake Mushroom Stir-fry
This maitake stir-fry recipe is super simple and a quick turnaround. It preserves the active constituents and nutritional value of the mushrooms as the cooking steps are minimal but essential. Addition of rest of the ingredients enhances the absorption capacity and assimilation of the nutrients from the mushrooms.
Ingredients
300

g

Maitake Mushrooms

1

tbsp

Soy Sauce

Naturally Brewed Light soy Sauce, free from MSG

1

tsp

black pepper

1

Medium

Onion

5

cloves

Garlic

1½

tsp

Sesame Oil

Pure unrefined

1

tsp

Rice vinegar

or lime juice

1

tsp

Sesame Seeds

Roasted

½

tsp

Brown Sugar

or Molasses
Instructions
Wash and drain the mushrooms. Make sure that they do not carry any excess water before cooking. Use towel to lightly tap and absorb any extra water.

Break the mushrooms into smaller pieces with hand or use knife (optional).

Finely chop garlic and onion.

Mix the soy sauce, 1 tablespoon oil, vinegar, and sugar separately in a small bowl.

Heat 1 tablespoon oil in the pan.

Add garlic and onion. Mix until it turns golden brown.

Add the mushrooms and stir fry for 5 mins or until they start to wilt a little.

Pour the mix of soy sauce and vinegar over the mushrooms.

Sprinkle the sesame seeds and black pepper on the top.

Close the heat. Serve with steamed rice or bread.
We would love to hear from you! If you try this recipe, do leave a comment and rate the recipe! Don't forget to take a photo, tag @medhyaherbals, and hashtag it #medhyaherbals on Instagram. Eat Well, Feel Happy, and Look Awesome!