Melasma is a chronic hypermelanosis that is characterized by irregular dark, brown or blue patches on the skin. It presents as asymmetrical discolorations on the skin, that is the discoloration is not even. Being a chronic condition, it can last for years or even a lifetime, if untended. But at Medhya Herbals, we say, "Not on our watch." You are to be in optimum state of health, and that includes a healthy skin.
While melasma is neither painful, nor does it cause any physical discomfort as such, it is discomforting knowing that you have all these spots on your face that have refused to clear up no matter what you do or what you try. You feel disconfigured because of the patches that this hyperpigmentation disorder has caused on your face. But no worry, Medhya Herbals has got you covered with these holistic methods of clearing melasma using Ayurvedic principles.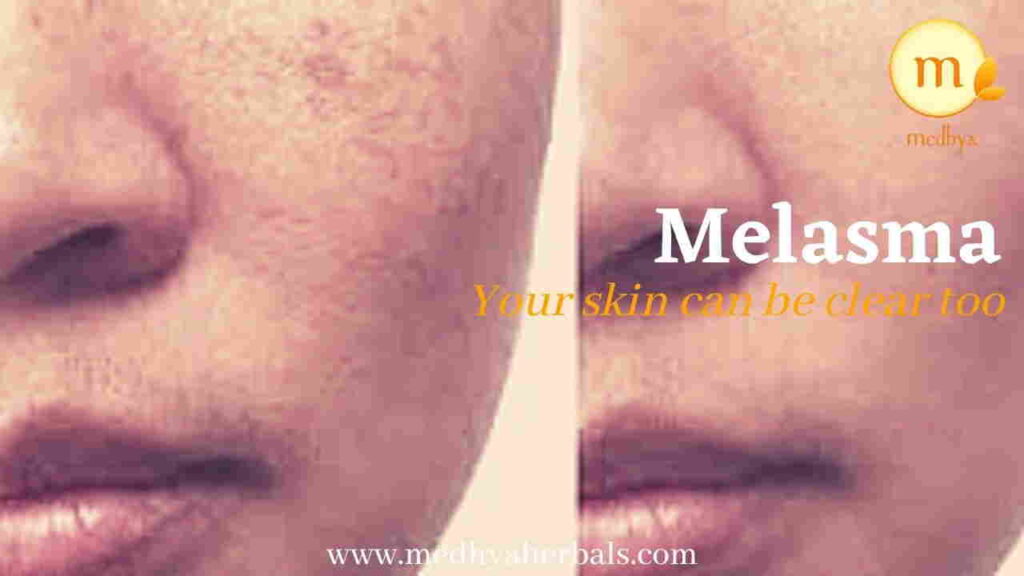 What You'll Learn | Click on Topic to Go There
Who is More at Risk?
Melasma is a condition that affects all persons and all races, but Asians and Hispanics have been found to be more susceptible. Also, it mostly affects middle-aged women of child-bearing age, women of about ages twenty to forty. Because of its prevalence in this age group, melasma is also referred to as chloasma, the mask of pregnancy. In India for example, 20-30% of 40-65 year old women have facial melasma. It is endemic in this age range for a reason, and we will see this when we talk about the causes of melasma, after which we will see what Ayurveda has to say about melasma.
Other people who are more at risk of melasma are those whose skins have darker complexions, and those who have a family history of melasma, that is to say, some people are genetically predisposed to melasma.
Types of Melasma.
LOCATION.
Melasma pigmentation could appear on various parts of the body, including the face(emphasis on the face), the neck, back, and rarely, the arms.
PATTERN.
Types of melasma can be grouped based on the pattern of the pigmentation, and they are:
Centro-Facial: the pigmentation appear on the forehead, cheeks, nose, upper lip, chin.
Malar: pigmentation appear only on cheeks and nose.
Mandibular: dark spots appear about the remus of the mandible.
LAYER OF SKIN.
Melasma can be on the epidermal layer of the skin, in which case it shows up as dark-brown patches.
It could also be on the dermal, in which case it shows up as bluish in color to the eye.
The distinction between them and the diagnosis is done with a special lamp.
Melasma Area and Severity Index(MASI).
How severe is your melasma? You an easily measure it by following this simple formula prescribed below.
The face is divided into four sections, and each section is allocated a score percent. If melasma is present in that part of your face, then your scale moves up by the score allocated to that area.
For example, if Miss Jane has patches on her fore head, her chin, and her left mandibular region, then her severity index is calculated as follows:
Causes of Melasma.
We have seen an overview of melasma, the risk factors for melasma, and how to calculate melasma area and severity index. But what causes melasma?
Melanin is widely responsible for melasma. Melanin is the pigment that gives the skin its dark coloration. It is produced in the melanocytes in the skin. However, if these melanocytes begin overproducing melanin, it results in skin pigmentation disorders, such as melasma, and dark patches can be seen forming on the skin.
The causes for melasma are very widely varying, and are not always specific, but there are factors that put one at increased risk of melasma, aside the risk factors listed above, and these are related to these detailed causes of hypermelanosis disorders like skin pigmentation.
Exposure to sunlight
Pregnancy
Hormone therapy.
Cosmetics
Drugs
Nutritional deficiency, gastrointestinal tract disorders
Ayurveda and Melasma.
When all the doshas are in a state of balance(prakruti), then there is no problem at all with any system or parts of the body, but if there is any imbalance(vikruti), it shows up gradually in stages(Samprapti) as disease of any kind, depending on the dosha whose energy is in excess and the degree of the imbalance. The skin, being large as it is and stretching over the body, is a ready talebearer that bears warning signals if there is an issue with any system or part of the body.
Melasma is due to an imbalance in the pitta dosha, but the vata also plays a part in it. If this pigmentation disorder is to be cleared, then efforts must be made to return this dosha back to balance. Aside this pitta imbalance, other factors that contribute to melasma are:
Krohda(anger)
Shoka(sorrow)
Ayasa(mental exertion)
Pitta prakopakara aahara(pitta enraging diet).
Antithaahara sevana(unwholesome diet)
Manasika nidonas(psychological factors)
All these factors tend to aggravate the pitta or the vata in one way or the other.
Remedies for Melasma.
So, how do you clear melasma? Well, there are several ways to do this. Conventionally, modern methods that can be applied abound, however, many of them have undesirable side effects. For example:
Hydroquinone is a drug that is commonly used, and while it is effective in many cases, it leads to allergic reactions, inflammation, post-inflammatory hyperpigmentation, and depigmentation, to mention but a few. Hydroquinone attacks the melanocytes and kills them by disrupting DNA and RNA synthesis, and as a result, the sections where the melanocytes have been killed off turn to white patches because these melanocytes, which are supposed to produce the melanin pigment to give the skin color, have been killed off altogether. In any case, it is not recommended to use hydroquinone for extended periods;
Another common drug in use is the Kojic Acid, but Kojic Acid eventually leads to severe irritation, facial erythema(i.e., redness of the skin of the face, like it was burned);
Azelaic acid can also be effective in treating melasma, but again, as you would expect, it doesn't come without its own side effects, which include cutaneous prickling, erythema, scaling of the skin, etc.
Others methods include laser therapy, using chemical peels, and many more.
While these methods do work, they are best avoided because the results seen are usually short lived and the symptoms will return again, requiring you to undergo the treatment again after a while.
Ayurvedic Remedies to Cure Melasma.
The goal of Ayurveda, and our practice here at Mehdya Herbals, is to give you holistic care that doesn't break one to fix the other. Some Ayurvedic remedies, simple diet and lifestyle changes, can be applied cure melasma:
Lifestyle Changes for a Clear Skin.
Reduce exposure to sunlight,
Use of broad-spectrum sunscreen made from natural ingredients with Sun Protection Factor(SPF) of at least 30.
Avoid cosmetic products that have irritating chemical components.
Do not take drugs with metals like arsenic, iron, copper, bismuth, etc.
Shun petroleum products.
Wear wide brimmed hats and sunglasses if you must go out in the sun or at the beach.
Avoid stress and take breaks when necessary.
Embrace Panchakarma therapy.
Apply kukumadi tylam drops on face and as nasal drops to lighten up the patches.
Diet Changes for a Clear Skin.
Take pitta paicfying diet to balacne the pitta dosha, like dairies, oils, etc.
Avoid hot and spicy foods, they only aggravate the pitta further.
Make use of haridra(tumeric).
Include more of walnuts, cranberries, pomegranates, strawberries, blackberries, in your diet.
Remember, your body is a microcosm of the universe, and like the universe, it was made to self-regulate, to take care of itself.
You have more questions? Comment below, and our in-house experts in Ayurveda will respond to you promptly.