Menstruation follows a regular monthly cycle for females and girls that have entered Menarche. It involves a synchronised play of multiple hormones and body systems, and it is a vital marker of female health.
Menstruation is an act of female reproductive system with which it prepares her body for potential pregnancy. Any disturbances in terms of menstrual symptoms, irregular, missed, or absent periods indicate potential health issues that need to be addressed.
Regularity and onset of Menstrual cycles, also known as Menarche begins the fertile phase of a girl's life.
Menstruation – Time to Cleanse and Rejuvenate
Regular menstrual cycle is necessary to maintain the balance of Dosha, body tissues, endocrine system, and reproductive system for females. It also indicates good health and is a sign of fertility. Females who undergo regular periods are better able to work with fertile windows and experience healthy pregnancy outcomes.
In Ayurveda, menstruation is considered to be a part of monthly cleansing for females. Menstrual blood is the waste product formed when blood tissues or Rakta Dhatu is generated from the Rasa Dhatu or Plasma Tissues. According to Ayurvedic principles, menstrual cycle allows monthly flushing of the unwanted materials and malignant tissues.
Due to the cleanse and loss of blood and energy, the female body is rendered weak. This effect is visible on body systems and body functions such as the digestive system and immunity.
In Ayurveda, menstruation is considered to be the time to rejuvenate, relax, and nurture the body and mind. For a healthy menstruation one needs to:
Avoid over stimulation of the senses
Consume fresh, nutritious, and light foods that would nourish the tissues and stimulate digestive fire
Sleep and rest well to avoid fatigue
Avoid processed, fried, and spicy foods
Engage in light and refreshing physical activity
Avoid excessive and strenuous exercises
Three Dosha for three stages of Menstrual Cycle
Each Dosha, and hence the respective energies play an important role in different phases of the monthly cycle. The dynamic forces of growth (Kapha), transformation (Pitta), and movement (Vata) guide the three stages of Menstruation.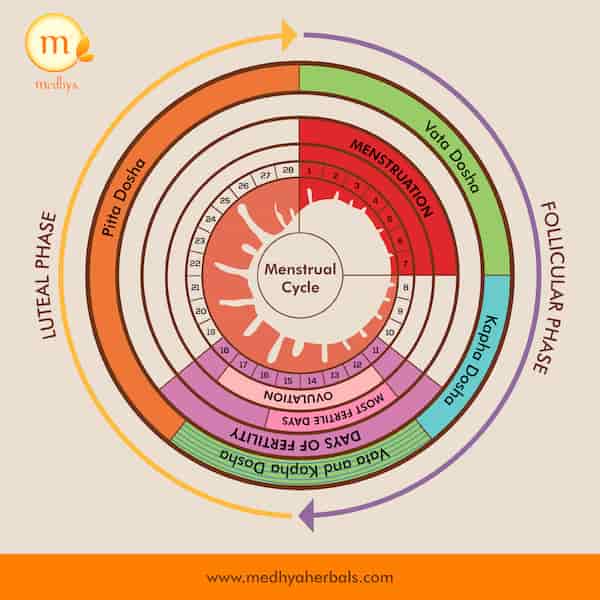 Kapha Dosha dominates the Follicular or Proliferative phase
Follicular phase is the first phase before the release of the egg. This phase starts after menstruation and lasts just before Ovulation, and is the growth phase. In this stage, the endometrium in the uterus thickens and becomes glandular.
Any imbalance in Kapha would lead to the formation of clots and mucusy layer that is not capable of performing its required function.
Pitta Dosha dominates the Ovulatory phase
Ovulatory phase follows the Follicular phase, and goes around the egg release. It starts with Ovulation and lasts just before Menstruation. In this stage, Pitta Dosha acts through the blood tissues and the endometrium becomes more engorged with blood vessels. This prepares the uterus to nurture the fertilized egg, should it come.
Any imbalance in Pitta would lead to excessive growth of the layer, and hence more than usual bleeding.
Vata Dosha dominates the Luteal phase
The secretary or the luteal phase is the last phase of the menstrual cycle after the egg release. In this stage, the uterus gets rid of the endometrium layer via the downward force of Apana Vayu – Vata Dosha, and menstrual flow is established.
Any imbalance of Vata Dosha would lead to restricted or painful flow, bloating, and PMS symptoms.
Three Dosha guide onset of Menstruation
The average age of menarche is 12 to 15 years. The first day of menstrual bleeding is the date used for the last menstrual period (LMP).
As Pitta Dosha governs the Plasma and Blood tissues, girls that have Pitta dominant Prakriti usually have an early Menarche ranging anywhere in between 9 to 12 years.
Additionally, girls that have Kapha dominant Prakriti usually have Late Menarche, ranging between 13 to 16 years.
Ayurveda – Healthy Menstruation is pain-free and Regular
Once a female has attained menarche, she will undergo monthly menstrual uterine bleeding for which average duration lies between 3-5 days. The average length of the cycle in adult females is considered to be 28 days.
Length of the cycle (days between the first day of the last period and the first day of the upcoming period) is longer at the beginning such as 21 to 45 days. However, this shortens down to 21 to 31 days once the menarche is established.
An irregular and painful menstruation is a sign of ill health of multiple body systems such as endocrine system and reproductive system. It also affects the health of multiple organs and body systems such as digestive system, cardiovascular system, fertility, and nervous system.
Following are considered to be the characteristics of healthy menstrual flow. If any of the above characteristics are missing, it is interpreted to be a sign of imbalance in Dosha.
Bright red in color, similar to a red lotus.
Does not stain clothing. If the flow stains clothes, it indicates the presence of toxins and blocked channels.
Is odorless – does not have any foul smell.
On average, the amount of the flow is four anjalees – a cup formed by closing fingers of your one hand.
Does not lead to any kind of pain, body dysfunction, and discomfort.