Palak Paneer Recipe
Traditionally, palak paneer is an extremely popular dish from the North of India. You can find it in the restaurants too, indicating the popularity and taste of the dish.
Palak refers to the spinach and paneer to the cottage cheese. I have used red amaranth instead of the green spinach leaves. You can make this with spinach or try with different varieties of amaranth.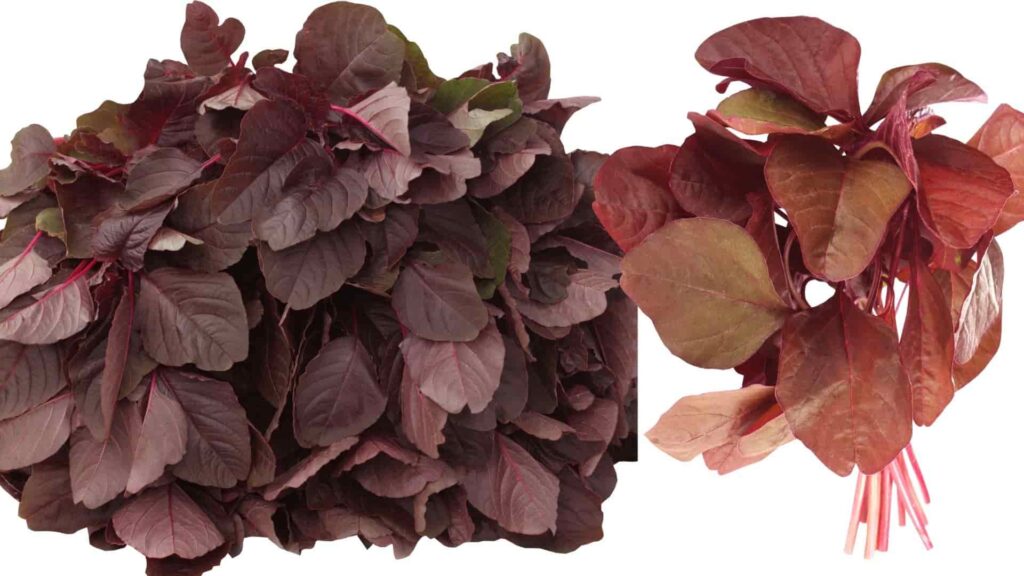 Nutrition and Consumption
Palak paneer is a delicious and super nutritious meal option that covers all of your nutritional needs. It is a dense source of minerals, vitamins and antioxidants. Also, it is packed with proteins and antioxidants to give your metabolism the right boost it needs.
This recipe is recommended for children, pregnancy, menopause, and generally for all age groups. It is particularly good for vata and pitta imbalance disorders.
Do note that both spinach and paneer are hard to digest, that's why consume in moderation when struggling with poor digestive fire and Kapha imbalance disorders.
For Diabetes, PCOS and any other excess kapha condition; you can modify this recipe to replace paneer with tofu and you are good to go!
The Recipe
Print Recipe
Palak (Spinach) and Paneer (Cottage Cheese) Soup
This is a simple, highly nutritious, and delicious soup made with Red Amaranth Leaves and Paneer (cottage cheese). Paneer and spices perfectly mask the slightly bitter taste of spinach and add to the nutritional value of the meal. This recipe is recommended for vata and pitta balance specifically.
Equipment
Food Processor or Blender
Ingredients
250

g

Fresh Red Amaranth

Replace with spinach or other maranth varieties

2

tbsp

Pure Cooking Oil

Olive Oil, Mustard Oil, Ghee, or Sesame Oil

300

g

Paneer

Cottage Cheese

1½

inch

Fresh ginger root

1

Green Chili

Optional

1

tsp

Turmeric Powder

1

tsp

Coriander Seeds Powder

1

tsp

Cumin Seeds Powder

2

cloves

Garlic

1

Medium

Onion

Finely Chopped

1

cup

Water

1½

tsp

Rock Salt

To Taste

7-8

pieces

Cashew Nuts

1

Medium

Tomato

1

tbsp

Fresh cream

optional
Instructions
Preparing the Veggies
Finely chop onion and tomato and keep them aside separately.

Wash and coarsely chop the spinach.

Pound the ginger, chili, and garlic together and keep aside.
Preparing Paneer
Wash paneer and cut it into small 1/2 inch cubes.

You can soak the paneer in slightly hot water for 10 mins while steaming the spinach. This will reduce cooking time and make paneer soft.
Preparing the spinach
Add cut spinach, cashew nuts and 2 tbsp water in a pan. Boil the spinach till the leaves start to wilt off.

Close heat and let it cool down. Once cold, add the spinach to a blender and grind till you get smooth puree.
Preparing the soup
Heat the pan on medium. Once the pan is hot, add cooking oil.

Now add ginger garlic paste and onion. Mix and stir well till it turns golden brown.

Now add turmeric powder, salt, coriander seeds powder and cumin powder. Mix well.

Now add chopped tomato and mix well. Cover and let it cook on low heat for few mins till tomato is mashed up.

Now add cut paneer pieces. Mix well and cover for 5 mins to let it cook.

Now add the ground spinach, mix well and cook for another 2-3 mins.

If you are adding fresh cream then add it now.

Close heat and serve with bread or chapati or steamed rice.