Pitta diet involves foods and dietary habits that can calm down hot and fiery Pitta Dosha. Pitta pacifying foods are cooling, hydrating, energizing, and nourishing for the body.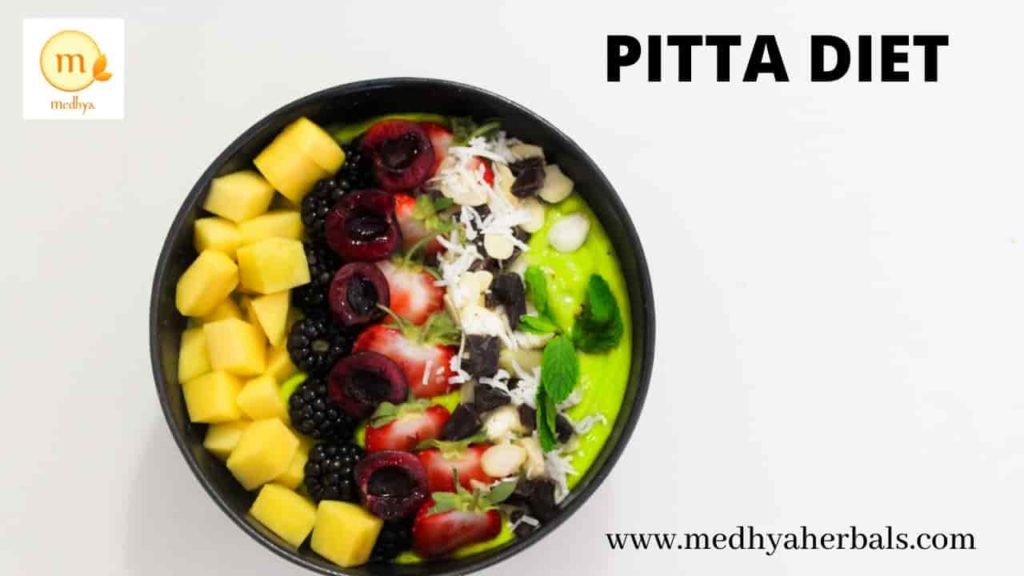 Pitta Dosha balancing diet prefers foods with tastes that decrease aggravated Pitta Dosha. Irrespective of the body constitution, a Pitta Dosha Diet is helpful for anyone who is suffering from Pitta Imbalance.
When should one follow a Pitta Diet?
Pitta Diet is one of the best tools to pacify Pitta increase along with suitable lifestyle changes. One should follow a pitta dosha diet to balance an aggravated pitta dosha or to prevent pitta aggravation.
This may happen in following cases:
When you are suffering from Pitta Imbalance health disorders such as inflammation, eczema, impure blood, excessive bleeding, hot flashes, and heat in the body.
Certain lifestyle factors such as excessive stress at physical and mental level, upcoming deadlines, exams, new job, and excessive competition
In hot and damp weather
During summer season
Pitta can easily get aggravated when you live in or travel to a regions such as tropical areas.
During mid-life years, specifically when you start facing Pitta Imbalance symptoms such as heavy menstrual bleeding, acne, hogh heat, and high acidity
FREE Ayurvedic Health Assessment
Take Medhya Herbals' Health quiz, for a complete Ayurvedic analysis of your body tissues, your current health imbalances, and your Aging status.
You will also get recommendations to achieve optimal health. Access Ayurvedic Recipes, Yoga and Exercise routines, and Guidelines for herbs that match with your needs.
Pitta Dietary Habits and General Rules to Follow
Pitta Dosha foods balance the hot, sharp, oily, mobile, and pungent gunas of Pitta Dosha.
One should follow regular mealtimes to prevent excessive hunger, irritation, and hyper acidity.
Avoid late night snacking as it leads to excessive stimulation of the digestive system.
Eat in a calm and relaxed setting. Do not work while eating and do not rush through the meals.
Do not hold hunger. One can snack in between the meals, if they suffer from excessive hunger. Keep gap of 2 hours or more between meals and snacks.
Moderate size breakfast should be taken to calm pitta's high digestive fire.
Salads and raw foods are cooling and hydrating in nature. They can be taken by pitta in moderation, specifically during hot weather and lunch times.
Add pure oils such as Ghee, Olive Oil, and Coconut Oil in your meals in small quantities.
Remove and reduce nightshades such as eggplants, peppers, capsicum, tomatoes from the meals.
Which foods should be preferred when following a Pitta Dosha Diet?
Pitta foods carry Pitta opposite characteristics such as bitter, astringent, and naturally sweet tastes and cool, heavy, dry, mild, and dense gunas.
Sweet Taste
Sweet taste in Ayurveda refers to dense, cooling, strength building, and nourishing foods.
Naturally sweet foods satisfy Pitta's strong appetite. They also reduce heat and inflammation in the body.
Some examples are milk, whole grains, nuts, seeds, root vegetables such as yams and sweet potato.
Prefer sweet and Juicy fruits such mango, grapes, sweet oranges, melon, papaya, ripe banana, coconut, watermelon, plums, peaches, sweet pineapple, Avocado, and sweeter Berries.
Sugar on the other hand is harmful for Pitta imbalance. Sugary foods cause excessive stimulation of the sensitive digestive system of Pitta.
The heavy, oily, and liquid gunas of Sweet taste slow down digestive fire.
Ayurveda recommends that during the meals, you eat sweet tasting foods first, when your digestive fire is high or you suffer from high stomach acid.
Prefer sweet and grounding herbs such as Ashwagandha, Shatavari, and Licorice.
Astringent Taste
It is is dry, cold, heavy and rough in nature.
Astringent foods are reducing, toning, and drying in nature. They prevent inflammation and irritation that often accompanies Pitta Imbalance.
They absorb and dry up excessive acids and fluids.
Consume astringent fruits such as pears, berries, unripe bananas, starfruit, and jack fruit.
Some astringent grains are Millets, brown rice, corn, barley, buckwheat, and oat bran.
Some astringent vegetables are green leafy vegetables, cruciferous such as cabbage, kale, kailan, rhubarb, beetroot, beetroot greens, brussels sprouts, kohlrabi, broccoli, and cauliflower
Beans and legumes such as black eyed beans, chickpeas, aduki beans, white beans, and black beans carry astringent taste.
Drying and astringent foods such as puffed cereals, crackers, cereal flakes, rice flakes, puffed rice or corn cakes, and popcorn are suitable for Pitta Dosha balance.
Bitter Taste
Bitter taste is cooling, rough, drying, light, and reducing in nature.
It is one of the most pacifying tastes for Pitta Dosha.
Some examples are bitter gourds and leafy greens such as pointed gourd, bitter melon (karela), drumstick leaves, kai lan, and Agathi.
Bitter herbs such as Aloevera, Giloy, or Bhui Amla are considered to be the best Pitta reducing and blood purifying herbs.
Consume bitter nuts and seeds such as bitter almonds and dark chocolate in small quantities to balance Pitta aggravation.
Cooling and Hydrating Foods
Pitta tends toward high heat and excessive thirst, which is often a first sign of Pitta imbalance. Prefer foods and herbs that have a cooling potency or effect on the body.
Raw foods, juices, and salads are cooling in nature. Hence, should eb consumed in moderation.
Limit consumption of cold, stale, and frozen foods as they disturb body tissues and digestive fire.
Stay hydrated with warm herbal teas that are made from cooling herbs such as coriander, fennel, lemongrass, and mint.
Prefer natural hydrating sources such as room temperature plain water, unsweetened and fresh juices, milk, and coconut water.
Which foods should be removed or avoided for Pitta Dosha Diet?
Pitta Dosha is increased by consumption of pungent, sour, and salty tastes. Hence, one should either avoid them or consume them in moderation.
Sour Taste
Hot, light, and oily qualities of the sour taste increase Pitta Dosha.
Sour taste stimulates secretion of the digestive juices and enzymes in general. Hence, it overtaxes an already sensitive liver in Pitta Imbalance.
Sour foods are heating in nature. They increase the thirst, irritate the gut, create inflammation in the muscles and blood. Excessive sour foods cause burning sensations and lead to pus formation.
Some foods are lemons, tamarind, fermented foods, vinegar, and sour-sweet fruits like orange, pineapple, and kiwi.
Pitta Imbalance should avoid sour fruits. Lemon can be taken occasionally. It should be avoided on an empty stomach.
Pungent Taste
Pungent taste is heating and light in nature, hence it overstimulates and inflames hot Pitta Dosha.
Excessive pungent taste leads to burning sensations, dizziness, and inflammation of the digestive tract. It may trigger bleeding.
Avoid pungent herbs and foods such as chillies, turnip, radish, raw onion, raw garlic, mustard, and cayenne pepper.
Heating herbs such as turmeric, black pepper, and ginger should be consumed in moderation.
Salty Taste
Salty taste increases passage of food through the digestive tract. This causes incomplete digestion, which normally accompanies Pitta Imbalance.
It increases water retention, dilutes the blood, creates impurities in the blood, and increases blood pressure.
Salty foods increase heat and inflammation in all body tissues.
Take salty foods in small quantities only.
Some examples are natural salts such as rock salt, pure sea salt, Seaweeds, and seafood.
Heating, Oily, and Sharp Foods
Avoid very hot temperature foods and beverages such as steaming hot soups, charred, and barbecued foods.
Reduce consumption of oily and hot potency foods such as egg yolk, nuts, seeds, olives, and spices.
Consume sharp foods such as aged cheese, sour cream, fermented, and pungent tasting foods in moderation.
Pitta aggravation poorly affects the liver and reduces its cleansing action. One should remove fried foods and poor quality oils from the diet, as it will further tax the liver function.
Unwholesome and Heavily Processed Foods
Processed and unwholesome foods create blood impurities and toxins build up in the body tissues.
Remove carbonated beverages and fizzy drinks.
Stop Alcohol and smoking as both of them are highly dehydrating in nature.
Avoid fasting and skipping meals.
Avoid caffeinated beverages such as coffee, black tea, and green tea as they are dehydrating in nature.
Interested to join like-minded people to share and learn about healthy food, Ayurvedic Diet and lifestyle.? Join Medhya's Ayurvedic Diet and Lifestyle Community on Facebook.