Dry chutney powders are called podi powders. They are essential part of the South Indian cuisine. You can make this recipe with variety of seeds.
This is a great way to pack and introduce super healthy curry leaves and seeds into your daily meals.
Pumpkin and Flax seeds chutney powder is also a seed cycling recipe to balance hormones in the follicular phase pf menstrual cycle for women.
This recipe is loaded with plenty of nutrients including healthy fats, antioxidants, minerals, and vitamins. So, you can be sure to cover majority of your micro nutrients with this delicious and easy chutney powder.
You can add the chutney powder to porridge, to bread dough, have it with pancakes or with steamed rice as it is consumed in South of India.
This is a balancing recipe for all Dosha, hence it is Tridoshic and highly nourishing addition to your meals. It is great for all age groups and health conditions.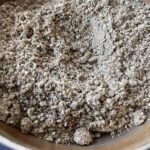 Print Recipe
Pumpkin Seeds and Flax Seeds Dry Chutney Powder with Curry Leaves
An extremely delicious and highly nutritious chutney powder. Mixed with ghee, it makes for a delicious and high nutritious sauce. This recipe is recommended for all age groups. It is helpful for hormone balance in women.
Ingredients
½

cup

Flax Seeds

½

cup

Pumpkin Seeds

2

tbsp

Dry curry leaves powder

Replace with Moringa powder

1

tbsp

Cumin Seeds

Or Roasted and Ground Cumin Seeds powder

1

tbsp

Dry Mango Powder

2

tsp

Rock Salt

To taste

2

tsp

Black Pepper Powder

¼

cup

Desiccated Coconut Powder
Instructions
Dry roast flax seeds and pumpkin seeds on low heat. Leave them aside to cool down.

Dry roast cumin seeds and keep them aside.

Now grind the seeds together to make a smooth powder.

Mix all the ingredients to make your delicious podi powder.

Refrigerate it or store in an air tight container.
Notes
You can make dry curry leaves powder either by drying curry leaves (in the sun). Or you can quickly dry roast fresh curry leaves, let them cool down, and then grind to make the powder.
1/2 cup of fresh curry leaves will give 2 tbsp of powder.
We would love to hear from you! If you try this recipe, do leave a comment and rate the recipe! Don't forget to take a photo, tag @medhyaherbals, and hashtag it #medhyaherbals on Instagram. Eat Well, Feel Happy, and Look Awesome!