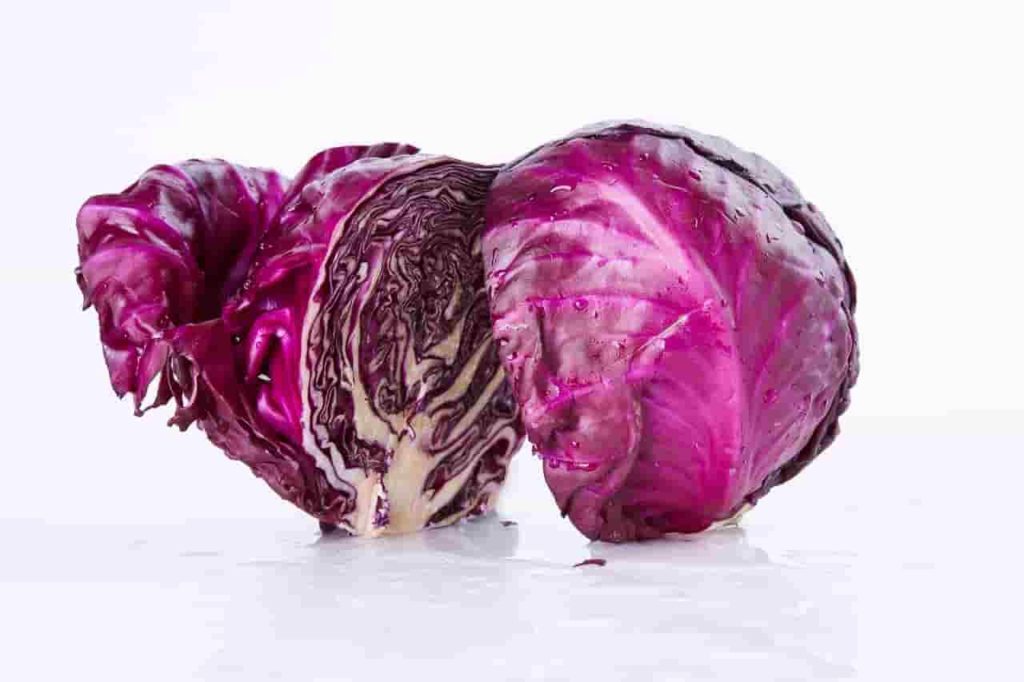 Purple Cabbage carries loads of nutrients and it is amazingly poor in calorific value, hence making it an ideal ingredient for weight watchers.
It's dark red colour indicates much higher level of antioxidants in the form of Anthocyanin, which is known to promote heart heath, and prevent inflammation.
What You'll Learn | Click on Topic to Go There
Are Purple Cabbage and Red Cabbage Same?
Purple Cabbage is also known as red cabbage due to its dark reddish and purple shade of leaves. Similar to green cabbage, purple cabbage also belongs to the cruciferous family of vegetables.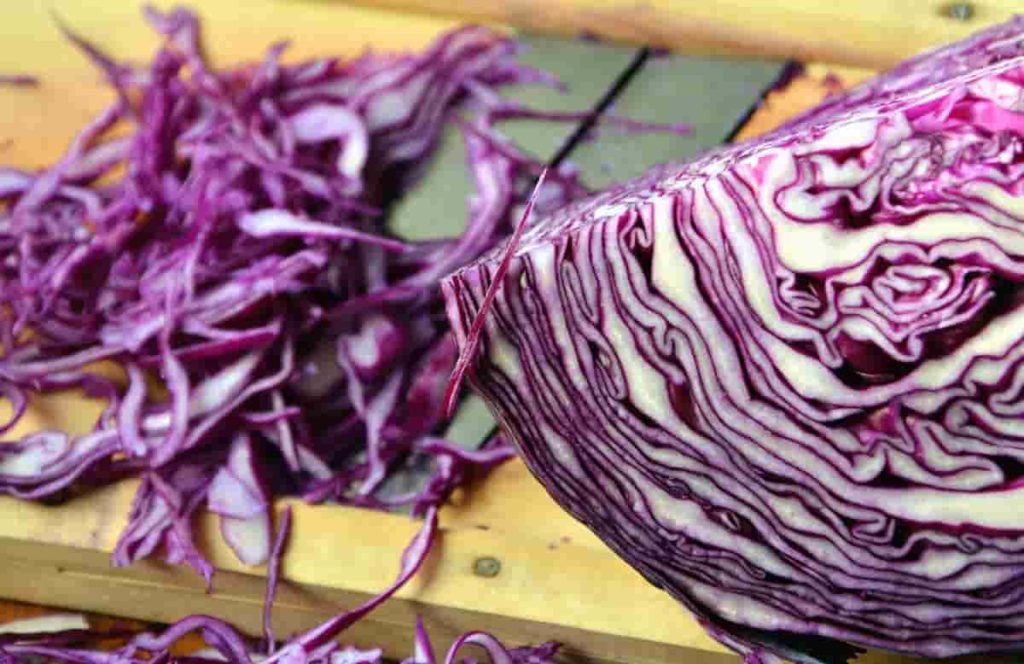 It is however slightly different from green cabbage in taste, texture, and nutrition profile. The leaves of purple cabbage are firmer, thicker, and rougher as compared to green cabbage, indicating higher fibrous content.
Purple Cabbage Raw or Cooked?
Purple cabbage carries predominantly Bitter, Sour, and Astringent tastes or Rasa per Ayurveda. It is Pitta Dosha and Kapha Dosha pacifying, but can aggravate Vata Dosha.
A lot of purple cabbage recipes involve salads, however one needs to limit eating purple cabbage in raw form.
Salads and raw purple cabbage can cause Vata Imbalance health problems such as gas, bloating, inflammation, stomach irritation including IBS aggravation, and constipation.
Hence, it is best to consume purple cabbage in cooked form rather than raw form.
Recipes and Cooking Tips
Purple cabbage doesn't have very strong taste. It easily blends well in different recipes.
You can have purple cabbage by stir-frying, or by adding it to soups, curries, or other grain dishes.
Adding herbs and spices such as Ginger, Asafetida, Turmeric, and Curry leaves would add to the nutritional value of purple cabbage. Herbs and spices will also promote digestion and assimilation of the nutrients from the cabbage.
Purple Cabbage Nutritional Value
1 cup of raw purple cabbage carries only 28 calories and 2 g of fibre.
It is a rich source of Vitamin K, Vitamin C, Vitamin A, and Vitamin B6.
Purple cabbage is a good source of minerals as Potassium, Iron, Calcium, Magnesium, Phosphorus, and Copper.
It also contains high amount of antioxidants such as Anthocyanin, Sulforaphane, and Kaempferol.
Purple Cabbage Benefits
1. Prevents Inflammation and Cancer
Purple cabbage benefits in health issues related to inflammation, pain and swelling in joints.
It reduces intensity of Pitta dosha inflammation or heat related disorder such as skin rashes and Psoriasis.
Regular consumption of purple cabbage benefits blood circulation. It improves flow of the blood through the vessels and also flushes the toxins out.
Antioxidants in purple cabbage also prevent accumulation of malignant cells. This helps against development of diseases related to cancer and tumors.
2. Purple Cabbage benefits Heart Health
Purple cabbage has high amount of antioxidants. It helps to protect heart from free radical damage.
Regular consumption of purple cabbage prevents hardening and blockage of arteries. Specifically, it can be helpful for heart condition known as atherosclerosis.
High levels of Potassium in purple cabbage also help to regulate high blood pressure level. This prevents the risk of hypertension.
3. Promotes Bone Health and Skin Health
Purple Cabbage contains good amounts of bone strengthening nutrients such as Calcium, Vitamin K, Vitamin A, and Vitamin C.
It promotes bone metabolism and prevents bone loss.
High amounts of Vitamin A and Vitamin C ensure skin protection and collagen formation.
4. Promotes Bone Health and Skin Health
Purple cabbage contains good concentration of Vitamin A and Vitamin C. Regular consumption will ensure skin protection from inflammatory health diseases.
It also boosts production of collagen. Hence, purple cabbage supports growth of good skin tissues.
Purple Cabbage Recipe – Fried Rice
Print Recipe
Purple Cabbage Stir-fried Rice
Purple Cabbage Fried Rice is a simple one-pot recipe with rich aroma of Indian spices and health benefits of cabbage. It can be easily made with leftover boiled rice and delicious appetite promoting herbs.
Ingredients
2

cups

Purple Cabbage

finely chopped

1

Green Chili

optional

2

tbsp

raw peanuts

1½

tsp

Mustard Seeds

1½

tsp

Turmeric Powder

1

inch

Ginger

finely grated

Pinch

Asafetida

12

Fresh Curry Leaves

1

Medium

Onion

Finely Chopped

3

cloves

Garlic

3

cups

Cooked Rice

1

tbsp

Cooking Oil

Olive Oil, Peanut Oil, Ghee, or Coconut Oil

2

tsp

Rock Salt

To taste
Instructions
Finely chop purple cabbage and keep aside.

Finely chop onion, green chili, and garlic. Grate or pound the ginger.

Heat the pan and put oil in it.

Add mustard seeds and asafetida when the oil is little hot.

Let the seeds crackle. Add curry leaves, raw peanuts, and green chili and stir well.

Now add onion, garlic, and ginger.

Once the mix turns golden brown, add purple cabbage, Turmeric powder, and Salt.

Mix well and cover. Lower down the heat to medium and let the cabbage cook.

After about 5-7 mins, purple cabbage will start to turn soft and nearly 70% cooked.

Add rice. Mix well. Cover and lower down the heat.

Let the mix be on heat for another 1 min, then close the heat and let it still be covered.
We would love to hear from you! If you try this recipe, do leave a comment and rate the recipe! Don't forget to take a photo, tag @medhyaherbals, and hashtag it #medhyaherbals on Instagram. Eat Well, Feel Happy, and Look Awesome!