In this post, we will cover two purple cabbage recipes that are super nutritious and easy to cook. Both of these purple cabbage recipes are vegan and kids friendly.
In the purple cabbage recipes shared in this post, we have added Indian spices to enhance the flavour, taste, and health benefits of the dishes. One of the recipes is a quick stir-fried rice meal and another is purple cabbage kootu, made with Coconut and lentils.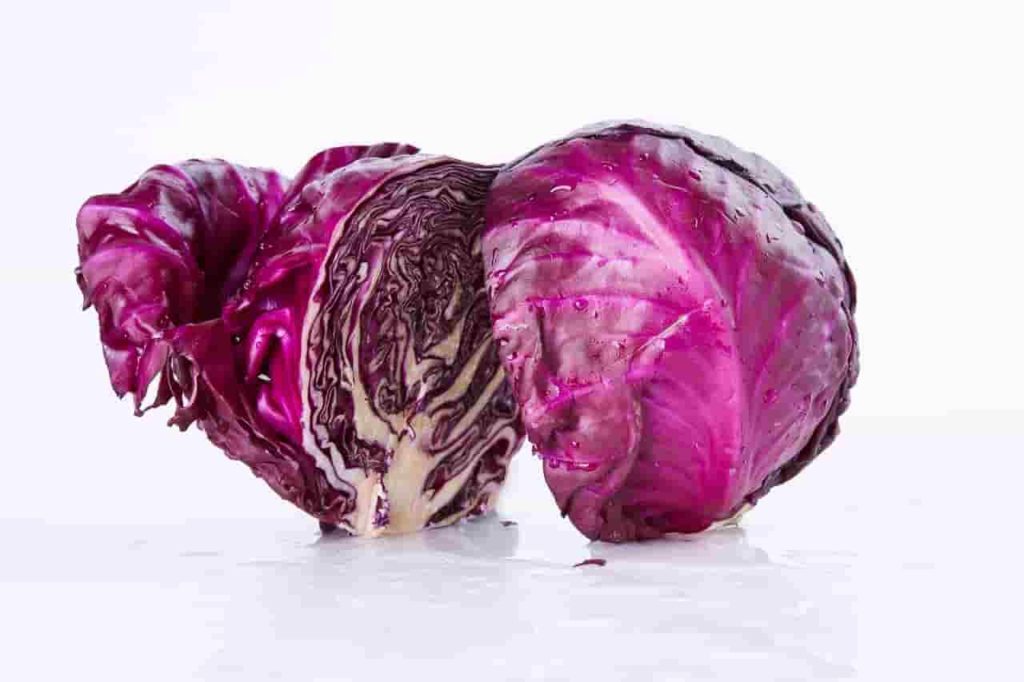 Are Purple Cabbage and Red Cabbage Same?
Purple Cabbage is also known as red cabbage due to its dark reddish and purple shade of leaves. Similar to green cabbage, purple cabbage also belongs to the cruciferous family of vegetables.
It is however slightly different from green cabbage in taste, texture, and nutrition profile. The leaves of purple cabbage are firmer, thicker, and rougher as compared to green cabbage, indicating higher fibrous content.
Purple Cabbage Raw or Cooked?
Purple cabbage carries predominantly Bitter, Sour, and Astringent tastes or Rasa per Ayurveda. It is Pitta Dosha and Kapha Dosha pacifying, but can aggravate Vata Dosha.
A lot of purple cabbage recipes involve salads, however one needs to limit eating purple cabbage as a salad as it can lead to Vata health problems such as gas, bloating, inflammation, stomach irritation including IBS aggravation, and constipation. Hence, it is best to consume purple cabbage in cooked form rather than raw form.
Purple Cabbage Recipes and Consumption
Adding herbs and spices such as Ginger, Asafetida, Turmeric, and Curry leaves would add to the nutritional value of purple cabbage. Herbs and spices will also promote digestion and assimilation of the nutrients from the cabbage.
Purple cabbage doesn't have very strong taste, hence it easily blends well in different recipes. Purple cabbage can be consumed by stir-frying, or by adding to soups, curries, or other grain dishes.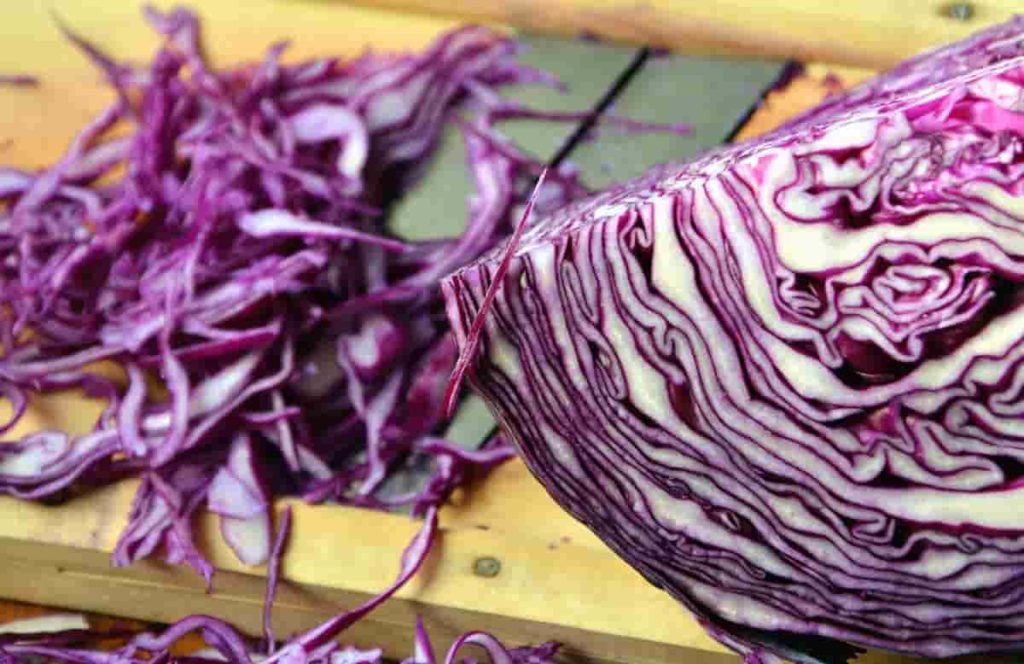 Health Benefits and Nutritional Value of Purple Cabbage
Purple Cabbage carries loads of nutrients and it is amazingly poor in calorific value, hence making it an ideal ingredient for weight watchers. It's dark red colour indicates much higher level of antioxidants in the form of Anthocyanin, which is known to promote heart heath, and prevent inflammation.
Nutrition Value
1 cup of raw purple cabbage carries only 28 calories and 2 g of fibre.
It is a rich source of Vitamin K, Vitamin C, Vitamin A, and Vitamin B6.
It is a good source of minerals as Potassium, Iron, Calcium, Magnesium, Phosphorus, and Copper.
It is a rich source of antioxidants Anthocyanin, Sulforaphane, and Kaempferol.
Prevents Inflammation and Cancer
Purple cabbage prevents inflammation, pain, and swelling in joints.
It reduces intensity of Pitta inflammation disorder such as skin rashes and Psoriasis.
It increases blood circulation and prevents accumulation of malignant cells.
Promotes Heart Health
High antioxidant content in purple cabbage protect heart from free radical damage. It prevents heart condition known as atheroscelorosis.
High levels of Potassium in purple cabbage helps regulate high blood pressure.
Promotes Bone Health and Skin Health
Purple Cabbage contains good amounts of bone strengthening nutrients such as Calcium, Vitamin K, Vitamin A, and Vitamin C.
It promotes bone metabolism and prevents bone loss.
High amounts of Vitamin A and Vitamin C ensure skin protection and collagen formation.
Purple Cabbage Recipes
1. Indian Style Stir Fried Rice
This purple cabbage stir-fried is delicious and highly nutritious. This recipe can also be modified to make purple cabbage noodles or daliya in the same way by simply replacing rice with desired grains.
Print Recipe
Purple Cabbage Stir-fried Rice
Purple Cabbage Fried Rice is a simple one-pot recipe with rich aroma of Indian spices and health benefits of cabbage. It can be easily made with leftover boiled rice and delicious appetite promoting herbs.
Ingredients
2

cups

Purple Cabbage

finely chopped

1

Green Chili

optional

2

tbsp

raw peanuts

1½

tsp

Mustard Seeds

1½

tsp

Turmeric Powder

1

inch

Ginger

finely grated

Pinch

Asafetida

12

Fresh Curry Leaves

1

Medium

Onion

Finely Chopped

3

cloves

Garlic

3

cups

Cooked Rice

1

tbsp

Cooking Oil

Olive Oil, Peanut Oil, Ghee, or Coconut Oil

2

tsp

Rock Salt

To taste
Instructions
Finely chop purple cabbage and keep aside.

Finely chop onion, green chili, and garlic. Grate or pound the ginger.

Heat the pan and put oil in it.

Add mustard seeds and asafetida when the oil is little hot.

Let the seeds crackle. Add curry leaves, raw peanuts, and green chili and stir well.

Now add onion, garlic, and ginger.

Once the mix turns golden brown, add purple cabbage, Turmeric powder, and Salt.

Mix well and cover. Lower down the heat to medium and let the cabbage cook.

After about 5-7 mins, purple cabbage will start to turn soft and nearly 70% cooked.

Add rice. Mix well. Cover and lower down the heat.

Let the mix be on heat for another 1 min, then close the heat and let it still be covered.
2. Indian Style Cabbage Curry – Creamy and Delicious
This purple cabbage recipe can be made in a pan or in a pressure cooker as well. Pan version will be slightly crunchy in texture.
Pressure cooker cabbage curry version will be softer and mushier, hence better suited to the palette of kids.
Print Recipe
Purple Cabbage Curry with Coconut and Lentils
This purple cabbage is soft, mushy, sweeter in taste, and extremely delicious. Coconut and lentils not only add to the nutrition but also provide rich creamy texture. This recipe is highly recommended for children, elderly, pregnant women, and for new mothers.
Ingredients
2

cups

Purple Cabbage

Finely Chopped

2

tbsp

Chana Daal

Chana Daal is split Bengal Gram. Can be replaced with split Mung Beans or Toor Daal (Pigeon Peas)

12

Curry leaves

1½

tsp

Mustard Seeds

Pinch

Asafetida powder

1½

tsp

Cumin Seeds

2

tsp

Rock Salt

To taste

1½

tsp

Turmeric Powder

1½

tsp

Coriander Seeds Powder

1½

tsp

Sabzi Masala or Curry Powder

Optional

1

inch

Fresh ginger root

3

cloves

Garlic

1

Medium

Tomato

2

tbsp

Cooking Oil

Olive oil, Ghee, Coconut Oil, or Peanut Oil

1

tbsp

Fresh grated coconut

optional

2

tbsp

fresh coriander leaves

optional
Instructions
Finely chop purple cabbage and keep aside.

Finely chop tomato and garlic and keep aside separately. Pound or grate the ginger fine.

Heat the pan on high and add cooking oil.

When the oil is slightly hot, add the mustard seeds, chana daal, and cumin seeds.

When the seeds start to crackle, add curry leaves, ginger and garlic and mix well. Stir till it turns golden brown.

Add chopped cabbage, chopped tomato and salt. Mix well. Lower down the heat and cover.

When the cabbage is half cooked, add turmeric powder, coriander seeds powder, grated coconut, and curry powder.

Mix well and cover again. Cook on low heat for another 5-7 mins till the cabbage is soft.

Close the heat. Garnish with chopped coriander leaves.

Serve with fresh Chapati (Indian Bread), Dosa, or steamed rice.
We would love to hear from you! If you try our purple cabbage recipes, do leave a comment and rate the recipe! Don't forget to take a photo, tag @medhyaherbals, and hashtag it #medhyaherbals on Instagram. Eat Well, Feel Happy, and Look Awesome!