Sesame benefits have been listed not only in Ayurvedic texts but also in multiple texts from ancient civilisations across the world. It is considered to be one of the oldest crops and was known to Egyptian and Babylonians.
Sesame is valued for its high oil content, ranging from 50 – 60% of the seeds. Sesame oil is therapeutic and highly nutritious in nature. Sesame oil has high stability due to the presence of potential antioxidants as tocopherol and lignans. It doesn't go rancid even when stored over long periods.
Oil with seed coat is better than dehulling seed coat, however dehulling is necessary as it reduces oxalic acid anti-nutritive substance from 3% to 0.25%
Interesting facts about Sesame
Sesame originated in East Africa in Ethiopia.
In current world, 68% of sesame production comes together from India, Myanmar, China and Sudan.
80% of sesame produced is used to make sesame oil, 2% is used for next crop, and 18% is used for culinary and industrial purposes.
"Open Sesame" is the phrase mentioned in Arabian Nights, highlighting the ease of opening the seed on maturity.
Sesame Culinary Consumption
Sesame is grown primarily for the oil, which is used for both culinary and pharmaceutical purposes. Tender leaves of sesame plant are used in salads and stir-fries.
Sesame is very well known in the Eastern part of the world. Roasted Sesame is used in many baked food as bread, cakes and cookies.
Also, there are many recipes containing sesame seeds such as:

Sesame rice made by adding roasted sesame seeds paste along with spices and veggies to cooked rice
Sesame seeds added to salads and desserts
Sesame added to curries and stir-fries
Tahini is a paste made from sesame seeds
Sesame alone or along with peanut is added to jaggery and eaten as a snack in winters in India

Sesame meal obtained after extraction of the oil is used as cattle food.
Sesame Varieties and Properties
More than 36 variations of sesame are known. The seed is small and oval with different colors due to different varieties including: white, yellow, black, grey, brown and red.
Content of oil in white and black seeds differ, 55% and 47.8% respectively.
White and Black Sesame seed coats have antioxidant activity but black seed coats are better.
According to Ayurveda, black sesame benefits and nutritional value are the highest. White sesame benefits and medicinal value is considered to be medium. Other variations such as red are considered to carry lowest medicinal value.
Sesame Benefits in Ayurveda
Ayurveda considers that sesame benefits the ojas as it nurtures, strengthens, and protects. It is highly valued as Vata Dosha pacifying agent, with sesame massage and consumption prescribed for common Vata disorders such as inflammation, joint pain, menstrual disorders, and menopause syndrome.
Following properties are described in Ayurveda:
Rasa – Katu, Tikta, Kashaya, and Madhur
Vipaka – Katu, Madhur
Veerya- Ushna
Guna – Snigdha, Sukshma, Vyavayi
Sesame oil has been used as massage. It treats tridosha and applied on skin to free body from impurities. Also, it is applied through nostrils to relieve anxiety and insomnia. Also, it has healing properties.
It has been used to cure dysentery, premenstrual syndrome by applying on abdominal region.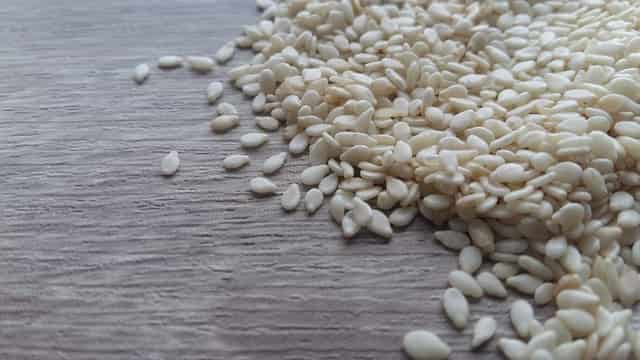 Sesame Seeds Nutrition
Sesame seeds contain about 50-52% oil, 17-19% proteins and 16-18% carbohydrates.
Sesame oil consists of unsaturated fatty acids as oleic acid 39.1%, linoleic acid 40%, traces of linolenic acid 0.46%, with palmitic acid 9.4%, and stearic acid 4.76% that benefit the brain and the nervous system.
The protein content of Sesame contains 95% of 13 S globulin, which is similar to 11 S globulin in soybean, which is hydrophobic. This confirms usage of Sesame in beverage formulation.
It also contains essential amino acids such as Arginine (140mg), Leucine (75mg), Methionine (36mg), Lysine (31mg) and Cystine (25mg).
The carbohydrate content contributes with Glucose 3.2%, Fructose 2.6%, Sucrose 0.2% and the remaining is dietary fibers.
Sesame is a rich source of minerals as Potassium, Calcium, Sodium, Iron, Zinc, Magnesium and Phosphorus.
Half cup of Sesame seeds contains more than three times of Calcium than half cup of whole milk.
Lignans are found in sesame in the form of aglycones and glycosides. Majority of them include Sesamin, Sesamolin, Sesaminol triglucoside, Sesaminol diglucoside and Sesaminol monoglucoside. These help to balance hormones in the body and provide with vital antioxidants.
Sesame seeds have the highest concentration of phytosterols (400mg/100 g), way above Brazil nuts (95mg/100g) and English walnuts (110mg/100g). Phytosterols reduce blood levels of cholesterol in our body, enhance the immune response and decrease risk of certain cancer.
Sesame Medicinal and Therapeutic Uses
Skin Health
Sesame oil is highly valued as an oil for external application through Abhyanga – daily massage, for Nasya – nasal drops, as ear drops, as a hair oil, and as a douche. It is recommended for daily use and for medical applications.
Sesame oil is readily absorbed by and penetrates through the skin tissues till the bone marrow. It enters into the blood stream through the capillaries and circulates along with to reach wide body tissues and organs.
In Ayurveda, sesame oil is prescribed as a base oil for massaging babies as it makes the skin supple and promotes blood circulation.
It is also recommended to conduct daily massage "abhyanga" for the elderly and for those suffering from pain, anxiety, and inflammation.
Application of Sesame oil with turmeric powder in milk on face softens the skin and removes face pimples.
Sesame seeds oil reduces inflammation in psoriasis. It works wonders for dry skin ailments as it is readily absorbed by the skin.
It is a useful as a natural UV protector.
Application of Sesame oil has rapid wound healing effect due to high content of antioxidant sesamol.
Sesame oil is well known for its soothing effect and treatment of burns.
High zinc content in sesame oil helps in producing collagen which keeps the skin more elastic.
Sesame oil protects the skin from the effects of chlorine in swimming pool water.
Sesame oil when applied to skin absorbs oil soluble toxins. These can be washed away with water and mild soap.
Sesame oil prevents diaper rashes in babies as it prevents the inflammation caused by acidic body wastes.
Dental Health
Sesame oil pulling activity, which is swishing of oil around in mouth, shows to prevent plaque formation by Streptococcus bacteria keeping mouth healthy and also helps in whitening of teeth.
Sesame oil is highly effective to reduce and remove pain in case of loose teeth and in pyorrhoea. Daily gargling by keeping sesame oil in the mouth for about 10-15 mins markedly reduces the symptoms and prevents recurrence.
In cases of toothache, add asafetida and black cumin seeds
Gargles with hot sesame oil mixed with asafetida and black Guna- Snigdha, Sukshma, Vyavayi cumin seeds.
Hair Health
Sesame oil nourishes the scalp, prevents dryness, and kills dandruff causing bacteria.
Sesame has been successfully used in the children's hair to kill lice infestations.
When ingested with food, sesame oil molecules bind and remove oil soluble toxins or Ama out of the body as a waste. This reduces inflammation and prevents chronic health disorders.
Sesame oil promotes joint health and flexibility.
Sesame oil can be applied as a douche as it prevents vaginal yeast infections.
Sesame oil when applied to lower abdomen area can significantly reduce menstrual cramps during PMS and menstruation.
Sesame oil in the diet helps to maintain the hormonal balance and supports reproductive system health.
Regular consumption of sesame seeds paste with milk promotes fertility and prevents impotency.
Sesame seeds flour, barley, and jaggery mixed together can be given to new mothers to help cleanse the uterus.
Lignans present in sesame have phyto-estrogenic activity. In Ayurveda, black sesame is prescribed to treat the condition of Amenorrhea. 
Sesame Benefits
Respiratory Health
Several studies have shown that sesame oil can cure chronic sinusitis when applied regularly on the nostrils as nose drops.
Sesame kills streptococcus and other common cold bacteria when used as a throat gargle.
Sesame oil showed to be more effective than isotonic sodium chloride in the treatment of nose dryness in winter.
Sesame oil swabbed in the nose protects against air borne viruses and bacteria. This is specifically useful for small children who have low immunity and constantly fall sick due to exposure to microbes.
Promotes Heart Health
Regular consumption of sesame seeds and oil reduces the systolic blood pressure and prevents hypertension. Sesamin present in the seeds helps to dilate the blood vessels and reduces the constriction, which is usually responsible for hypertension.
Sesamol present in sesame oil has anti-atherosclerotic properties. A blend of Sesame oil with coconut oil can decrease the rate and extent of platelet aggregation in the arteries.
Sesamin reduces wall thickness of aorta and prevents renal damage.
Phytosterols present in sesame reduce total cholesterol, LDL cholesterol, and HMG CoA reductase, which is essential enzyme in cholesterol synthesis.
Prevents Diabetes
Magnesium and Sesame oil have lowering effect on elevated blood glucose level.
Introduction of sesame oil as edible oil in food showed increases the effectiveness of oral anti-diabetic drug, glibenclamide.
Anticancer Effect
Studies indicate that Sesamol in sesame seeds prevents DNA damage by radiation.
Alpha tocopherol present in sesame prevents UV damage of skin when applied externally.
Sesame oil and tocopherols have antioxidant effects.
Magnesium and phytates present in sesame have anticancer effect as they prevent colorectal tumor and cancer.
Musculoskeletal System and Bone Health
High concentration of Calcium in sesame seeds boosts bone health.
Additionally, Zinc in sesame seeds boosts bone mineral density.
High content of insoluble fibers in Sesame seed coats contribute to normal digestive metabolism and healthy gut. Fibers have antiulcer effect and they also relieve constipation.
Also, sesame seeds remove worms from intestine.
References