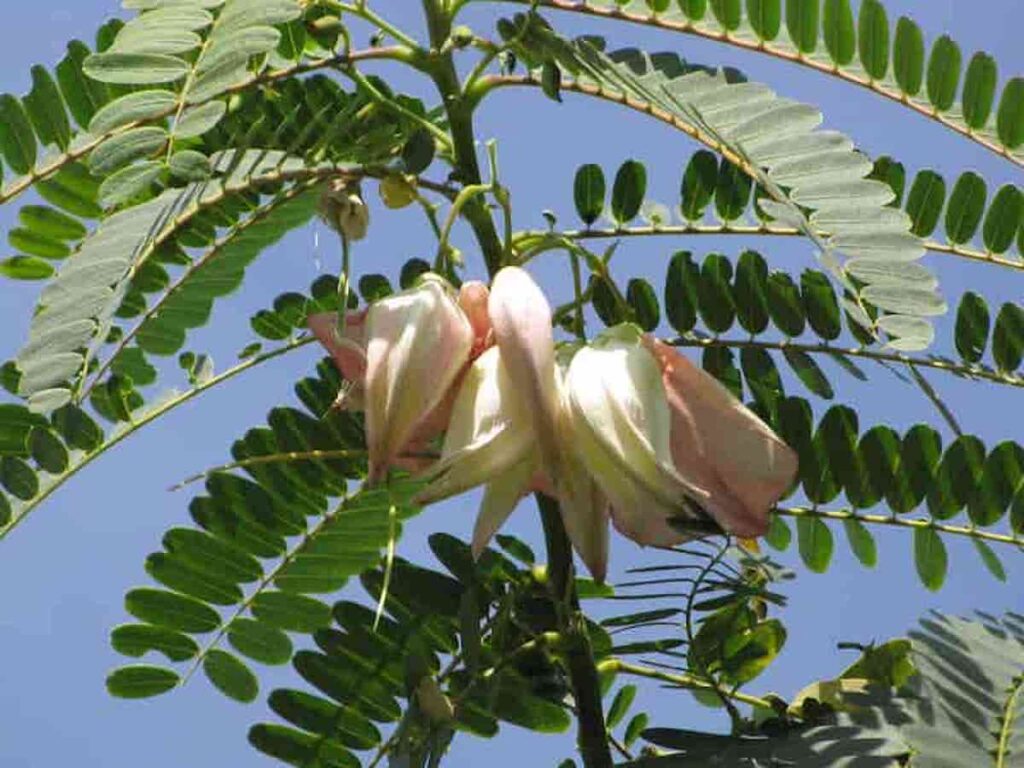 When it comes to nutritional value of green leafy vegetables, Agathi Keerai or Sesbania Grandiflora stands among the top few.
Agathi Keerai is one of the best sources of Vitamin A, Calcium, and Phosphorus. It even finds its mention in Ayurvedic texts as a dietary measure to boost bone health and immunity.
Sesbania Grandiflora is known by several local names such as Agathi, Agati, Agastya, Agasti, Heta, Hatiya, Basma, and Basna in Indian local languages.
It is also called as vegetable humming bird, Flamingo Bill, Katuday, Katurai, So Dua, and Paloma in different parts of the world.
What You'll Learn | Click on Topic to Go There
What is Agathi Keerai – Sesbania Leaves?
Agathi Keerai refers to the green leaves of the Sesbania Grandiflora plant. It is a small loosely branching legume belonging to family Fabaceae.
Since the plant grows well in warm and humid climates, it is usually found in abundance in India, Indonesia, Malaysia, Myanmar and Philippines. It is also cultivated in Mexico, South west USA and Africa.
Almost all parts of the Sesbania Grandiflora are used for traditional medical use such as dysentry, thrombosis, diarrhea, microbial infections, and inflammatory diseases.
Young flowers, pods, leaves, and seeds of Sesbania Grandiflora are edible. They are used in several cuisines for their high nutritional value.
Sesbania Grandiflora Varieties
Flowers and leaves are the most common used parts of Sesbania Grandiflora. There are four varieties according to the colour of flower:
Sita: white colored flower strain
Peeta: yellow colored flower strain
Neela: blue colored flower strain
Lohita: red colored flower strain
Red and white groups are used as vegetables, while blue and yellow are used in the medicine. Red group is more nutritious than white due to higher phenolics content. However, white flowers are preferred to red ones as they are less bitter than the red ones.
Sesbania Grandiflora Nutrition
Sesbania Grandiflora flowers and leaves are a rich source of Proteins, Minerals, Vitamins, and Antioxidants. The active compounds present in Agathi Keerai act at the cellular level and boost the functioning of immune system.
Sesbania flowers are rich source of Vitamin A, Folate, Thiamin, Niacin, and Vitamin C. Flowers also provide significant amounts of Magnesium, Phosphorus, Potassium, and Selenium.
As per the book Nutritive Value of Indian foods, 100g of Sesbania Grandiflora leaves contain:
8g protein with essential amino acids (as histidine, leucine, isoleucine, lysine, arginine and methionine)
1 g fats
80 mg Phosphorus, 4 mg Iron, and a whooping 1130 mg of Calcium
2g fibre out of 12 g of carbohydrates
73 g of moisture
93 Kcal of energy
Active constituents
The seeds of Sesbania grandiflora contain leucocyanidin and cyanidin. These are potent antioxidants that prevent cancer.
Sesbania seeds contain Saponins and Sesbanimide, which support rejuvenation. They have antibacterial and antimicrobial properties.
The flowers of Agathi plant are rich in oleanolic acid, healthy fatty acids that boost immunity and good cholesterol.
Bark of Sesbania tree contains tannins, resins and gum. It is used for edible purposes to replace Arabic gum.
Sesbania leaves contain high amount of antioxidants in the form of plant alkaloids.
Agathi leaves have high polysaccharide and mucilage content. It supports the gut health by feeding the gut bacteria as prebiotics.
Sesbania Grandiflora in Ayurveda
Sesbania Grandiflora leaves are used to treat migraine, fever, sinusitis, and respiratory disorders in Ayurveda. The leaves have anthelmintic, diuretic, and laxative effect on the body.
Oil of Agathi seed has anthelmintic effect.
Flowers of Sesbania Grandiflora are used in the treatment of headache, night blindness, and catarrhs.
Roots of red flower variety used to treat rheumatism, arthritis, and scabies.
Bark of the tree is used to treat diarrhea, malaria, smallpox, and gonorrhea.
Following properties are attributed to Sesbania in Ayurveda:
Rasa or Taste – Bitter and Astringent
Virya or Potency – Cooling
Properties – Drying and Light
Dosha – Helpful for Kapha Imbalance and Vata Imbalance
Health Benefits of Agathi Keerai
1. Antioxidant and Immune-modulatory effects
It protects cell membrane lipid from lipid peroxidation by free radicals.
It also has scavenging effect against free radicals and prevents DNA damage. This effect increases in high protein concentration.
During studies, an extract of Agathi Keerai restored levels of zinc, magnesium, and selenium in the blood plasma. It also decreased harmful compounds that poorly affect circulation and immunity.
Agathi leaves support immune system. They protect against allergic reactions to various foods and environmental agents.
2. Antimicrobial effect
The antioxidant and antimicrobial effects of Agathi are due the presence of cysteine and cystin, which have free radicle scavenging activity. This group also facilitates antioxidant activity of glutathione.
Agathi leaves has antifungal effect against yeast Candida albicans and Aspergillus niger.
The leaves and flowers have antimicrobial effect against the bacteria Staphylococcus aureus, E. coli, Pseudomonas aerginosa, and Klebsiella pneumonia.
The extract of the roots has antituberculosis effect against Mycobacterium tuberculosis.
Agathi flowers have antiviral effect against herpes simplex I and II, Vaccinia, vesicular stomatitis, cox sackie.
The seeds have anthelmintic and healing effect against Pheritima pasthuma and Indian earthworm.
3. Anti-diabetic effect
Agathi leaves and flowers repaired damaged islet cells of pancreas, when used frequently in diet or when taken as extracts.
It decreases elevated cholesterol and triglycerides.
The leaves decrease elevated blood glucose level and the concentration of glycosylated hemoglobin.
It also improves the levels of blood urea nitrogen and serum creatinine.
4. Anticancer effect
It prevents and helps to manage colon cancer conditions.
The leaves and flowers prevent poor fat generation. They also stop the growth of cancerous cells.
Agathi flowers have apoptosis effect against human lung cancer cell lines.
5. Other Health Benefits
Agathi flowers and leaves possess wound healing, anti-ulcer, and anti-inflammatory properties for their high concentration of antioxidant vitamins and minerals.
Agathi Keerai prevents calcium oxalates urinary stone formation.
The leaves, seeds, and flowers of Agathi protect liver from the damages of constant chemicals exposure such as that of Calcium tetrachloride.
Sesbania Leaves are used as antidote for tobacco and cigaratte smoking related respiratory problems.
Mode of Consumption – How do you eat Agathi Keerai?
The leaves, flowers, seeds, and pods, of the plant are used in traditional Indian recipes. The flowers and leaves of Agathi plant are bitter and astringent in taste.
Usually for cooking, calyx and stamen is removed from the flowers, as they may add bitterness to the preparations.
Agathi leaves is crunchy and fibrous in texture and also carry slight aroma along with the taste.
Too much Agathi may cause stomach pain, so it is advisable to be cooked with garlic. Usually coconut milk or grated coconut is added to Agathi Keerai or flowers to counter the bitterness in taste.
Unopened white flowers are commonly used as a vegetable and consumed after steaming, stir-frying, deep-frying, or added to soups.
Raw agathi flowers are eaten in salads or stir-fried.
Young leaves are usually finely chopped and then cooked by stir-frying or steaming.
In some Indian recipes, young leaves are sautéed with oil, mustard seed, onion, garlic, black gram, moong beans, asafoetida, green chili, turmeric, and salt.
The dried Agathi Keerai can be consumed as tea and as a potion against health disorders related to worms, tumors, and for viral infections.
Young pods are added to soups and vegetable curries.
Agathi Keerai Recipe
Print Recipe
Agathi Keerai Coconut Stir Fry
This recipe is highly nutritious and recommended for Vata Dosha and Kapha Dosha related health disorders such as bone health, osteoporosis, pain, Arthritis, Menopause, Menstrual Disorders, Fever, Infections, Diabetes, fatty liver , Ulcers, Hypertension, and vision related disorders. Consuming Agathi leaves or flowers once or twice a week would support the health in above condition.
Ingredients
300

g

Agathi Keerai Leaves

3 to 4 medium sized twigs

4

tbsp

Freshly grated Coconut

Coconut can also be replaced with coconut milk, around 3-4 tablespoons.

1

tsp

Salt

to taste

5

cloves

Garlic

1

Medium

Onion

1

tsp

Turmeric

1

tsp

Coriander Powder

1

Dried Red Chili

Optional

1

tbsp

Coconut Oil

Replace with Ghee or Mustard Oil or Olive oil
Instructions
Separate the leaves. Wash them and finely chop (optional step for small children). We made without chopping.

Finely chop the garlic and onion.

Heat the pan and add oil.

Add mustard seeds. Let the seeds splutter.

Add garlic and onion. Stir-fry till the mix turns golden brown.

Add salt, turmeric, and coriander powder. Mix for 1 – 2 mins.

Add coconut and Agathi leaves. Mix well and put the heat on low.

Cover and let the mix cook for another 10 mins or till the leaves wilt down nicely.

Serve with steamed rice or chapati! Enjoy!
We would love to hear from you! If you try this recipe, do leave a comment and rate the recipe! Don't forget to take a photo, tag @medhyaherbals, and hashtag it #medhyaherbals on Instagram. Eat Well, Feel Happy, and Look Awesome!
References
Agathi: Current Status of Production, Protection and Genetic Improvement.
Review on Nutraceutical Value of Sesbania Grandfolia (AGATI)