Ayurveda considers Shatavari as the queen of herbs. Shatavari in Sanskrit means one who has hundred husbands. The scientific name for Shatavari is Asparagus Racemosus. It finds medical uses as a reproductive tonic and a powerful adaptogen.
Shatavari plant is a woody climber with pine needle shapes leaves. Its white flowers are arranged in the form of small spikes and its roots are tuberous and succulent. It is grown in tropical part of Africa, Java, tropical and subtropical regions in India, Australia and south China.
Shatavari in Ayurveda
It is classified as Rasayana, Rejuvenator, Medhya (increases intelligence and promotes learning), Balya (strength promoter), Stanya (galactagogue) and Jeevanyia (erythropoietic).
The leaf of Shatavari is crushed into juice which is used to pacify Vata Dosha and Pitta Dosha health disorders. The dried roots of the plant are used in multiple Ayurvedic formulations for female health, fertility, dyspepsia, and indigestion.
Active Constituents and Nutrition
Shatavari consists of many phytochemicals, mainly phytoestrogens steroidal saponins called Shatavarin I to Shatavarin VI, with Shatavarin IV most abundant in fruits, roots and leaves.
It consists of 2 rhamnose molecules and 1 glucose molecule.
It contains flavonoids as quercetin, rutin and hyperosides, polycyclic alkaloid called Asparagamine, Isoflavones, furan called racemofuran, kaepferol.
It is good source of minerals as selenium, zinc, calcium, and magnesium.
It also provides vitamin A, diosgenin, essential fatty acids as gamma linolenic acid, and sterols as sitosterol.
Health Benefits of Shatavri
It nourishes the reproductive tissues and improves the fertility health in a woman. It also promotes the sexual potency in men. It prevents and helps manage sexual disorders such as AIDS.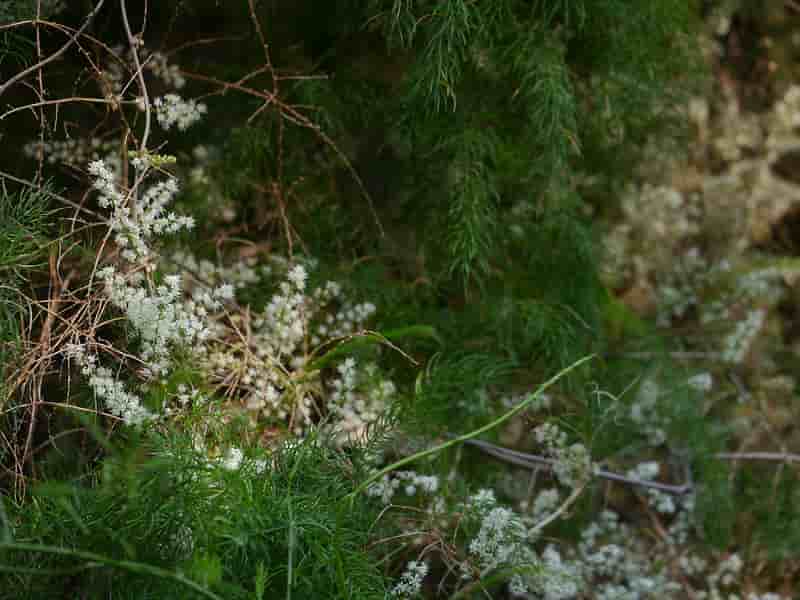 Balances Hormone Levels
The presence of steroidal saponins in Shatavari impart estrogen modulating effects in young women. It balances the estrogen levels in blood without increasing or decreasing them.
It helps to prevent and cure hormonal imbalances.
It increases glycogen content in uterus which improves estrogen levels.
It occupies vacant estrogen receptors which stimulates estrogenic activity.
For Healthy Pregnancy and Delivery
It nourishes and supports the growth of the fetus and maternal health during pregnancy.
Its anti-oxytocin effect showed to be effective in preventing abortions in pregnant women. Shatavarin IV, alkaloid asparagamine showed to have this effect.
Also its rasayana and antioxidant effects prevent lipid peroxidation of placenta.
As medhya, rasayana, balya and jeevanyia; Shatavari increases fetal weight, fetal outcome, and prevents fetal death.
It prevents preeclampsia as it has anti ADH effect so maintain blood pressure through diuresis.
It prevents the imbalances between vasoconstriction and vasodilation agents thus prevents pregnancy induced hypertension.
Promotes Menstrual Cycle Health
It helps in the regulation of the menstrual cycle, ovulation, and promotes fertility.
It also helps in relieving dysmenorrhea and premenstrual symptoms. It hinders contraction effect of oxytocin on uterus and inhibits spasm genic effect of Ach, barium chloride and serotonin.
Promotes Fertility in Women and Men
It enhances follicle production and ovulation and prepares uterus for conception. It prevents miscarriages. Thus it is helpful in infertile women.
It helps in balancing the pH level of the vagina which improves the chances of pregnancy by providing a fertile environment for sperm.
For men, it promotes the strength and functionality of the reproductive system organs.
It promotes fertility in men by improving the sperm count.
Shatavari helps balance menopause symptoms such as Anxiety, Hot Flashes, and Vaginal Atrophy.
It is useful to manage menopausal and hysterectomy symptoms such as hot flushes, vaginal dryness, and vaginal atrophy due to low estrogen level in blood.
As a reproductive tonic, it supports the health of the breast tissues.
It has dual action and increases both milk production and milk flow.
It can be consumed during pregnancy, before conceiving, and after childbirth. At all stages, it supports the health and wellness of the mother and the baby.
It increases lactation in new mothers as it has anti-dopaminergic effect.
Its estrogenic effect increases mammary gland alveolar tissue and acini sizes.
In one clinical trial, it was shown to increase prolactin secretion by three times.
Dried powdered root of Shatavari increases gastric motility. Also Shatavarin showed to prevent drug induced gastric ulcers.
It has antidiarrheal effect as it prevents synthesis of Prostaglandin E.
Powdered root prevents gastric acid secretion and protects gastric mucosal damage.
It prevents dyspepsia and its symptoms as pain and burning sensation due to ulcers. Its effect is comparable to metoclopramide without side effects.
Shatavari is good to prevent cough, dysentery, diarrhea, dehydration, chronic fever, stomach ulcers, hyperacidity, and much more.
Anti-inflammatory Action and Immunity Support
It has powerful anti-inflammatory effects for kidneys, stomach, lungs, and sexual organs.
It stimulates the immune system and removes the toxins from the body.
Shatavari root powder increases humoral and cell mediated immune response.
It helps against spasms, pain, and insomnia.
Nervous System Health
It calms the nerves and nourishes the brain helping the people with problems such as anxiety and depression.
Supports Urinary System Health
Shatavari's mild diuretic action addresses the need in bladder infections.
Blood Purifier
It acts as a blood cleanser and can be used by the fitness and sports professionals in the purification of blood after the use of supplements and steroids.
References
Asparagus racemosus: A Female Versatile Tonic, International Journal of Pharmaceutical and Biological Achieves.