Spine gourd is a perennial climbing creeper belonging to Family Cucurbitaceae. The plant is generally found throughout India, Pakistan, Bangladesh, and from Himalayas to Ceylon.
Its technical name is Momordica dioica and it is commonly known by various names such as Kankad, Kankoda, Kantoli, Kantola, Teasle Gourd, Kakrol, Spine gourd, Ban karola, or small bitter-gourd.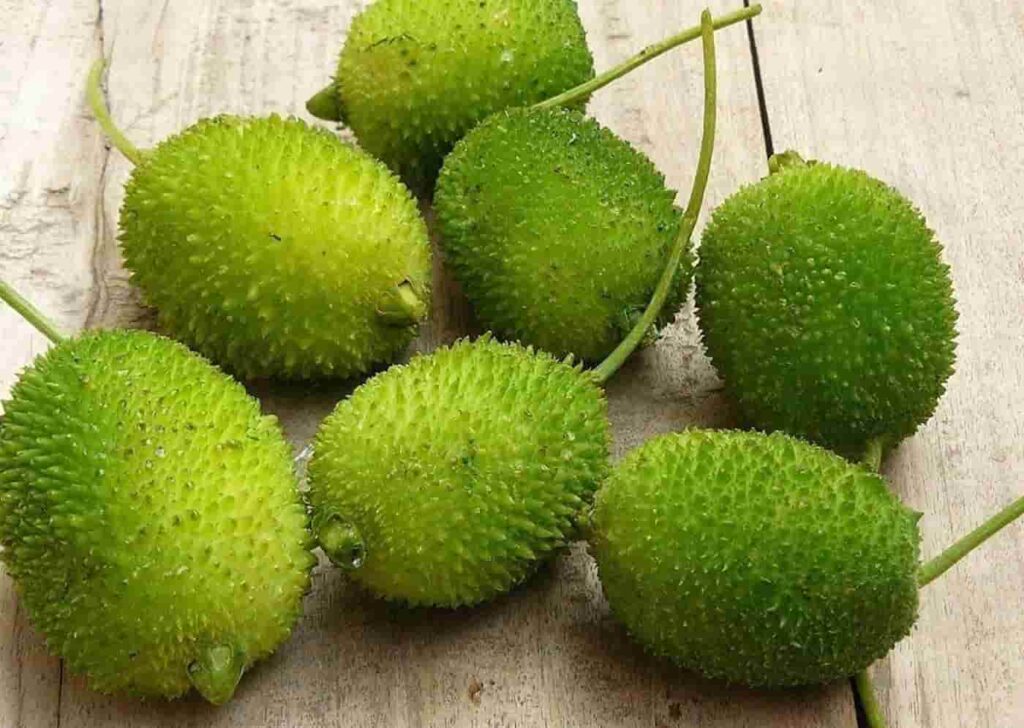 It bears fruits during the monsoon and summer seasons. As a food item, spine gourd carries both nutritional and medicinal value, imparting health benefits to multiple body systems and organs.
Nutritional Content and Active ingredients in Spine Gourd
Spine gourd contains many active ingredients as lectins, proteins, triterpenes, and vitamins. The fruit contains a high amount of vitamin C, alkaloids, flavonoids, glycosides, and amino acids.
All parts of the plant, seeds, leaves, fruits, and the roots have high concentrations of bioactive compounds and antioxidants. It has the highest amount of carotene – Vitamin A in cucurbitaceous vegetables.
It is a rich source of Minerals like Zinc, Potassium, Phosphorus, and Sodium. It is a good source of Calcium, Magnesium, Chromium, and Iron.
| | |
| --- | --- |
| Nutrient | Amount |
| Calcium | 0.5 mg/g |
| Sodium | 1.5 mg/g |
| Potassium | 8.3 mg/g |
| Iron | 0.14mg/g |
| Zinc | 1.34 mg/g |
| Protein | 19.38% |
| Fat | 4.7% |
| Total phenolic compound | 3.7 mg/g |
| Calories | 4.1 Kcal/g |
| Phytic acid | 2.8 mg/g |
It also contains small quantities of essential vitamins like carotene, thiamin, riboflavin and niacin, folic acid. It is a rich source of fatty acids and contains oleic acid (56.253%), linoleic acid (22.511%), palmitic acid (12.157%), and stearic acid (3.547%).
Spine Gourd in Ayurveda
Spine Gourd is considered to have cooling, analgesic, sedative, and diuretic properties. It balances all the three Doshas. In Ayurveda, it is used as a dietary measure to cure many diseases as urinary disorders, respiratory disorders, and immune dysfunctions related to inflammation and fevers.
It is also used against snake bites and a scorpion sting for its anti-venom properties. It should be consumed by new mothers to prevent colic and vomiting in babies. It supports functions of the heart and vital cleansing organs such as liver, kidneys, and skin.
The juice of the root is a home remedy to cure the inflammation caused by contact with the urine of the house lizard. Leaves are mixed with coconut, pepper, and red sandalwood to form an ointment for pain relief.
Health Benefits of Spine gourd
Antiallergic properties and Boosts Immune System
Spine gourd possesses antiallergic, antioxidant, antibacterial, analgesic, and anti-inflammatory properties. It supports all functions of the immune system such as scavenging the microbes, memory function of the immune system, and also killer cells.
Protects Liver and Supports its functioning
Spine gourd is a rich source of antioxidants and flavonoids that can scavenege free radicals. It has antilipid peroxidative properties, meaning it prevents oxidation of fats, hence preventing Fatty Liver in the first place. It is highly recommended to those suffering from Fatty Liver or Liver damage.
Anti-diabetic effect
Spine gourd has hypoglycemic properties. It also protects and regenerates pancreatic β-cells. Additionally, it enhances both insulin secretion and insulin sensitivity, helping to manage Diabetes at all levels. To treat Diabetes, it can be consumed as a stir-fried vegetable or juiced along with other greens.
The vegetable is cooling in nature and easy to digest. The pulp and seeds are rich in soluble fibre and carry laxative properties. They support digestive system and prescribed for health disorders such as gastric ulcers, piles, and constipation. Also it is used as a cure to biliousness, excessive production of bile juice.
Prevents Hypertension and Supports Heart Health
Fresh fruit juice of spine gourd is prescribed to people with high blood pressure. It supports blood circulation and helps prevent atherosclerosis due to high antioxidant activity. It has antilipid peroxidative properties, hence protects and heals the artery walls.
Cures Eczema and Skin Problems
Juice of the young fruits can be applied on the skin to cure pimples and acne. Roasted seeds of the mature fruits are prescribed for eczema and other skin problems.
Prevents and cures Respiratory Disorders
Spine gourd fruit powder or infusion has errhine effect (induces mucus discharge) when introduced in the nostrils. It is used in Ayurveda to cure Asthma, Bronchitis, and to treat blocked sinuses.
Supports Brain Function
Fruit of the plant possesses neuroprotective properties and supports the brain function via the CNS (Central Nervous System). In Ayurveda, it is used to treat mental disorders.
Spine Gourd – Modes of Consumption
The fruits, young twigs, flowers, and leaves of this crop are used as vegetable. The fruit of the plant is dried and powdered, and also fresh fruit is juiced, stir-fried, or added to curries and soups. The leaves of the plant are usually juiced or extracts are prepared for medicinal use. Similarly, the seeds are roasted, dried, and powdered to be used as food or medicines.
When choosing the fruits in the market, look for light green or dark green colours only. Fruits that are soft and yellowish are not suitable to be consumed as the seeds are hard and pulp mushy, making it difficult to be consumed in meals. It can be stored in dry and cold conditions in a refrigerator for 4-5 days.
Spine Gourd Recipe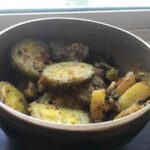 Print Recipe
Spine Gourd – Kakrol Stir-fry Recipe
A simple stir-fry made with Indian spices. It is highly nutritious and carries multiple health benefits. This recipe serves as a great side dish. It goes well with lentils soup and steamed rice.
Ingredients
600

g

Fresh and young kakrol

1½

tsp

Turmeric Powder

2

Cloves

Garlic

1

Medium

Onion

1

Medium

Potato

Optional

1

Small

Tomato

Optional

2

tsp

Rock Salt

To taste

1½

tsp

Mustard Seeds

1½

tsp

Coriander Powder

2

tbsp

Mustard Oil

Pure unrefined oil
Instructions
Slightly peel the damaged section. If not, then leave as such.

Cut in slices horizontally to get 3-4 mm circular discs. Keep aside.

Peel and cut the potato in half inch cubes.

Finely chop the onion, tomato, and garlic. Pound or grate the ginger.

Heat the pan and add oil. Once the oil is slightly hot, add mustard seeds.

Add onions, ginger, and garlic when the seeds start to splutter.

Add turmeric, salt, and coriander powder when the onions and garlic have turned golden brown.

Stir for 1 min and potato cubes. Cook the mix for 5 mins.

Now add the Kakrol discs and chopped tomato.

Bring the gas to low/medium and cover.

Keep stirring in between and let the mix cook for 10-15 mins till the kakrol is soft and crunchy.

Do not overcook as the vegetable will lose its taste and texture.

Serve along with rice or bread and enjoy!
References