It is an easy and one pot preparation, requiring minimal levels of preparation. Fresh and young kakrol fruits carry delicious crunchy taste and texture, and it is enjoyed both by kids and adults.
This is an Oriya recipe, where spine gourd is usually taken liberally in the season, along with other veggies and curries in the meal.
This recipe is highly recommended for Diabetics, heart patients, liver patients, children, and for pregnant, and young mothers.
It can be enjoyed with proteins of choice and along with rice or Indian bread such as chapati, or along with fermented rice pancake Dosa.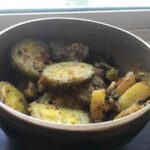 Print Recipe
Spine Gourd – Kakrol Stir-fry Recipe
A simple stir-fry made with Indian spices. It is highly nutritious and carries multiple health benefits. This recipe serves as a great side dish. It goes well with lentils soup and steamed rice.
Ingredients
600

g

Fresh and young kakrol

1½

tsp

Turmeric Powder

2

Cloves

Garlic

1

Medium

Onion

1

Medium

Potato

Optional

1

Small

Tomato

Optional

2

tsp

Rock Salt

To taste

1½

tsp

Mustard Seeds

1½

tsp

Coriander Powder

2

tbsp

Mustard Oil

Pure unrefined oil
Instructions
Slightly peel the damaged section. If not, then leave as such.

Cut in slices horizontally to get 3-4 mm circular discs. Keep aside.

Peel and cut the potato in half inch cubes.

Finely chop the onion, tomato, and garlic. Pound or grate the ginger.

Heat the pan and add oil. Once the oil is slightly hot, add mustard seeds.

Add onions, ginger, and garlic when the seeds start to splutter.

Add turmeric, salt, and coriander powder when the onions and garlic have turned golden brown.

Stir for 1 min and potato cubes. Cook the mix for 5 mins.

Now add the Kakrol discs and chopped tomato.

Bring the gas to low/medium and cover.

Keep stirring in between and let the mix cook for 10-15 mins till the kakrol is soft and crunchy.

Do not overcook as the vegetable will lose its taste and texture.

Serve along with rice or bread and enjoy!
We would love to hear from you! If you try this recipe, do leave a comment and rate the recipe! Don't forget to take a photo, tag @medhyaherbals, and hashtag it #medhyaherbals on Instagram. Eat Well, Feel Happy, and Look Awesome!