A quick stir-fry made with Tempeh, enoki mushrooms, cherry tomatoes, and capsicum. I have added fresh basil leaves for aroma and nutritional value. You can try this recipe with other herbs such as cilantro, thyme, sage, or fresh oregano leaves. Or give it a try with dried herbs.
For the rest of ingredients, they fall in the family of night shades or Pitta promoting. Hence, this recipe is recommended for lunch or breakfast. Avoid it for dinner in general.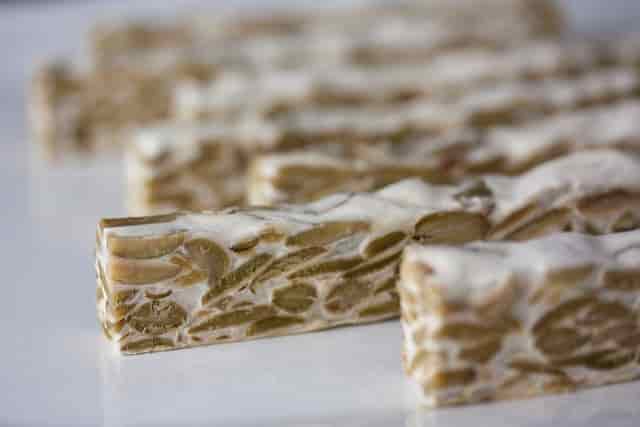 This recipe is balancing for all Vata and Kapha Dosha. It is good for Pitta Dosha in small quantities only. It goes well with chapati, bread, rice, porridge, or with pasta. Take it for any meal of the day. You can also add/alter the mix of veggies here. My suggestion would be sweet corn and carrots.
Print Recipe
Tempeh Basil Stir Fry with Enoki Mushrooms and Capsicum
A delicious stir-fry made with Tempeh, Basil, Enoki Mushrooms, Capsisum, and Cherry Tomatoes. This recipe is warming and balancing. It is quick and highly nutritious.
Ingredients
200

g

Tempeh

100

g

Enoki Mushrooms

100

g

Bell Peppers / Capsicum

1

tsp

Rock Salt

To taste

1

tbsp

Naturally brewed soy sauce.

½

cup

Fresh Basil

1

tsp

Black Pepper

Freshly ground for garnishing

1

tbsp

Olive Oil

Or any pure cooking oil, specifically sesame oil

1

Medium

Onion

optional

2

Garlic Cloves

1

inch

ginger

100

g

Cherry Tomatoes
Instructions
Cutting and preparing Tempeh
Cut Tempeh into small (½ inch) pieces. Smaller pieces will help to mask the taste of Tempeh and let it mix well with other ingredients.

Heat the pan on medium and add 1 tbsp oil.

Once the oil is little warm, add tempeh pieces. Increase the heat and let it saute well.

Add the soy sauce on top of tempeh and mix well.

Once tempeh turns golden brown, then close heat and put tempeh in a bowl/container.
Preparing rest of the veggies
Wash and coarsely cut enoki mushrooms. Keep aside.

Cut the capsicum, cherry tomatoes, onion, and basil into small pieces. Keep aside separately.

Pound ginger and garlic separately. Keep aisde. You can chop it as well.
Cooking the Vegetables
Heat the pan and put rest of the oil in it.

Once the oil is hot, add in the onion, ginger and garlic mix. Stir till it turns golden brown.

Now add rest of the veggies, except the mushrooms. Add salt.

Mix well and cover for about 5-7 mins on medium heat.

Now add cut enoki mushrooms, tempeh, and chopped basil.

Mix well, cover, and let the veggies cook for another 2-3 mins.

Sprinkle pepper and serve with your meals. Enjoy!
Interested to join like-minded people to share and learn about healthy food, Ayurvedic Diet and lifestyle? Join Medhya's Ayurvedic Diet and Lifestyle Community on Facebook.