A delicious Thailand style Basil Tofu Scramble is all you need for a lazy Sunday lunch! Learn about Tofu Nutrition and Benefits here.
Basil Tofu scramble goes well with steamed rice, or noodles, and can also be filled inside the chapati (Indian flat bread) as a Kathi Roll. This tofu recipe is kids friendly, diabetic friendly, great for pregnancy, and for new mothers.
It is a great protein rich meal option for vegans and vegetarians.
Nutrition and Benefits of Basil Tofu Scramble
From nutrition point of view, basil tofu scramble is high in proteins, antioxidants, aroma, and flavour. Tofu is a great source of Calcium, Phytoestrogens, proteins, Magnesium, and B Vitamins.
Basil is a common herb that has multiple health benefits and carries medicinal value. It is recommended for gastro-intestinal disorders, immunity disorders, reproductive, and respiratory disorders as well.
Cooking Tips for Selection of Ingredients
Use firm tofu to get nice texture for this recipe. When you open tofu, remove all the excess water (used to keep tofu intact) by draining and pressing the tofu, if required. If water stays in the tofu, the recipe turns out to be soggy and looses its charm.
We used sweet basil for this recipe. You can also go for other basil variants such as lemon basil or Italian basil to add the flavours.
We replaced salt with naturally brewed soy sauce. It adds to the aroma and flavour of the recipe.
For vinegar, we used rice vinegar. You can also use other vinegars such as wheat based or millets based vinegar. Always look for naturally brewed and pure versions. Do not consume synthetic vinegars in meals.
For sweetener, optional though, we used cane molasses. Use common sugar. If using honey, make sure that it is not heated as heating makes honey an incompatible food that shouldn't be consumed.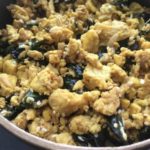 Print Recipe
Thai Style Basil Tofu Scramble
This is a delicious Thai style vegan recipe of Basil Tofu Scramble! It is a super easy recipe that requires minimum level preparation. With tofu as the main ingredient, this recipe is very filling and fits to the course of a sumptuous meal.
Ingredients
600

g

Tofu

Extra Firm

½

Cup

Sweet Basil Leaves

About 15 g

5

Cloves

Garlic

2

tbsp

Sesame Seeds

Roasted, Black or White

1

inch

Ginger

1

Red Chili

Dried or Fresh (optional ingredient)

2

tbsp

Rice Vinegar

Can be replaced with fresh lemon juice

2

tbsp

Soy Sauce

1

tsp

Molasses

Or Brown Sugar (optional ingredient)

1

Medium

Onion

3

tbsp

Virgin Oil

Peanut oil, sunflower oil, or coconut oil

1

tsp

Turmeric Powder
Instructions
Preparing Tofu
Drain the water from tofu. Press further using a strainer to remove any extra water on it.

Cut the tofu into small pieces or Scramble it.

Add turmeric powder to it. Mix well and keep aside for 5 mins.
Preparing the Sauce
Pound the ginger and garlic together in a mortal and pestle. Alternatively, finely grate the ginger and finely chop the garlic.

Heat the wok and add 2 tablespoons of oil.

Add the turmeric tofu mix and stir-fry till the tofu is dry and firmer.

Keep the heat at high. This should take around 7 – 10 mins.

Take the tofu off the heat. Keep aside in a bowl.

Heat the wok again on high and add remaining oil.

Add ginger garlic paste and roast till golden brown.

Add the onions and basil leaves. Roast till onions turn golden brown.

Add soy sauce, vinegar, and sesame seeds.

Mix well for few seconds while keeping the heat on.

Add tofu. Mix well. Take off the heat.
Notes
To make this recipe friendly for cancer patients, do not add molasses or sugar to the recipe.
We would love to hear from you! If you try this recipe, do leave a comment and rate the recipe! Don't forget to take a photo, tag @medhyaherbals, and hashtag it #medhyaherbals on Instagram. Eat Well, Feel Happy, and Look Awesome!