This recipe of Ivy Gourd / Tindora is an Indian style stir-fry with potatoes (aloo). It has a crunchy texture and it is dry in nature.
This tindora recipe goes well as a side along with other sweet or savory preparations. It also goes well with a Chapati or a Prantha.
Tindora Recipe for Balanced Nutrition
This tindora recipe is rich in Iron, Calcium, and Antioxidants. It is great for Diabetics, for hypertension, and for pregnancy and new mothers. It is also one of immunity booster foods to add to your weekly menu.
This recipe is an easy and quick turnaround with minimum preparation and simple ingredients.
Cooking Tips – Selection of Cooking Pans
We cook dry vegetables in Cast Iron Pan or Kadhai as it is called in India. It is one of the simplest ways to enrich your food with Iron.
Cast iron vessels are non-stick inherently and very easy to maintain.
Additionally, food not only gets cooked fast (iron being a good conductor of heat) but also has a yummy taste that you will feel once you switch to cast iron cooking.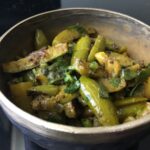 Print Recipe
Tindora sabji with Potato – Indian style stir-fry
A delicious tindora stir-fry recipe with potato. It is a great meal option for Diabetics, children, pregnancy, and during menopause. This recipe is easy to make and quick to turn around.
Ingredients
400

g

Tindora

Salt to taste1 teaspoon Turmeric1 teaspoon Coriander PowderA couple of Coriander leaves – finely chopped (for garnishing in the end)2-3 tablespoons Mustard Oil1 teaspoon Mustard seeds

2

Medium

Potatoes

Cut thin along the length

2

Garlic Cloves

optional

1

Medium

Onion

finely chopped (optional but recommended)

2

tsp

Rock Salt

To Taste

1½

tsp

Turmeric Powder

1½

tsp

Coriander Seeds Powder

2

tbsp

Mustard Oil

Or any other pure unrefined oil

1½

tsp

Mustard Seeds

2

Twig of Coriander leaves

for garnishing (optional)
Instructions
Wash and cut the Tindora along the length. Each piece of the gourd should be cut into 4 long pieces.

Cut the potatoes thin along the length – almost same size as that of the gourd.

Heat a pan. Add Mustard Oil.

Once the oil is a little hot, add the mustard seeds.

Let the seeds splutter and then add onions and garlic till they turn golden brown.

Add salt, Tindora, and potatoes. Keep stirring for 2-3 mins.

Now cover and keep the heat low.

After 5 mins add turmeric powder and coriander powder. Mix well and cover again.

Let the mix cook on low heat for 10-15 mins till the vegetable is mashed/softened.

Keep stirring in between.

Garnish with coriander leaves and serve with chapati, parantha, or rice.
Notes
While cooking tindora in the pan and after adding the spice powders, keep the flame at low. This is because, the powders tend to stick to the bottom of the pan and start getting burnt. So, either keep mixing or add 1 tbsp water to avoid this.
We would love to hear from you! If you try this recipe, do leave a comment and rate the recipe! Don't forget to take a photo, tag @medhyaherbals, and hashtag it #medhyaherbals on Instagram. Eat Well, Feel Happy, and Look Awesome!