Tofu, Mushrooms and Herbs Medley
This is a delicious and easy to prepare recipe that goes well with chapati (bread), porridge or rice. I actually mixed the veggies with rice to make fried rice and carried it along for picnic. It was yummy, filling and mess free meal option.
This recipe is balancing for all three dosha in general, however it is heavier to digest. So prefer to consume it in the day time at breakfast or during lunch.
We have used firm tofu, shimeji mushrooms and Asian asparagus in here. However you can replace any of these ingredients with the alternatives that are available to you and enjoy the recipe.
Nutrition and Consumption
This recipe offers a delicious and super nutritious meal option that covers all of your nutritional needs. It is a dense source of minerals, vitamins and antioxidants. Also, it is packed with proteins to support balance of hormones and weight loss
This recipe is recommended for children, pregnancy, menopause, diabetics, PCOS and generally for all age groups. It is balancing for all the three dosha and related imbalance disorders.
The Recipe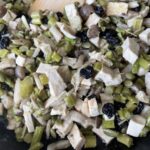 Print Recipe
Tofu, Asparagus, Veggies and Herbs Medley
This is a simple yet delicious stir-fry that can be turned around in a jiffy. It is savoured by kids and adults alike. Add it to your meals for Nutrition and Flavour.
Ingredients
100

g

Shimeji Mushrooms

Take any mushrooms that are available to you.

200

g

Fresh Asparagus

Use Asian version or the western version. Both are great for this recipe.

200

g

Firm Tofu

3

tbsp

Pumpkin Seeds

2

tbsp

Black Raisins

Or Any other that's available

1

tsp

Rock Salt

To taste

3

tsp

Herbs de Provence mix

Or use oregano only

1

tsp

Black Pepper

Freshly ground for garnishing

2

tbsp

Olive Oil

Or any pure cooking oil

2

Garlic Cloves

1

Medium

Onion

optional or put 2 tsp onion powder

2

tsp

Vinegar

or lemon juice

1½

tsp

Soy Sauce

optional. Use naturally brewed light soy sauce.
Instructions
Cutting and preparing the vegetables
Wash the mushrooms and cut them into ½ inch pieces.

Soak the Asparagus in salt/soda water for about 15 mins to remove the chemicals. Wash well and then cut into small – 1 inch pieces.

Cut the tofu into small ½ inch pieces

Finely chop onion and garlic.
Cooking the Vegetables
Heat the pan on medium and add oil.

Once the oil is hot, add in the onion and garlic mix. Stir till it turns golden brown.

Now add tofu and asparagus and bring the heat to high. Mix well and stir for about 30-40 s.

Now add mushrooms, pumpkin seeds, raisins, salt and herbs mix.

Keep stirring for another 30-40 s. Now add in vinegar and soy sauce.

Mix well, cover, and let the veggies cook for another 5-7 mins on low heat.

Check that they are soft, then close the heat.

Sprinkle pepper and serve with your meals. Enjoy!