When it comes to treat PCOS naturally, Ayurveda offers very specific guidelines that eliminate PCOS from its root.
These guidelines not only help you to cure PCOS, but also correct your hormone imbalances and help you rejuvenate. So that you resolve your Health Issues and also Gain years of Quality Life!
In this post, we will dig in the first and foremost steps that Ayurveda guides to treat PCOS naturally.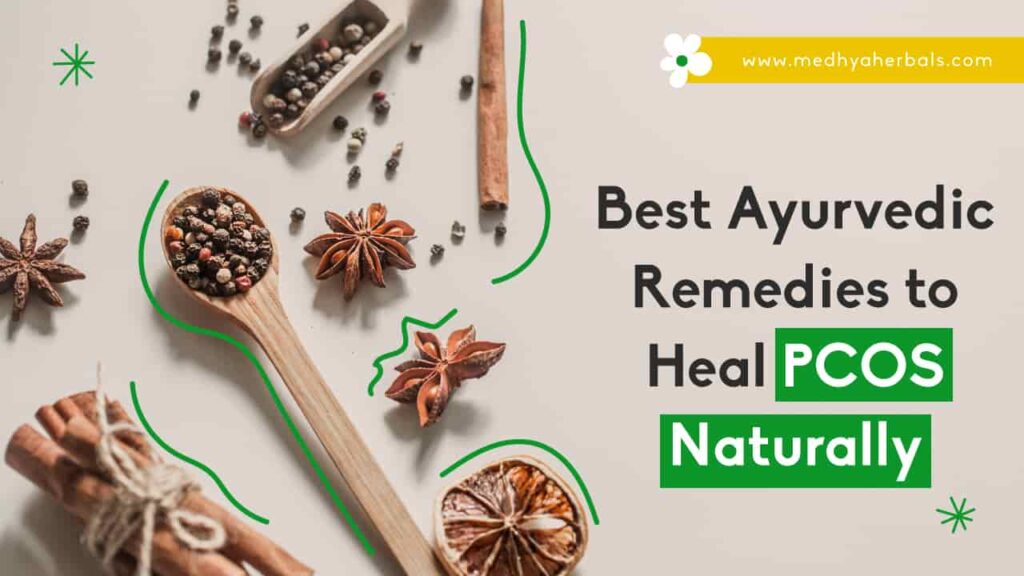 What You'll Learn | Click on Topic to Go There
1. Regular meals
Eat regularly. There is a good reason for this.
In PCOS, the body is more or less in a confused state. Hormones have gone wild, metabolism is not what it should be, there is difficulty in processing nutrients.
Now, when you fail to eat regularly, it's like you are confusing the body system even more. Eating regularly helps the body to find a rhythm.
Another reason you should eat regularly is this: if you stay without eating for a long time, your energy reserves get depleted.
Consequently, you are tempted to desire and overeat sugar to quickly restore the energy. In that case, your body produces more insulin to deal with all the sugar, leading to more insulin resistance and worse symptoms.
Summarily, skipping meals and untimely meals disturbs your blood sugar levels and fires up your insulin resistance further.
TIP: Eat small meals regularly, at set times, rather than taking large meals on occasion.
2. Quality Sleep with Sufficient Hours
Sleep is important for health, with our without PCOS.
Lack of sleep increases stress levels, hampers metabolism, causes brain fog, fatigue, and irritability in the day. None of these help your PCOS symptoms. In fact, lack of sleep can lead to weight gain over time.
Also, sleep apnea is a symptom of PCOS. It is characterized by cessation of breath during sleep. This can also disrupt sleep.
Regular sleep on the other hand keeps you refreshed. It helps your body clean out itself and strengthens your immunity.
TIP: Sleep regularly, for at least 7 hours each night.
3. Improve your Diet
You can improve your PCOS symptoms greatly by watching what you eat.
High levels of insulin are one major cause of the polycystic ovarian syndrome. The good news is that you can control your insulin levels by controlling what you eat. When you regulate insulin levels, you will begin to notice improvements. Learn here about PCOS Diet.
You should:
avoid sugar in your diet,
eat less refined oils,
get more fruits and vegetables,
eat slow carbs (i.e. carbohydrates with a low glycemic index),
eat only healthy fats,
stay away from fast foods,
take fewer processed foods and more natural foods, etc.
TIP: Make small yet consistent changes to your diet. Let it be something you can sustain for the long-term.
4. Physical activity
You need to keep active to keep healthy.
Ayurveda includes yoga asanas for PCOS
Supta buddha konasan (reclining butterfly pose),
Bharadvajasana (Bharadvaja's twist)
Chakki chalanasana (milk churning pose)
Shavasana (corpse pose)
Register at a local gym if you can, and work out regularly. The recommended frequency for exercise is to do thirty minutes, at least, every day.
TIP: Whatever exercise option you pick, do it consistently. Skip the bus and walk if you can.
5. Relax your mind
This is another Ayurvedic tip to cure PCOS naturally. The symptoms of PCOS can get you anxious, but that will only complicate things further.
Practice pranayama (breathing exercises) to keep your mind relaxed.
TIP: Keep calm. You don't like what you see in the mirror, but fretting won't solve it.
6. Include Herbs and Spices
Over the years, there are tested and trusted herbs and spices that Ayurveda applies in solving health issues. Some Ayurvedic herbs for PCOS are:
Turmeric: Turmeric contains curcumin. That's what makes it yellow. A 2017 study by PubMed found that curcumin is anti-inflammatory. Keeping inflammation down helps improve PCOS symptoms.
Cinnamon: PubMed did another research that shows that cinnamon can help regulate menstruation in women with PCOS.
Ashwagandha: This helps regulate cortisol, the stress hormone. Therefore, ashwagandha helps reduce stress and improve PCOS symptoms with Ayurveda.
TIP: Include Ayurvedic herbs and spices in your recipes.
7. Improve Fat Metabolism
A major symptom of PCOS is weight gain. You store fat like no man's business. Fat (Meda dhatu) is regulated by the Kapha dosha.
Fenugreek seeds, gugul, tripahala powder, cinnamon, etc, are all Ayurvedic supplements to help regulate weight and improve the symptoms of PCOS.
TIP: Regulate your diet and lifestyle to suit the Kapha dosha.
Increased stress levels set the body in a state of disarray. Remember that the body is is 'confused' already. Stress can make this worse.
Remember also that PCOS is a hormonal imbalance. The stress hormone, cortisol, is produced in higher quantities. You can also work up stress in yourself by fretting over your symptoms. It could also be physical stress.
Yoga and pranayama are Ayurvedic tips that help you to manage stress and cure PCOS.
TIP: Avoid high levels of stress. Take a break when you need to.
9. Self-Care: Learn to say no when you need to
As a patient with PCOS, you want to be cautious. SAY NO to:
That extra dose of sugar
To the food cravings and tendency to binge eat
Voice in your head that says "you're finished"
That get-together invite if you need some time off
Everything and everyone that increases your stress levels
That tendency to stay up and finish off the last bit of work
TIP: Take care of yourself. Your health first.