Snake gourd is a strange vegetable, which has unique health benefits. It is a popular gourd found in tropical countries. Snake gourd supports detoxification of liver, circulation, and blood sugar levels.
It is a must to have food for lifestyle disorders that our society is struggling with. In this post you will learn about some interesting facts about snake gourd, its benefits and consumption, and a delicious yet super simple recipe. Let's dive in!
What You'll Learn | Click on Topic to Go There
Snake Gourd Availability and Variations
Snake Gourd is an annual climbing plant. It belongs to the Cucurbitaceae family. It is commonly known as Viper Gourd, Snake tomato, Long tomato, Chichinda, Chinese Cucumber, Padwal, pudalangai, pathola, and padavalanga. Its scientific name is Trichosanthes Cucumerina.
The fruit of the plant is light green to dark in colour when young. It turns yellow and then red at maturity. The seeds harden and the flesh becomes fiburous as the fruits mature. Trichosanthes Cucumerina is grown and cultivated in India, South East Asia, Australia, West Africa, Latin America, and the Caribbean.
Consumption Tips – How to eat Snake Gourd?
All parts of the Snake Gourd plant such as seeds, leaves, flowers, and fruits are used for both medicinal and culinary purposes. It is a low calorie food and is packed with several vitamins, minerals, and dietary fibre, and antioxidants.
Snake Gourd fruit is commonly consumed as a vegetable. It is a popular summer squash that can be added to soups, stews, and curries. It can also be pickled, fried, turned into a chutney, or simply stir-fried. The pulp of the vegetable turns red as it ripens. It can be used as a substitute to a tomato, hence its name long tomato.
Active Ingredients and Nutrition Value
Snake Gourd plant is rich in antioxidants as triterpenes and free fatty acids.
It contains Cucurbitacins B and E, β-sitosterol, and low amount of oxalate, phytates, and tannins. The total phenolics and flavonoids contents are 46.8% and 78.0% respectively.
It is a rich source of dietary fiber, Calcium, Magnesium, Zinc, and Potassium. The fruit contains significant amounts of antioxidants Vitamins as Vitamin A, Vitamin C, and Vitamin E.
Nutritional Content Variation in Leaves, Flowers, Seeds, and Fruits
Leaves of Trichosanthes Cucumerina are the richest source of antioxidants. There are several bioactive compounds present such as phenolics and flavonoids among the rest of the parts.
Snake gourd seed is a good source of edible oil. This seed oil is a rich source of antioxidants such as carotenoids, flavonoids, and phenolics. It contains a good amount of proteins, fats, phosphorus and a very low amount of oxalate.
| | | | |
| --- | --- | --- | --- |
| Fruits | Flowers | Leaves | Nutritional Content |
| 2452 | 1351 | 1450 | Calcium (mg/100g) |
| 2473 | 1379 | 2368 | Potassium (mg/100g) |
| 1180 | 2533 | 2146 | Magnesium (mg/100g) |
| 5 | 14 | 12 | Iron (mg/100g) |
| 1 | 7 | 3 | Zinc (mg/100g) |
| 32 | 21 | 10 | Total Fibre (g/100g) |
Snake Gourd Benefits in Ayurveda
Snake gourd is cooling in nature. It pacifies Pitta Imbalance, inflammation, and high heat related health problems.
In Ayurveda, snake gourd is used in the treatment of migraine, alopecia, fever, abdominal tumors, bilious disorders, boils, acute colic, diarrhea, hematuria, and skin allergy.
Snake Gourd is an anthelmintic agent. That means, it is highly effective to remove worms and parasites from the stomach.
The gourd is also used as an antimicrobial agent to prevent other stomach disorders.
Snake gourd also acts as a purgative, laxative, and a hydragogue. It helps to remove excess water from the body. Hence, it is highly effective for health disorders related to water retention, puffiness, and swelling.
The gourd is also an emetic. That means, it can help to remove toxins from the digestive tract and clean it up.
Formulations
30-60 grams of the leaves crushed along with coriander seeds should be taken thrice every day to treat jaundice.
What are the Health Benefits of Snake Gourd?
The health effects of the Trichosanthes Cucumerina plant are due to its rich and diverse antioxidant profile in the form of the carotenoids, flavonoids, lycopene, phenolics, and ß-carotenes.
Additionally, high mineral content in the flower and fruits makes them ideal for regular consumption to keep away from deficiency disorders.
Supports Body Detoxification
Snake Gourd stimulates the liver and increases urination, thereby speeding up the elimination of toxins from the body.
It also increases the creation of bodily fluids which can eliminate dryness and dehydration. This helps in the normal functioning of the kidneys and bladder.
Juice from the leaves has an emetic effect. It can stimulate vomiting in case something toxic has been consumed.
Prevents Digestive Disorders
The high fiber content of the Snake Gourd strengthens the protective mucus layer, hence decreasing damage by the highly acidic gastric juice. This helps to prevent the antihistamine activity.
The gourd has a laxative effect. It eliminates constipation, reduces cramping, and bloating.
Snake gourd optimizes nutrient absorption process in the body. It acts like a broom of our digestive tract. And once, the tract is cleaned of trash, it can better absorb nutrients from other foods.
It prevents inflammation in the digestive system. Therefore, snake gourd is highly effective to prevent and cure health disorders related to Irritable Bowel Syndrome and Ulcerative Colitis.
Prevents High fever and Lowers down body Temperature
Snake Gourd tends to break high fever. It supports the natural healing process of our body. Therefore, a decoction made from the gourd is given to people, who suffer from overnight fever.
Supports Hair Health and Growth
Snake gourd has high levels of Vitamin A as Carotene. It protects weak hair follicles and stimulates the growth of new hair follicles. This is why snake gourd is widely used for the treatment of alopecia.
Snake gourd moisturizes the scalp and stimulates the body to boost fluid production. Therefore, it is used to reduce the frequency and intensity of dandruff. Simply, rub the juice on your hair and keep it for one hour before washing.
Anti-Diabetic Effect
Snake Gourd possesses anti-diabetic activity as it improves oral glucose tolerance. It promotes glucose uptake in peripheral tissues.
Also, it is low-calorie food and it can keep weight under control. So, it is beneficial for Type II Diabetes patients.
Prevents Heart Problems
Drinking two cups of Snake Gourd juice every day can improve blood circulation. High Potassium content in the fruits and flowers reduces bad cholesterol levels and promotes vascular health. It can be beneficial for the treatment of your heart problems as palpitations.
Interested to join like-minded people to share and learn about healthy food, Ayurvedic Diet and lifestyle? Join Medhya's Ayurvedic Diet and Lifestyle Community on Facebook.
Tips on Selection and Storage of Snake Gourd
Snake Gourd fruit is usually non-consumable if it turns yellow or red. This is because the seeds mature and the pulp also turns highly fibrous. So, when looking for gourds in the market, look for thin versions that are not very very long.
For colour, go for bright green to dark green colours. Avoid any pieces that have slightly yellow tinge or are thicker towards the centre
The gourd can be stored in the refrigerator for up to 1 week without any problem and outside the fridge for 2 days. Do not keep for very long as the gourd will keep maturing, making it harder to chew and relish the juicy taste.
Snake Gourd Soup Recipe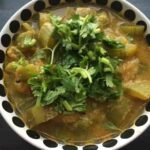 Print Recipe
One pot Snake Gourd Soup – Indian style recipe
This recipe of snake gourd soup involves minimal level of preparation and cooking time. It is super juicy and delicious for the times when you need the warmth and energy from food.
Equipment
Pressure Cooker (Optional)

Pan
Ingredients
700

g

Snake Gourds

About 2 Medium to Large

2-3

cloves

Garlic

1

Medium

Onion

1

Medium

Tomato

2

Sprigs

Fresh coriander leaves or cilantro leaves

For granishing

1

tbsp

Ghee

Peanut oil or Mustard oil or Olive Oil

1

inch

Fresh ginger root

2

tsp

Turmeric Powder

1½

tsp

Salt

To taste

1

tsp

Mustard Seeds

1

tsp

Coriander Seeds Powder
Instructions
Wash and lightly peel the gourd. Do not peel and wash but first wash and then peel. This to prevent the water soluble nutrients from running away into waste water.

Cut horizontally in small – less than half inch pieces. Towards the centre the gourd turns thicker, so cut the horizontal pieces once more to make it easy to consume.

Finely chop Onion, Garlic, Tomato, Coriander leaves, and grate the Ginger.

Heat the pan and put the oil.

Once the oil is little hot, add the mustard seeds.Let the seeds splutter.

Then add garlic, onion, and ginger. Stir-fry for 5 mins till the mix turns golden.

Add turmeric, salt, and coriander powder. Stir for another 2 minutes.

Add chopped tomatoes and stir for another 5 minutes till the tomatoes turn mushy.

Add cut snake gourd pieces now. Mix well.

Add 1½½ cup of water. Cook for another 10 minutes till the gourd is soft in texture.

Garnish with coriander leaves and serve. Enjoy!
Notes
Tip: If you are making the soup in a pressure cooker, add only  half cup of water as the gourd itself is very watery and it will release the water in pressure cooker. Also, time of cooking would be less, perhaps 5 minutes only as only 1 whistle is usually required.
We would love to hear from you! If you try this recipe, do leave a comment and rate the recipe! Don't forget to take a photo, tag @medhyaherbals, and hashtag it #medhyaherbals on Instagram. Eat Well, Feel Happy, and Look Awesome!
References
Medicinal Values of Tricosanthus cucumerina L. (Snake Gourd), British Journal of Pharmaceutical research.
Physical Properties of Snake Gourd Seeds relevant in Grading and Separation, CIGR Journal.
Comparative Analysis of Nutritional and Bioactive Properties of Aerial Parts of Snake Gourd