Incompatible food combining in Ayurveda refers to food combinations that have a poor effect on our digestive health and our metabolism. Incompatible foods should not be consumed together in both raw and cooked forms.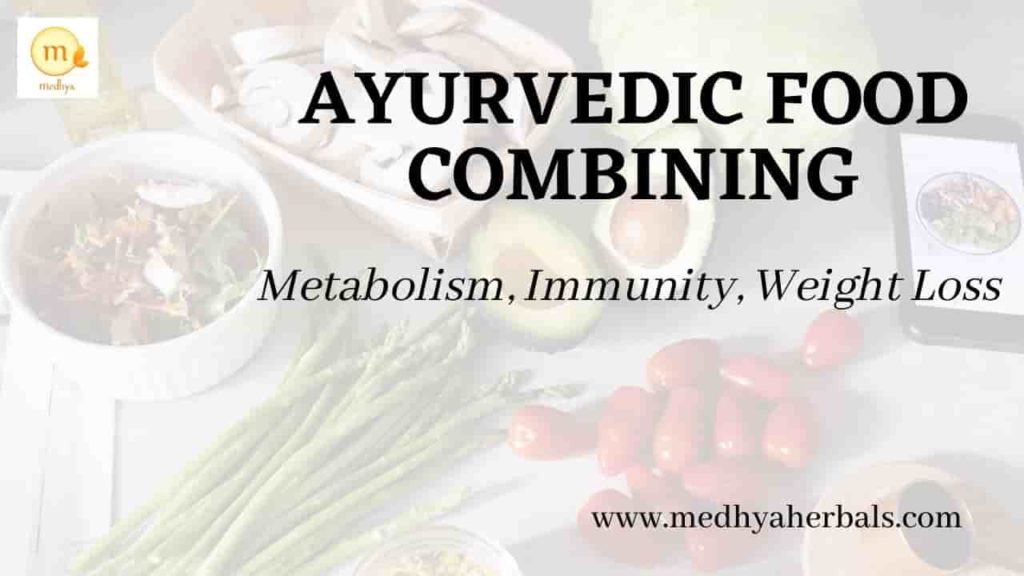 The lifestyle diseases, we are witnessing today are the direct or indirect result of incompatible food combining and poor dietary habits.
Hippocrates had said, "Let Food be Thy Medicine and Medicine be Thy Food". Food indeed can be medicine and has the power to heal, but the reverse is also true! Wrong food choices and poor dietary habits can harm a human being and seriously impact his overall well being.
How does Incompatible Food Combining affect my body?
Proper food combining is very important. It is one of the basic principles of an Ayurvedic Diet to protect and promote your digestive fire, hence metabolism and immunity.
1. Poor Metabolism and Low Digestive Fire
Different food items have different effects on our body. If large quantities of opposing foods are taken for a long term at the same time, it leads to overall health imbalance and disturbance in digestive fire.
Slowing down of digestive fire or "Manda Agni" poorly affects your metabolism and capability to properly absorb the foods you ingested.
2. Ama – Undigested Foods and Toxin Build Up
Also, different food items have different times and process of digestion, hence wrong food combinations lead to production of undigested foods in the GI tract.
These undigested food particles further penetrate our body, either clogging the different body channels or in specific body organs such as liver and digestive tract. This eventually triggers inflammation and allergic health disorders such as Allergic Rhinitis.
3. Excessive Weight and Water Retention
Incompatible food combining also leads to water retention and produces excessive moisture in the body, called kleda. This is also one of the cause behind excessive weight.
Hence, you may end up suffering from digestive disorders such as gas and bloating, or food allergies, even if you are eating healthy foods overall.
Avoid regular consumption of incompatible food combinations
While some of the food combinations listed below have become part of our routine life, it doesn't mean that they do not effect our health.
In fact, this could be an answer to your unsolved problems of say, not being able to lose weight despite all good intentions and efforts, or perhaps specific health issues that you are still struggling from.
You should slowly taper off consumption of incompatible food combinations from your diet altogether. This is how wrong food combining affects our health:
Digestive disorders such as acidity, indigestion, and bloating in the short term.
Damage to the gut microbiome and gut lining in the long term. This itself leads to multiple diseases such as Crohn's Disease, IBS, GERD, and Ulcertaive Colitis.
Keeping the above in mind, let's begin and learn about the Ayurvedic Rules to Food Combining. I am listing down the food combining rules per their popularity in our diet these days.
1. Combine Fruits with similar type of Fruits and Nothing Else
Fruits should not be combined with anything else than foods of similar taste or Rasa. This is because, fruits are one of the lightest and easiest food items to digest. Eating fruits directly nurtures the Rasa Dhatu or Plasma Tissues, but at the right time and in the right quantity, and combination.
When we combine fruits with other taste of fruits, such as berries with ripe banana, it leads to opposing energetic and malfunctioning of the digestive system.
Additionally, fruits when combined with other heavier food items such as grains and raw vegetables may stay in your digestive tract much longer. This causes fermentation of the fruits and hence related digestive disorders of gas and bloating. This rule also applies for consumption of fruits as desserts right after your meals.
Also, fruits should be consumed during the day time and not in the night time. This is again to avoid the fruits staying in your digestive tract and getting fermented there while you sleep!
2. Do not combine Beans with Dairy and Meats
Beans, Meat, and Dairy have different digestive pathways. Also, all of them are heavier to digest, hence when combined, it overloads the digestive system. This not only rips off the nutritional benefit of the combined foods, but also affects your health in the long term.
Combine beans with grains and vegetables for best absorption and assimilation. Also, you should always soak and or sprout the beans to make the proteins from beans more available.
Add plenty of tomatoes and other digestive herbs such as cumin, ginger, and black pepper for even better results.
3. Cheese goes well with Grains and Vegetables
Cheese shouldn't be combined with other dairy products, meat, beans, and fruits. It is better assimilated when it is combined with grains and vegetables.
4. Milk should be taken alone
Milk is considered to be the ultimate food that nourishes our body. Mother's milk is considered to be "Amrit" or life elixir for a baby. Unprocessed Cow's Milk rejuvenates, nurtures, and heals the body from inside out.
Other than specific herbs and spices such as dry ginger, cardamom, holy basil, milk should not be combined with anything else including grains, vegetables, fruits, other dairy products, and meat.
5. Melons should not be combined with anything else
Melons should be eaten alone. One should keep a time gap of at least 1 hour on both sides, before and after consumption of melons, before conuming or drinking anything else.
Melons can be combined with other melons in small quantities only.
6. Yogurt should be combined with grains and vegetables only
Yogurt shouldn't be heated or combined with other dairy products, fruits, vegetables, beans, and meat. Yogurt can be consumed with grains and vegetables in small quantity.
Large quantity of yogurt should be avoided, so is very sour yogurt. Also, yogurt is best consumed in lassi form, made by diluting 1 part of yogurt with 4 parts of water, salt, and some spices.
7. Raw Foods shouldn't be mixed with Cooked Food
A similar concept regarding leftovers and fresh food; raw foods and cooked foods have different pathways and hence required time for digestion. usually, lightly cooked foods are much easier to digest and better absorbed by our body than in raw form.
If you combine raw and cooked foods together, it may lead to longer digestion process as well as formation of undigested food particles in the digestive tract.
8. Leftovers shouldn't be mixed with fresh food
Leftovers are hard to digest. They essentially slow down our digestive fire as our body has to put extra effort in assimilating partially oxidised and damaged food ingredients.
Combining leftovers with fresh foods, hampers the nutritional capacity of the fresh foods as well. Hence, you end up poorly absorbing both leftovers and fresh foods.
9. Vegetables should not be combined with Milk and Fruits
Fruits and vegetables have different pathways to metabolism, Mixing them together creates an imbalance in our body systems, which struggles to properly assimilate their nutrients.
10. Honey should not be heated
Heated honey lacks all the antimicrobial properties and digestive enzymes. It is essentially sugar, with damaged or oxidized biochemicals. These may actually harm the balance of the digestive tract micro biome in the long term.
Additionally, honey should not be combined with ghee in equal amounts by weight, for example 1 tsp honey with 3 tsp ghee. It is considered to be a bio toxin in Ayurveda.
Interested to join like-minded people to share and learn about healthy food, Ayurvedic Diet and lifestyle? Join Medhya's Ayurvedic Diet and Lifestyle Community on Facebook.
References