It might be that you have heard your joints creaking like a door that needs lubrication. Or that your mornings are dreadful because there's always pain biting your knees and ankles. Or you maybe have persistent joint pain and stiffness all over that severely restricts your movement and lifestyle! If these match you, arthritis might have gotten hold of you.
But you are not alone! Joint pain and stiffness can catch you during the most vulnerable times of your life such as after pregnancy, during menopause, and even during periods of extreme stress or change!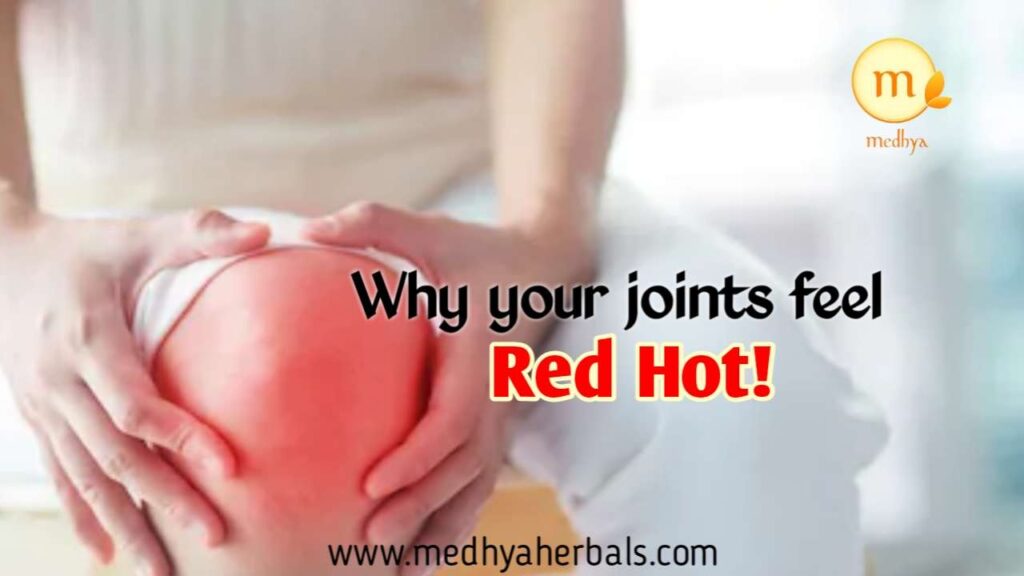 What You'll Learn | Click on Topic to Go There
Joint Pain and Stiffness indicate Aging!
Joint pain is technically a health disorder related to aging. But in modern times, we are encountering premature aging and fast degradation of our body tissues. Whatever the cause may be, the good news that we want to give you is that there is solution to your problems. And you can easily resolve it through appropriate changes in your diet and lifestyle.
What are joints exactly?
When we talk about joints, we mean to say the junction between bones of the body. Joints exist at your shoulder, your elbows, your knees, your knuckles and everywhere. Joints are a major part of the mechanism of movement of the body. They determine in what direction and to what extent we can move.
Ayurveda and Joint Pain: What is the root of the problem?
Ayurveda traces problems down to an imbalance in the natural intelligence of the body that keeps it healthy. It monitors the levels of energy of the three doshas. If one of them is not optimal, then there will be health issues.
Precisely, joint problems arise from an imbalance in the Vata dosha. The vata dosha is afterall, responsible for movement, and as we earlier mentioned, joints are in control of movement. So, what happens?
Well, two scenarios come to play.
1. Vata is responsible for nerve impulses and joint circulation.
When there is an imbalance in the Vata dosha, then there is a problem with circulation of blood in and around joints. Now, since the blood is supposed to bring the nutrients necessary for the well-being of the joints, the blood deprivation translates to nutrient deprivation. The bones and joints are not getting enough nutrients!
As a result of this, shleshaka (subdivision of kapha that is responsible for the lubrication of the joints) worsens. The implication of this is that this shleshaka becomes thick and sticky. It can't perform it's cushioning and lubricating functions effectively, leading to joint pain, discomfort, muscle spasms and decreased range of motions.
2. Amavata: Accumulation of Ama leads to joint pain.
Ama is a toxic byproduct of poor digestion. It accumulates in the joint spaces, resulting in inflammation, numbness, redness and swelling.
This happens if the agni (digestive fire) is not strong enough to effectively digest food that is taken in.
Other Causes of Joint Pain
Joint pain could be caused by a variety of reasons, including, but not limited to:
Malnutrition: As has been established above, if the joints do not get enough nutrients, there is a problem;
Aging;
Joint swelling and edema;
Overuse of joints in a repetitive motion. For example, hair stylists that spend lots of time braiding hair are more likely to develop joint pain in their fingers, truck drivers in their knuckles and shoulders, etc;
Other illness like flu;
Injuries, sprains strains;
Obesity: The strain placed on the joints with the weight of an obese person can make the joints wear out faster. Aside this, accumulation of the long-chain saturated fatty acids that are not completely absorbed by the body can also damage the joints, leading to joint pain; and
Arthritis: This is perhaps the chief cause of joint pain and stiffness, so we're going to consider arthritis some more.
Arthritis is swelling or inflammation and tenderness of one or multiple joints.
Arthritis mostly builds up over time. Occasionally, the symptoms appear quickly. It mostly affects people over age 65, with women and obese people being at an even greater risk. However, it can affect any one of any age.
It is no wonder that it comes up time and again, because, after all, there are over a hundred different types of arthritis! Let's make a few honorary mentions though:
Osteoarthritis (Sanghidatavata or Sandhivata): If that first one is too long): In between joints are discs, called cartilages. These discs are responsible for cushioning the effects of bones grinding against bone as they move together at joints. If not for cartilages, each time you moved, it would feel like thousands of volts of electricity running through your body. However, with use, these cartilages wear off and begin to break down with age or with repetitive use. This leaves the bones with ample chance to grind against each other. You can guess what happens from there: excruciating joint pains.
Rheumatoid Arthritis (Ama Vata): This is an autoimmune disease. An autoimmune disease is one in which the body attacks itself. In this case, the immune system attacks the synovial tissue(which normally produces synovial fluid, a lubricant for joints). It can ultimately result in destruction of both the joints and the bones involved in the joint.
Gout: Gout is another type of arthritis. It results from the deposition and accumulation of uric acid crystals in the joint.
Symptoms you'll notice if you have Arthritis
The symptoms vary with person and with the joint affected, but you can generally observe:
Joint stiffness (sandhigraha);
Aching around the joints;
Heat or warmth;
Constant fatigue;
Difficulty moving the affected joint;
Reduced usability and flexibility of affected joint;
Decreased aerobic fitness.
The severity of these symptoms also vary with time of day.
Getting Rid of the pain in your joints
Use of pain relief drugs like ibuprofen, paracetamol.
Intake of synthetic hormones.
Antibiotics can also be taken if the joint pain has an underlying infection as the root cause, like in bursitis.
Surgery to correct the abnormality. For example, hip replacement surgery is commonly practiced.
Go natural for the best of results with Ayurveda!
Ayurvedic Medicine has been in existence for over 5,000 years, and you should certainly expect that it has a few tricks up its sleeve, for whatever situation or condition it is that you might present. This does not exclude joint pain and stiffness.
Abhyanga: This is a form of massage therapy that is sure to reduce the vitiated vata dosha. Using sesame oil, maha marayan oil or other special vata oil, to massage joints helps to restore circulation in and around the joints, leading to effective distribution of nutrients in the joint.
Yogaraja Gugulu: This contains tridosha shamake(that is, it is capable of pacifying the three doshas) and Rasayana(it is rejuvenative) actions. Gugulu is highly recommended because it possesses shothahara(anti-inflammatory) properties. It prevents the degenerative changes that lead to arthritis.
Ashvagandha Churna: This also possess shothahara and rasayana properties, in addition to Shulaprashamama(analgesic, pain relieving) properties. It also protects chondrocytes, the cells of the cartilage.
Basti Therapy: This is an eight-part therapy that is effective in treating vata dosha disorders, including but not limited to arthritis and other joint pain.
Turmeric: It is effective as an anti-inflammatory and also stimulates circulation.
Other Ayurvedic Herbs of benefit include asafoetida, devil's claw, gotu kola, gugulu(Indian bedellium), aloe vera, etc.
Live a life that pleases your joints.
When participating in any sporting activities, or just exercising, ensure you have adequate warm up sessions before and after.
Practice yoga for healthy joints.
Light exercises that are gentle to joints like swimming, taichi, walking, cycling, etc, should be more in your list.
The PRICE method of caring for joints if you already have joint pain:
P – protect the joint from further damage.
R – rest the joint often.
I – place ice on the joint for twenty minutes every 2-3 hours. The ice should be packed in such a way that it is not in direct contact with your skin.
C – Compress with a bandage that is firm but not too tight.
E – elevate the joint above the level of your heart to reduce swelling. For example, if you have joint pain in your foot, lying back, place the foot up on a pillow.
Diets for healthy, pain free joints.
Vata is the main culprit, so pacify the vata. Avoid bitter, spicy or astringent food, rather go for sweet, sour and salty foods.
Ghee and linseed helps to clear off the excess ama.
Eat food to build up the agni fire in order to aid digestion.
Santarpana is a herb that literally translates to nourished. This helps nourish the joints and restore shleshaka.
Interested to join like-minded people to share and learn about healthy food, Ayurvedic Diet and lifestyle? Join Medhya's Ayurvedic Diet and Lifestyle Community on Facebook.