How to Lose Body Fat is the first thing that you should consider before you plan for weight loss. This is because, when you lose excess body fat, then you actually set the ground for fast weight loss that also stays off.
In fact, excessive body fat is also the root cause of multiple health disorders related to hormone imbalances, poor digestion, skin and fertility problems.
Now, weight loss through diet and exercise only usually becomes extremely challenging as we age. There is stubborn body fat that has accumulated on various body parts over the time. And no matter what you do, it won't budge.
In some cases, you would lose weight only to see it come back as you get back to your regular self. This becomes highly disappointing and demotivating for majority of us. So, how to lose body fat and begin your weight loss journey?
Thankfully, Ayurveda can help us to break the cycle of stubborn weight. Ayurvedic texts provide us with exact guidelines on how to lose body fat and reduce weight with right diet and lifestyle.
And in this post, we will do just that.
Firstly, we will look into the causes of excessive body fat and weight gain. Then, we will look into Ayurvedic natural ways to get rid of excess body fat and lose weight.
Let's get started!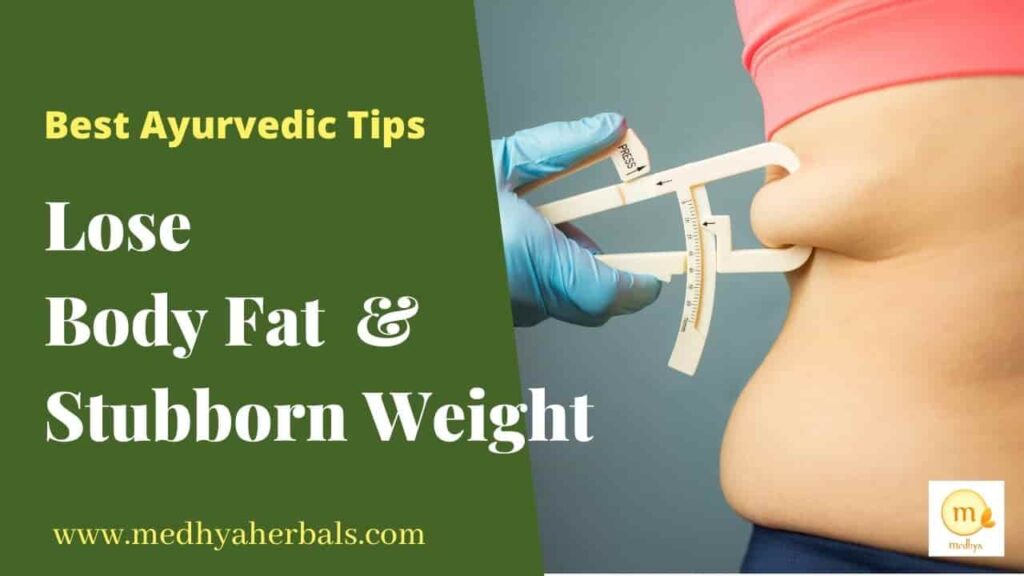 What You'll Learn | Click on Topic to Go There
Weight Loss in Ayurveda
The foods we take in, our lifestyle and the environment in which we live contribute to our physical and mental health.
Our bodies are designed to be lean. Weight gain or excess body fat is actually a symptom than a cause. It indicates that our body is not functioning well.
Ayurveda provides us with the knowledge to maintain our body and mind such that it function at its very best!
Ayurvedic weight loss tips involve removal of stubborn body fat through foods and lifestyle regime that boost metabolism and ignite your digestive fire "Agni".
An Ayurvedic lifestyle involves eating right foods per your body, time of the day, and season of the year.
Ayurvedic diet involves simple and wholesome meal regime. This helps to ignite and nurture your digestive fire, which further allows for better assimilation nutrients in the body.
Toxin Buildup makes it difficult to lose weight!
In Ayurveda, toxins or "Ama" are the underlying cause of excessive body fat and weight gain. Ama accumulates in the body as a result of improper diet, chronic stress and environmental pollutants.
Certain toxins are water-soluble, which get removed easily through diet and exercise. Other toxins are fat-soluble and they get attached to the fat cells.
Excess toxins in the fat cells makes them bulge. This causes weight gain and excessive body fat.
Ayurvedic weight loss targets to remove Ama from the body through therapies, foods, herb and lifestyle. It also helps to strengthen the digestive system and immune system. Thus, Ayurvedic weight loss improves our overall health by boosting the functioning of our vital body systems.
How to Lose Body Fat Naturally?
In Ayurveda, excess body fat can be compared to Kapha Imbalance due to toxin build up in the body.
Hence, you should adopt diet and lifestyle measures that help to bring Kapha dosha back to balance. Below, you can find details on exact food, lifestyle and herbs to lose body fat and start your weight loss journey with Ayurveda.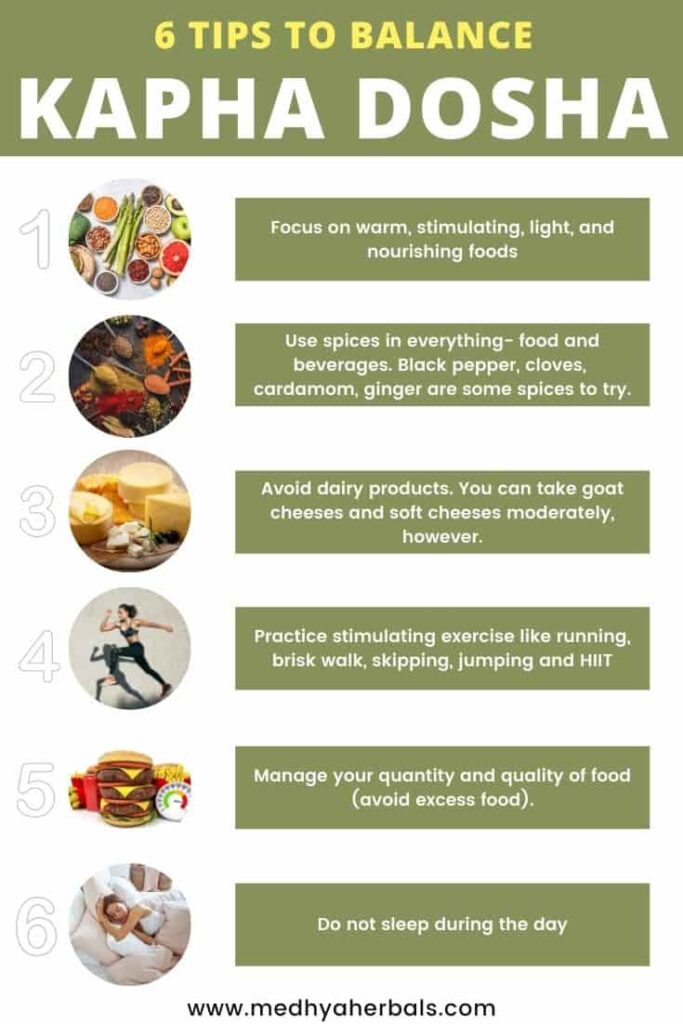 1. Your Diet Chart for Weight Loss and to Reduce Body Fat
Stubborn Body fat can be reduced by maintaining an energy deficit. This means, you take in lesser calories (without starving yourself) than you burn during the day.
If you eat fewer calories than you burn up, your body will not store fat. Most people consume too many calories than their requirement.
Therefore, it is advisable to keep a meal diet chart and count the calorie content of the foods you eat.
Do keep in mind, less calories do not mean that you should go on dieting. It simply means that you should eat mindfully with smaller proportions and avoid grazing all the time. This will naturally help turn your body to a LEAN form.
Here is your diet chart on meal proportion and distribution:
| | |
| --- | --- |
| % of Meal | Type of Food |
| 50% | Fruits, vegetables, and fiber-rich foods. |
| 25% | Whole grains, cereals, and starch-based food products |
| 25% | Lean proteins such as lentils, beans, fermented soy products |
Diet Chart to Lose Body Fat Fast
2. Best Foods for Weight Loss
Food Category and Benefits
Examples
1
Consume plenty of complex carbohydrates. They will keep you full and provide B Vitamins and essential minerals.
Root vegetables, whole grains, beans, lentils and vegetables
2
Cruciferous vegetables are great to include as they are rich in proteins and antioxidants.
These vegetable prevent the conversion of sugar and other carbohydrates into fat.
They also provide body with ample fibre and nutrients to stay healthy.
Cabbage, Cauliflower, Kale, Mustard Greens, Kai-lan, Brussels Sprouts, Water cress and Broccoli
3
Increase your intake of light to digest and filling foods.
Salad Greens, Raw Vegetables, Sprouts, Barley, Millet, Puffed grains, Black Pepper, Quinoa, unpolished white rice
4
Add herbs and spices to bring flavor and taste to your meals.
Cinnamon, Clove, Ginger, Black Pepper, Chilies, Long Pepper, Garlic, Onion, Vinegar, Turmeric
5
Consume bitter tasting foods. They help to burn fat and tone down your body.
Salad Greens, Kale, Chard, Broccoli, Dandelion Greens, Milk Thistle, Artichoke, Endives, Cabbage, Cucumbers, Lemon Juice
6
Choose lean protein sources. They contain fewer calories and the fiber in them will not let you feel hungry for longer. Thus you take fewer calories in the whole day.
Eggs, nuts, fish and skinless chicken and eat more fruits and vegetables
7
Consume light snacks to get necessary micro nutrients and keep yourself satiated
Fruits or nuts and seeds
8
Include probiotic foods into your diet.
Curd, Pickles, Tempeh, Sauerkraut
3. Ayurvedic Diet for Weight Loss
Do not drink excess water during or after meals. Warm water just before the meal and few sips along with are alright.
Food should be consumed in relaxed and sitting position.
Use less salt and replace table salt with rock salt.
Last meal should be had by 6-7 PM in the evening to allow your body ample of time to assimilate the same.
We all know that starches and sugar raise insulin levels. But, after combining with fat both the insulin levels and fat storing hormones get increased.
Use soaking, sprouting, and fermentation processes to turn anti-nutrients into nutrients.
Eat slowly and stop right before you feel very full. This is because our system reacts to food intake with a lag. If you stuff yourself too much, then by the time your brain signals you to stop, you have already overeaten!
Chew on thin slice of ginger with rock salt and lemon or sip on ginger lemon tea before your meal. This will help to stoke your digestive fire and improve fat metabolism.
4. Worst Foods that pile up Body Fat
Avoid snacking in between meals.
Remove sugar in the form of white sugar, artificial sugar and all sugary processed foods.
Reduce and remove caffeine. It leads to quick spike in your activity level, but eventually causes energy crashes. This makes you eat more sugary foods.
Remove alcohol and smoking altogether. Both of these have similar stimulating effect as caffeine on the body, a quick energy boost and then crash. Also, alcohol and smoking cause and make hormone imbalance worse.
Avoid excess salt. It causes water retention in the body and thus may contribute to increasing weight. Replace table salt with rock salt.
Remove carbonated beverages, fruit juices and flavored waters. All of these contain lots of sugar which cause weight gain.
Avoid processed foods and quick meals. They push in empty calories and devoid you of essential nutrients from your meals.
Avoid over cooked, burnt, fried and highly processed foods in your diet.
5. How to Lose Body Fat with Exercise
Burning body fat becomes much easier when you boost your metabolism with the right lifestyle. Regular exercise is one of the best tools to increase the rate at which you burn calories, i.e. your metabolism.
Now, which form of exercise is best to lose body fat depends on your current physical activity level, your age and your health state. Here are some guidelines that you can follow:
Always stay within the limit of what your body allows you to do, as excessive exercise builds up stress and it may lead to injury as well.
If you are not exercising, then start slowly but stay consistent. Try to exercise 4-5 days in a week.
Try a mix of different exercises to use various muscles and hence increase your chances of losing body fat fast.
Always try to breathe in through your nose while exercising. Mouth breathing is shallow breathing. It undermines the results you can get from exercise.
1. Types of Exercise and How They Help Weight Loss
Aerobics such as walking, running, cycling, swimming, and other movement-based activities that increase your heart rate, boost circulation and improve metabolism in the long term.
Resistance training and weight lifting exercises. This exercise stimulates your muscles, boosts metabolism and burns fat that is present below the skin. It helps to tone up the body overall and improves weight loss.
2. Beginner's Exercise Plan (7 Days) to Lose Body Fat Fast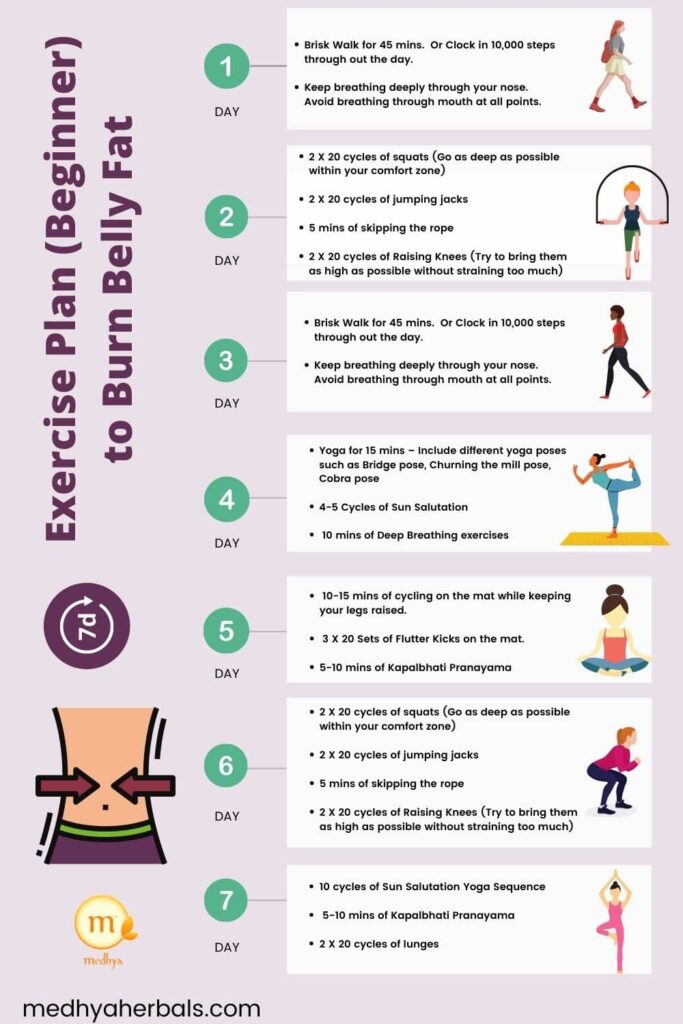 Here's a 1 week exercise plan to get started
Day
Activity
1
Brisk Walk for 45 mins. Or Clock in 10,000 steps through out the day.
Keep breathing deeply through your nose. Avoid breathing through mouth at all points.
2
3 X 10 cycles of squats (Go as deep as possible within your comfort zone)
2 X 20 cycles of jumping jacks
5 mins of skipping the rope
2 X 20 cycles of Raising Knees (Try to bring them as high as possible without straining too much)
3
Brisk Walk for 45 mins. Or Clock in 10,000 steps through out the day.
Keep breathing deeply through your nose. Avoid breathing through mouth at all points.
4
Yoga for 15 mins – Include different yoga poses such as Bridge pose, Churning the mill pose, Cobra pose
4-5 Cycles of Sun Salutation
10 mins of Deep Breathing exercises
5
10-15 mins of cycling on the mat while keeping your legs raised.
3 X 20 Sets of Flutter Kicks on the mat.
5-10 mins of Head Shining Pranayama
6
3 X 10 cycles of squats (Go as deep as possible within your comfort zone)
2 X 20 cycles of jumping jacks
5 mins of skipping the rope
2 X 20 cycles of Raising Knees (Try to bring them as high as possible without straining too much)
7
10 cycles of Sun Salutation Yoga Sequence
5-10 mins of Head Shining Pranayama
2 X 20 cycles of lunges
7 Days Beginner's Exercise plan to Lose Body Fat
6. Reduce Your Stress Levels
Chronic stress contributes to stubborn body fat! In the modern lifestyle, stress is one of the major cause of all physical and mental health issues.
Stress alters the hormone levels and results in extra belly fat. Cortisol, a stress hormone, usually fluctuates in a rhythm during the day.
According to a study on "Obesity" shows that high levels of cortisol in the evening can affect metabolism, inflammation, energy balance etc. That's why you should manage your stress levels, especially in the evenings.
Here are few things that you can do:
Plan ahead if you can and avoid last minute deadlines that build stress.
Stay away from situations and people that cause stress to you.
Learn to say no to things that you find stressful.
Do not delay your meals, always eat on regular intervals.
Practice deep breathing exercises and pranayama to fill your body and lungs with oxygen.
Spend time in nature, close to water bodies and in the greenery.
Develop a new hobby or learn new language.
Spend time with family and friends in activities that involve interaction and positive communication.
7. Get Sufficient Sleep In the Night
With our hectic schedules nowadays sleep is often neglected, but if you want to lose weight that needs to change. Here's why:
Insufficient sleep increases the level of fatigue, you either skip exercise or not able to do as much as you would have if you had rested enough.
Lack of sleep really disturbs your hormone levels, your cortisol and hunger hormones increase. This makes you crave for sugary and high calorie foods.
Due to lack of sleep, you end up disturbing the schedule of your next day. Either you slip in unhealthy foods to make up for the hunger or missed meals that you couldn't prepare yourself.
On the other hand, sufficient hours of restful sleep reduce the level of cortisol and increase your satiety hormones. It also paves the way for natural detoxification of your body and burns fat.
That's why it is so important to have good sleep at night.
8. Ayurvedic Herbs for Weight Loss
Ayurveda advises to consume pungent, bitter and astringent tasting herbs to lose body fat. These tastes "Rasa" help to flush toxins, burn fat, and boost the metabolism of the body.
Additionally, they help to regulate overall health of our body as they help with proper circulation, reduce water retention, hormone balance and optimum digestive fire in the body.
1. Vijaysar
The bark of Vijaysar tree is used in multiple Ayurvedic formulations for excess body weight (Kapha Imbalance) and Diabates.
Vijaysar helps to burn stubborn belly fat due to its fat reducing properties. Regular consumption of Vijaysar tea can help to maintain good metabolism, healthy digestive system and get rid of excess body fat.
2. Punarnava
This is one of the best herbs to support circulation and get rid of excess toxins from the body. Punarnava has diuretic properties help the kidney and urinary bladder to function better.
Regular consumption of punarnava in the form of herbal tea can prevent weight gain and water retention in the body. It supports weight loss by reducing digestive problems as constipation.
3. Guggul
Guggulu is a well known Ayurvedic remedy for weight loss due to its powerful stimulating and scraping properties. It is not really a herb, but it is made from the sap (gum resin) of the Commiphora Mukul tree.
Guggul helps to burn fat, lose weight successfully and also improves the fat profile by lowering down high cholesterol values.
However, guggul alone is usually very strong for the body. Hence, it is often blended with synergistic and complimentary Ayurvedic herbs to achieve health benefits.
4. Triphala
Triphala is a powerful Ayurvedic Rasayana (Herbal elixir known to promote longevity and rejuvenation).
It deeply cleanses our body and helps to flush out wastes and toxins. Triphala has powerful antioxidants to rejuvenate, inhibit inflammation, promote healthy build of body cells, and blood purification.
5. Ginseng
It is a traditional Chinese herb that helps in healthy weight loss. Ginseng contains ginsenoside that suppresses the fat storage process in cells of the body. It also boosts metabolism.
6. Peppermint
It stimulates the secretion of digestive enzymes which improves digestion and reduces fat storage. Peppermint also controls appetite and increases satiety
7. Green Tea
It contains epigallocatechin-3-gallate (EGCG) that promotes fat metabolism and supports detoxification of the body.
Regular consumption of green tea prevents weight gain by decreasing fat absorption in the body, and increases production of energy from fat.
8. Cinnamon
It helps in weight loss by boosting metabolism, increasing satiety, and flushing toxins out of the body.
9. Sage Tea
It boosts the metabolic rate of the body. Also, sage acts an a diuretic. This helps the body to lose weight.
10. Dandelion Flower and Greens
It helps in weight loss by limiting calorie intake, stimulating secretion of gastric enzymes and promoting the breakdown of fat and cholesterol in the body. It is also a diuretic, which helps the body get rid of excess water weight.
11. Jujube or Indian Plum Leaves
Eating the soaked jujube leaves reduces body fat, boosts metabolism and helps to lose weight.
12. Trikatu
It is one of the best Ayurvedic formulations to cut stubborn belly fat and lose weight. Trikatu is made by mixing equal quantities of long pepper, black pepper and dried ginger root.
Have ½ teaspoon of this twice a day with lukewarm water.
13. Warm Water with Lemon
Luke warm water with lemon provides the body with required minerals and hydration. It increases our satiety and also flushes toxins out of our system via liver, thus aiding weight loss.
Start your day with 1 glass of warm water with lemon.
9. Yoga Poses to Lose Body Fat
Yoga goes much deeper than just the physical movement of the body. Regular practice of suitable yoga asana help to tone the muscles thus increase strength, relax the mind to reduce stress levels and also increase bone density.
That's why yoga is one of the best ways to naturally support your metabolism and lose body fat. Here are some yoga asana that you can practice to lose weight and keep it off.
Setu Bandhasana (Bridge)
Bhujangasana (Cobra)
Dhanurasana (Bow)
Ardha Matsyendrasana (Seated Half Spinal Twist)
Natarajasana (Supine Dancing Shiva)
Chakki Chalanasana (Churning Mill Pose)
Janu Sirsasana (One Legged Seated Forward Bend)
Surya Namaskara (Sun Salutations)
10. Get Rid of the Toxins to Lose Weight for Good
Remove environmental toxins and body toxins by practicing a healthy lifestyle.
Remove all plastics and processed foods, which lead to buildup of toxins in the body.
Get rid of chemicals based personal care and household products that cause high Estrogen in your system.
Practice Ayurvedic detox or Panchakarma to clear off the toxins with Ayurvedic herbs and therapies.
Remove stimulants such as alcohol and smoking that load your body's detox pathways.
Check out Ayurvedic Detox and Weight loss Challenge, a holistic health programme. Receive personalized Ayurvedic treatment and step-by step guidance on diet and lifestyle to get rid of the toxins and stubborn body fat.
Before you Go!
How to lose body fat is a permanent call for weight loss. It may seem hard in the beginning, but it is totally worth the effort when you lose weight and keep it off successfully.
Along with weight loss, you start to lose your worries about your skin, immunity, fertility and mental health. And best of all, you gain quality years in your lifespan.
So, get started today! And do share with us in comments on how this post has helped you. Or if you would like more information. We will get back the soonest.
References