Turmeric is a ubiquitous spice in Indian curries and vegetables. These deep yellow-orangish rhizomes (root stems) of the Curcuma Longa plant have long been used for their outstanding medicinal properties in Asia.
Its phytochemical compounds provide it a distinct yellow color and warm/bitter flavor of its own and are also responsible for its healing power.
Nutrition Information
Main active constituent is Curcumin 3-4% which is yellow coloring substance.
It consists of Curcumin I 94%, Curcumin II 6%, and Curcumin III 0.3%.
Also there are demethoxy and bisdemethoxy derivatives of Curcumin which are biologically active.
Turmeric contains essential oil (5.8%) as sesquiterpenes 53%, zingiberene 25%, alpha phellanderene 1%, sabinene 0.6%, cineol 1% and borneol 0.5%
The nutritional content of Turmeric includes carbohydrates 69.4%, protein 6.3%, fats 5.1%, minerals 3.5% and moisture 13.1%.
It is a rich source of Manganese, Iron, Vitamin B6, Copper, Potassium, and Dietary Fiber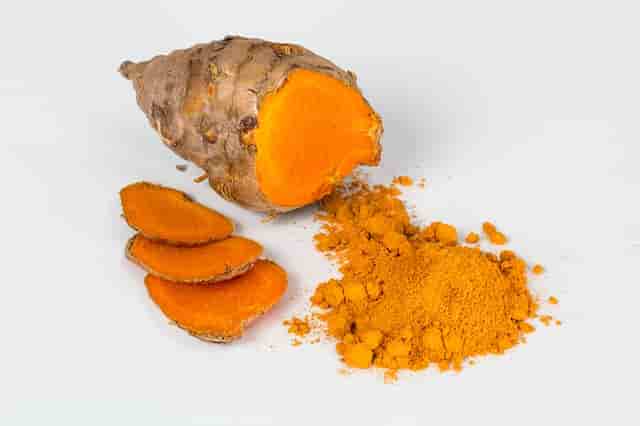 Health Benefits of Turmeric
Antioxidant effects
Curcumin present in turmeric inhibits the production of reactive oxygen species ROS such as peroxides, superoxide anions, and nitrite activated by macrophages. This stops the production of oxidative agents, which can destroy healthy cells.
It also has free radicles scavenging effect. It protects lipids and hemoglobin from oxidation.
It also indirectly affects glutathione formation thus improving liver detoxification of mutagens and prevents nitrosamines formation.
It is effective in preventing oxidation of brain proteins and inhibits IL1 which is pro-inflammatory cytokines. Animal studies indicate that daily intake of turmeric can prevent brain damage and neurodegenerative disorders such as Parkinson's Disease and Alzheimer's Disease.
Anticancer Effects
Turmeric has skin protective effect through preventing damage effect of UV B radiation.
Curcumin also prevents gamma radiation damaging effect on chromosomes.
It prevents metastasis of skin cancer cells and deactivates carcinogen produced by smoke and tobacco chewing.
Curcumin showed to have anticancer effect through its antioxidant action.
Antimicrobial Effects
Turmeric has antibacterial and antifungal effects.
Curcumin is effective against Plasmodium falciparum and Leishmania major.
Cardiovascular Disorders
Turmeric prevents bad cholesterol, LDL oxidation, hence inhibits production of arterial plaques and risk of atherosclerosis.
It decreases bad cholesterol, LDL and triglycerides levels in blood.
It also prevents platelet aggregation through activation of prostacyclin formation pathway and inhibition of thromboxane formation pathway.
Anti-Diabetic Effect
Turmeric helps in reducing blood glucose level and also decreases diabetic complications.
Anti-inflammatory Effects
Curcumin is very effective in inhibiting lipooxygenase and cyclooxygenase pathways.
It is as effective against water retention by edema at a dose of 45mg/Kg.
It is effective in treatment of both acute and chronic arthritis.
Gastro-intestinal Effect
Curcumin is effective in treatment of gastric ulcers induced by stress, alcohol, indomethacin, and reserpine.
It increases secretion of bicarbonate, gastrin, secretin and pancreatic enzymes.
Sodium salt of Curcumin has liver-protective effect and prevents formation of cholelithiasis through increasing bile solubility, and excretion of bile salts, cholesterol and bilirubin.
Bioavailability and Metabolism
Curcumin, the active and most beneficial constituent of Turmeric is a fat soluble substance. It has poor bioavailability and gastro-intestinal uptake when taken in raw form or when combined with water. Hence, it will not be effective, even if you are taking turmeric in sufficient amounts and most of it will be excreted out.
To increase absorption and bioavailability of Curcumin, one needs to:
Take Turmeric with milk, honey, pepper, or edible oil.
Lightly cook it by heating it with milk or by adding it to curries (few minutes before you close heat).
Consuming turmeric with pepper is especially useful as Curcumin combines with Piperine, which increases its absorption.
Major Curcumin metabolites are hexahydrocurcumin and teyrahydrocurcumin glucuronide.
Minor metabolites are Ferulic acid and dihydroferulic acid which are active metabolites with anti-oxidative, anti-inflammatory and anticancer actions.
Modes of Consumption – Limits and Health Concerns
Turmeric should be consumed in moderation for its active compounds. The best results of consuming this amazing herb are observed when taken in small quantities (few grams) over a prolonged time period.
Excessive consumption of more than 2 table spoons per day or intake of high concentration of its active compounds in form of supplements and extracts could lead to complexities:
Diabetic patients as it can lead to too-low blood sugar level
Lead to diarrhea, stomach upset, or gastrointestinal reflux
Slows down the clotting of blood
Can enhance gall bladder malfunction for patients
Turmeric Recipe suggestions
Turmeric can be preserved in powder form post drying and processing. This is the most common mode of consumption in Indian households, where a little teaspoon is added to the curry/vegetables/preparations.
It should be added to the preparations in the end as prolonged cooking may result in the evaporation of its essential oils.
It can be consumed with hot water as a tea or added to hot milk. In fact, turmeric flavoured milk has long been used in India to relieve body aches.
Fresh roots can be used to prepare smoothies flavoured with fruits and superfoods as Chia seeds. The addition of flavoured fruits will help mask the slightly bitter taste of it.
References
Turmeric: A Spice with Multifunctional medicinal Properties, Journal of HerbMed Pharmacology.
Important Health Benefits of Curcumin Consumption in Regular Diet, Journal of Clinical Nutrition and Metabolism.