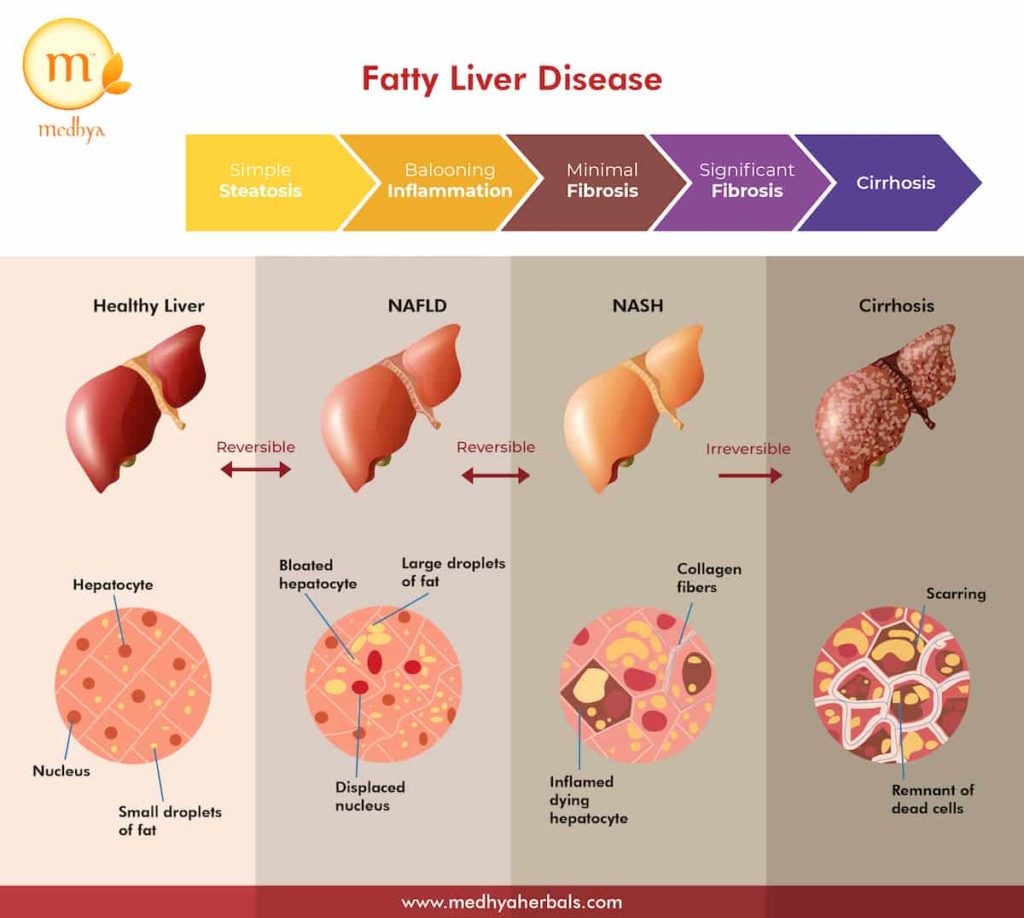 Fatty liver is commonly referred to as a condition in which the liver has accumulated a very high concentration of fatty acids. It is a broad spectrum name of multiple liver disorders such as steatosis, steatohepatitis, and cirrhosis.
Many people these days go to saunas, spas, steam rooms, sweat lodges, take special herbs and teas, diets, etc, for the purpose of detoxifying. However, our liver is specialized for that particular function.
Our liver is our body's natural detoxification system. If it is well taken care of, our liver efficiently performs any detoxification functions required by the body.
Disease Prevalence
The prevalence of liver-related disorders such as fatty liver has increased incidentally in the past couple of decades due to sedentary lifestyles combined with energy-rich diets and high use of chemical-based household products.
It is primarily a condition in which the liver has been chronically overloaded and hence unable to effectively function!
In India, fatty liver is present in around 9% – 32% of the population, with higher rates in obese and inactive persons. More often than not, it is a condition that doesn't show any specific symptoms but is diagnosed by tests once peripheral conditions start to appear.
The functi

oning of Liver – A vital cleansing organ
1. Detoxification
The liver converts poisonous and toxic materials like drugs, alcohols, inhaled insecticides and other environmental toxins, into harmless substances for excretion.
2. Carbohydrate metabolism
Carbohydrates are stored in the liver as glycogen. When sugar is taken in initially, it gets processed as glucose to be used as energy. However, when there is an excess of glucose, an hormone, insulin, is secreted by the pancreas, and this converts the excess glucose into glycogen for storage in the liver.
On the other hand, there could also be shortage of glucose. In this case, excess glycogen is converted back to glucose by the hormone glucagon. This ensures the body keeps up with its energy demands.
3. Regulation of Lipids
When there's too much lipid, liver removes them from the bloodstream, converts them into glucose and oxidizes them to release energy during aerobic respiration.
4. Protein Metabolism
Liver is also responsible for converting amino acids from proteins into energy. So, essentially, without the liver, we would have severe shortage of energy, and constant fatigue.
5. Production of Heat
Due to the tremendous amount of metabolism going on in the liver constantly without break, heat is produced to help maintain the body temperature.
6. Storage of Minerals
The liver stores important minerals like iron, magnesium, etc, and releases them for use as needed by the body.
7. Blood Reservoir
A blood-engorged adult liver weighs over 5 pounds, whereas when the blood is drained, the liver weighs 3 pounds, which is still heavy. But the point is to show that a tremendous amount of blood is stored in the liver, and this can be released into circulation in emergencies.
8. Role in Digestion
Aside the fact that it converts nutrients to energy, the liver also has a part in the production of bile. Bile is a yellowish-greenish substance that is passed through bile duct to be stored in the gall bladder. The role of bile is emulsification (i.e. breakdown) of fats in the small intestine.
Fatty Liver Disease Prognosis
When liver is constantly loaded with high-calorie foods, then it may end up storing fats that are more than required. A constant dump of fats on the liver stresses it out and reduces its functioning. This condition is categorized into two per the causes:
Nonalcoholic fatty liver disease (NAFLD) and
Alcoholic fatty liver disease.
Non-alcoholic Fatty Liver Disease
The initial stages of non-alcoholic fatty liver disease are usually reversible by changes in diet and lifestyle. However, some people suffer from a more severe version called non-alcoholic steatohepatitis (NASH), where permanent damage has happened to the liver cells and they stop functioning.
This constant inflammation of the liver also termed as liver cirrhosis is the state in which scars tissues permanently replace the normal tissues and they block the flow of blood. This seriously increases the chances of liver cancer and heart disease. Experts say, most of the time NASH is the main reason for liver transplants.
Though this problem usually occurs in the case of middle-aged, it may happen to anyone, including kids. Usually, obesity, diabetes, high blood pressure, high cholesterol, high triglycerides, hepatitis C, liver infections, and medications such as drugs for cancer or heart problems are the triggers for NAFLD.
NAFLD has been further classified into two categories:
Obese NAFLD: Fatty liver in obese people which is more common
Lean NAFLD: Fatty Liver in lean people and is less common
Primary causes of NAFLD
Too much intake of processed foods or foods that are rich in simple carbohydrates
Too much intake of refined fats and processed fats such as margarine, processed cheese
A sedentary lifestyle with low or no physical activity
Insulin Resistance and or Diabetes
Sometimes, side effects of certain medications cause fatty liver disease, for example, tamoxifen (Nolvadex), methotrexate (Trexall), amiodarone (Pacerone), and valproic acid (Depakote), etc.
Prolonged exposure to environmental toxins
Alcoholic Fatty Liver Disease
Alcoholism with nearly 2-3 drinks per day for women and 3-4 for men or more than 20g/day can also lead to Fatty Liver. However, this condition develops after years of alcohol abuse. In this condition, the liver cannot function to metabolize the fats, carbohydrates, and proteins.
Obese persons and mainly women have more chances to get affected by this disease. Sometimes, genetic causes give rise to these problems and with that, if you carry on with drinking, you will have alcoholic hepatitis, liver failure, cirrhosis, and severe odds of liver cancer.
Symptoms
Usually, there are no signs and symptoms. Therefore, when people get affected by this condition, they don't recognize what they have. But some people feel pain in the middle or right side of their stomach and feel very tired.
Additionally, they may lose appetite and weight. A non-alcoholic fatty liver disease is more common in all over the world. When it starts, you will have an enlarged liver, pain in the upper right abdomen and fatigue, etc.
The most common signs and symptoms of nonalcoholic steatohepatitis and cirrhosis (advanced scarring) are:
Abdominal swelling (ascites)
Enlarged breasts in men
Yellowing of the skin and eyes (jaundice)
Enlarged blood vessels just beneath the skin's surface
Enlarged spleen
Red palms
If fatty liver advances to cirrhosis and liver failure, symptoms can be as follows:
jaundice of the skin and eyes
an increasing, fluid-filled abdomen
confusion
abnormal bleeding
Symptoms of the acute fatty liver of pregnancy
The acute fatty liver is an uncommon and potentially life-threatening problem of pregnancy. Signs and symptoms occur in the third trimester. These are as follows:
constant nausea and vomiting
pain in the upper right abdomen
jaundice
a headache
reduced appetite
depression
fatigue
Pregnant women with these signs or symptoms should consult their doctor.
The Liver works 24/7 and it rebuilds itself!
Yes, if your liver is given the chance, it has the capability to rebuild itself from a 25% state to a full 100%. Good news! If you are ready to give your liver and give your body a chance to survive, then you can actually revive your liver even if it endured a damage that destroyed 75% of it.
Believe me, no other organ can do that!
Treatment of fatty liver disease
Liver inflammation (steatohepatitis) can give rise to health complications such as liver scarring, liver cancer, and end-stage liver disease.
Besides treatment, anybody can control or reverse this problem with changing lifestyle.
Researchers are studying to invent medications to treat fatty liver. In the first phase of treatment, doctors recommend reducing the risk factors. These are,
controlling cholesterol and reducing the intake of sugars and saturated fats
reducing or avoiding alcoholic beverages
losing weight
controlling the blood sugar
People who have fatty liver due to obesity or unhealthy eating habits, the doctor mostly suggests increasing physical activity and avoiding or adding certain types of foods to the diet.
Here are some suggestions that can help in managing the fatty liver disease.
Management and Prevention of Fatty Liver
1. Lose Weight
Obesity gives rise to NAFLD. If your weight is more than normal, talk with your doctor to guide you to lose some weight based on healthy eating and to stay more active. Lose a pound or two in a week is good, as quick weight loss may make the disease worse.
2. Stop Drinking Alcohol
If you have the alcoholic fatty liver disease, you have to stop drinking. Though it is difficult to leave, avoiding alcohol will help you a lot. You can successfully reverse or reduce the problem. In case you fail to avoid alcohol, talk to your doctor. Avoiding alcohol can also treat nonalcoholic fatty liver disease.
3. Physical Activity
Exercise has a good impact in the case of a fatty liver disease. If you face difficulties in doing enough exercise to lose weight, you can fulfill this requirement with brisk walking and this will help you in losing some fat from the liver.
4. Take Care of Your Health
Never leave different health problems untreated. Diseases such as diabetes and high cholesterol may give rise to other problems. You have to talk with your doctor regarding the medications that you take, because these may be the reason for fatty liver disease. Go for a regular checkup to control any rising changes in your body.
5. Take care of Your Liver
If you need to take some medications for hepatitis A, hepatitis B, the flu, and pneumococcal disease to protect your liver and stay healthy, ask your doctor before taking any new medicine, vitamin, or supplement because sometimes these drugs can be harmful to your liver.
Prevention of Fatty Liver
Adoption of healthy habits to treat the condition can lessen your chances of acquiring it.
Exercise regularly and take a healthy diet which is comprised of lots of veggies, fruits, and whole grains.
Stop taking alcohol and follow the recommendations of your doctor to stay healthy.
These habits will help you in keeping other problems like obesity, diabetes, and heart disease under control.
References
NAFLD – An Ayurvedic approach