More than 50% of the women struggle with extensive bone loss, poor bone health and high risk of osteoporosis post menopause. The risk of critical bone fracture, which can leave a woman dependent on others, is higher than the collective risk of deadly disorders as heart attack and cancer.
While so many women suffer from so much pain due to low bone density, the problem of menopausal osteoporosis isn't taken seriously. Simply because one cannot see the bones and realise how weak their bones have become. It's only when they start cracking up, then one gets to take action. And often it is too late!
That's why early efforts are necessary to improve bone density and keep your bones strong through menopause. One should understand how osteoporosis and menopause are linked to better manage it.
Whether you are in menopause and seeing signs of osteoporosis, or you just want to be educated on reducing the risk of fractures, this is for you. We'll get to understand how menopause and osteoporosis are linked, how you can support your bone health and increase your bone density with Ayurveda.
Bone Health for Women
Majority of women experience lowering levels of Estrogen during Menopause. As ovaries stop producing Estrogen, one may undergo significant bone loss. Some women lose nearly 25% of bone mass following 10 years of menopause.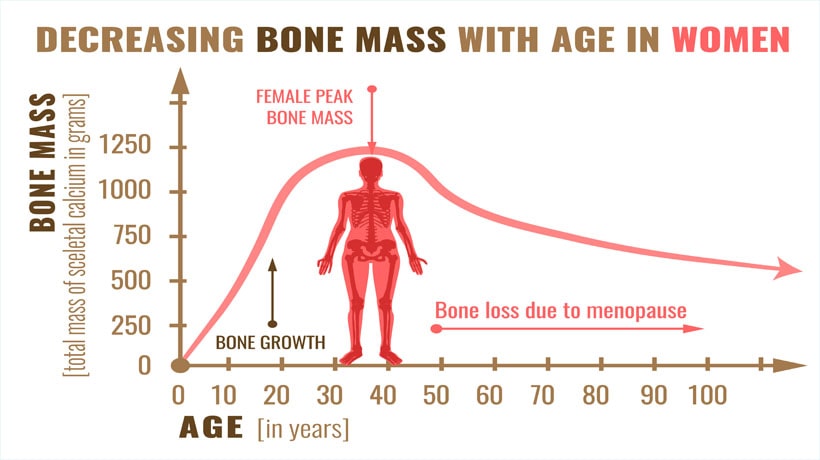 This sudden loss of bone density often leads to development of weak and porous bones, which are diagnosed as osteopenia and osteoporosis.
That's why it is so important to adapt your diet and lifestyle and prepare ahead for the change in bone density during menopause.
The bone mass of girls reaches to 90% of its peak value by age 18. Hence, it is of utmost importance that young girls engage in healthy lifestyle and right choices of food. Also, it is important to be physically active to allow proper growth and maturity of the bones.
Menopausal Symptoms and Osteoporosis
Menopause marks the end of the reproductive life of a woman. The transition to a complete menopause usually occurs between the ages of 45-50. For most women, by 55 years of age, menopause is already complete. But it doesn't just happen.
For a majority of women, hormone fluctuations experienced with onset of menopause trigger multiple health issues related to hot flashes, mood swings, sleep disorders, vaginal dryness and weak bones.
Together these health issues are often categorised as menopausal symptoms.
One key feature of menopause is a drop in the levels of the reproductive hormones, estrogen and progesterone. In fact, we can say that this drop in hormones is what really causes all the changes associated with menopause.
The Link between Menopause and Osteoporosis
In menopause, estrogen levels drop. Your bones lose the benefit of estrogen's support in maintaining calcium inside the bones. Osteoporosis, brittleness, and weakness results.
During the menopausal transition period, the average reduction in BMD is about 10%. About 50% of women can lose between 10-20% of their bone in the 5-6 years menopause takes.
25% can be classified as fast bone losers. They lose even more bone in less time.
Therefore, one should tackle the problem of bone loss in menopause as early as possible to reduce the risk of osteoporosis and weakened bones.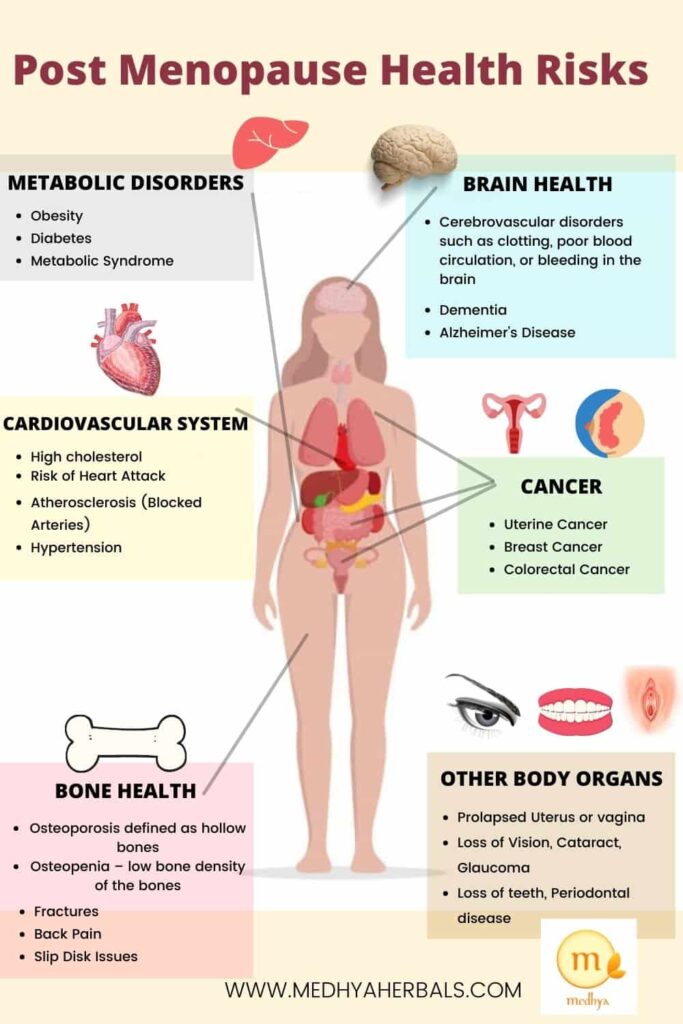 Menopause and Osteoporosis: An Ayurvedic View
Menopause and osteoporosis have one thing in common, and that is age. Why do we point that out?
Ayurvedic medicine defines people according to three doshas (compositions): Vata, Pitta, and Kapha doshas. Each person has a unique combination of these three, with one or two dominant, naturally. However, the dominant dosha can vary, either with the time of the day, or even the time of life.
As we age, Vata dosha increases in dominance and Kapha dosha goes down. Now, Vata is the air dosha, which is associated with dryness, irregularities, hardness, brittle, roughness and is light in nature.
Thus vata dosha imbalance in the bone tissue can cause brittle and irregular bones leading to osteopenia. In extreme cases, high levels of vata imbalance also causes osteoporosis, characterised by the presence of pores or holes, dryness and brittleness of the bones.
In addition, menopause marks the transition from pitta dosha to vata dosha dominance for women. Thus, pitta dosha also becomes prone to imbalances in menopause. This can lead to menopausal symptoms of rheumatoid arthritis, hot flashes, infections as UTI and BV or Gout.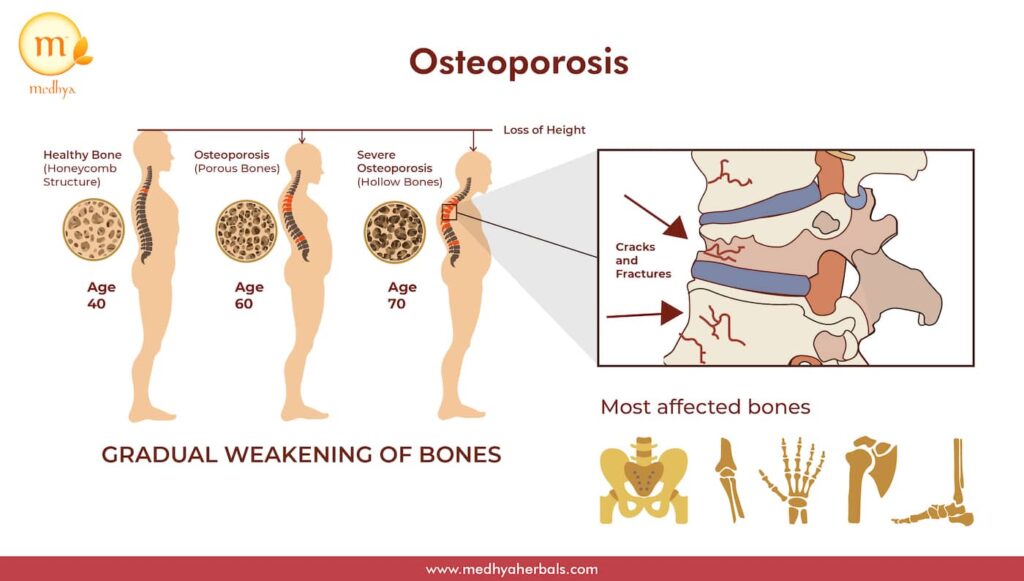 Ayurvedic Treatment for Bone Health in Menopause
Ayurveda can help you treat menopausal osteoporosis caused by the elevated dosas with herbs, Ayurvedic medicine, bone nourishing diet, yoga and physical therapies such as herbal oil massages.
Ayurvedic holistic approach prevents low bone density by following an individual specific health protocol that helps to:
Pacify the elevated doshas
Stop Bone loss
Protect bone tissue from further damage
Nourish the asthi dhatu
Balanced Nutrition to prevent nutritional deficiencies
Healing the bone tissue (asthi dhatu) means restoring the proper quantity and quality of vata dosha and kapha dosha in the body. This will help to establish a balanced bone formation according to the body constitution of the person.
Let's see how you can implement Ayurvedic principles in your diet and lifestyle to improve the density of your bones:
1. Ayurvedic Medicine and Herbs to Prevent Menopausal Osteoporosis
There are multiple herbs and medicinal foods that Ayurveda suggests to nourish the asthi dhatu for better bone density. Ayurvedic herbs act on specific body tissues, help to balance the hormones and the vitiated dosha.
That's why it is important to take the herbs that suit your specific body constitution rather than taking them at your will.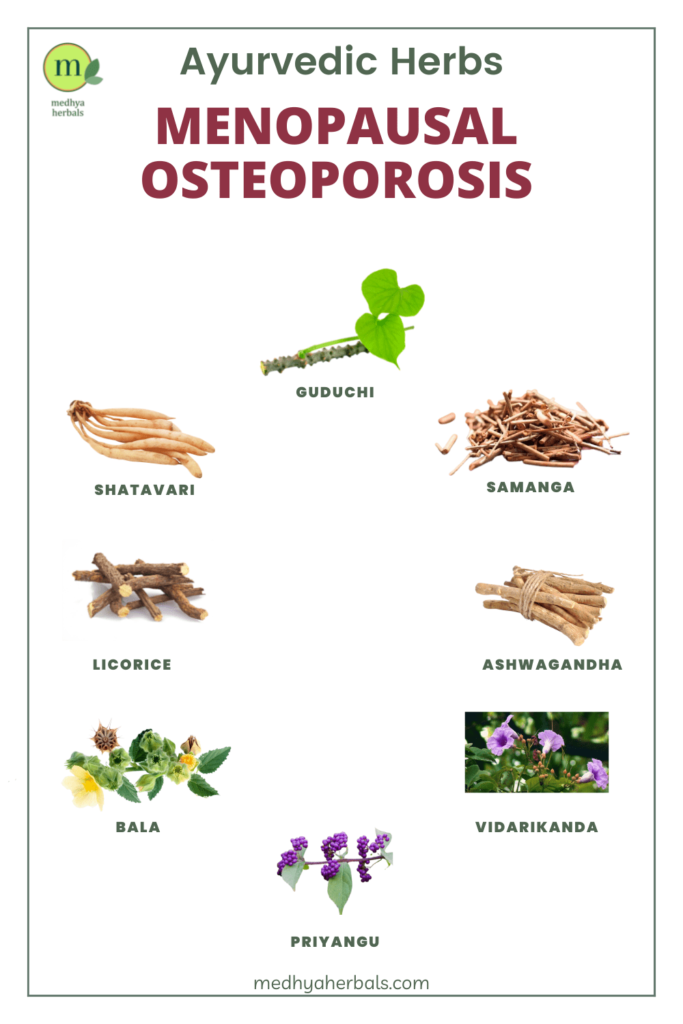 Ayurvedic medicine can be very effective in treating Menopausal Osteoporosis and to prevent the risk of factures. Below are some of the most commonly used herbs to support bone density in menopause:
Guduchi
Bala
Prishnaparni
Ashwagandha
Samanga
Vacha
Licorice
Vidarikanda
Priyangu
Shatavari
2. Ayurvedic Diet to Support Bone Health
Ayurveda recommends following a vata balancing diet for Menopausal Osteoporosis patients. A vata diet is highly nourishing, easy to digest and helps to build vitality "ojas" in the body. Here are the foods that you should include:
Grains: like wheat, amaranth, rice, quinoa, and oats.
Fruits: like pineapple, mangoes, peaches, plums, papaya, grapes, oranges, cherries, coconut, figs, etc.
Pure Oils: like ghee and sesame oil.
Vegetables: such as green beans, peas, sweet potatoes, carrots, and leafy greens.
Medicinal Foods: sesame seeds, black pepper, fenugreek, moringa oliefera, pumpkin seeds, turmeric, ginger, dill, chives, basil should be a part of your diet.
Foods and Diet to Avoid
Prefer smaller meals during the day and do not hold hunger. Always take timely meals at fixed time everyday.
Take warm and unctuous foods such as porridges, curries, gruels, and soups.
Include spices and herbs to maintain healthy digestive fire and to get the micronutrients.
Remove chilli and sugar from the diet. Both of these cause excessive stimulation and push Vata out of balance.
Remove cold temperature foods and drinks.
Limit or stop raw foods such as salads.
3. Balanced Nutrition: Essential Nutrients for Bone Density Support
Calcium
We mentioned calcium over and over when discussing how estrogen helps maintain your bone mass. Calcium is a very important mineral in maintaining bone density and health.
Calcium supplements can thus help to build and maintain your bones to prevent weakness. You can also eat foods that are rich in calcium, like dairy products, broccoli, kale, bok choy, salmon, beans, soy foods, figs, oranges, sardines, and fortified foods. Aim for 1200mg of calcium daily.
Vitamin D
How about vitamin D? Vitamin D supplements can help increase the absorption of calcium so that you have more calcium available in your bloodstream and for your bones.
Vitamin D is one of the cheapest vitamins to get. Why? It is readily available in the sunshine. Ensure you get enough sunshine, especially in the early morning before noon.
Either from supplements of sunlight, aim for 1000 to 2000IU( international units) a day if you are postmenopausal.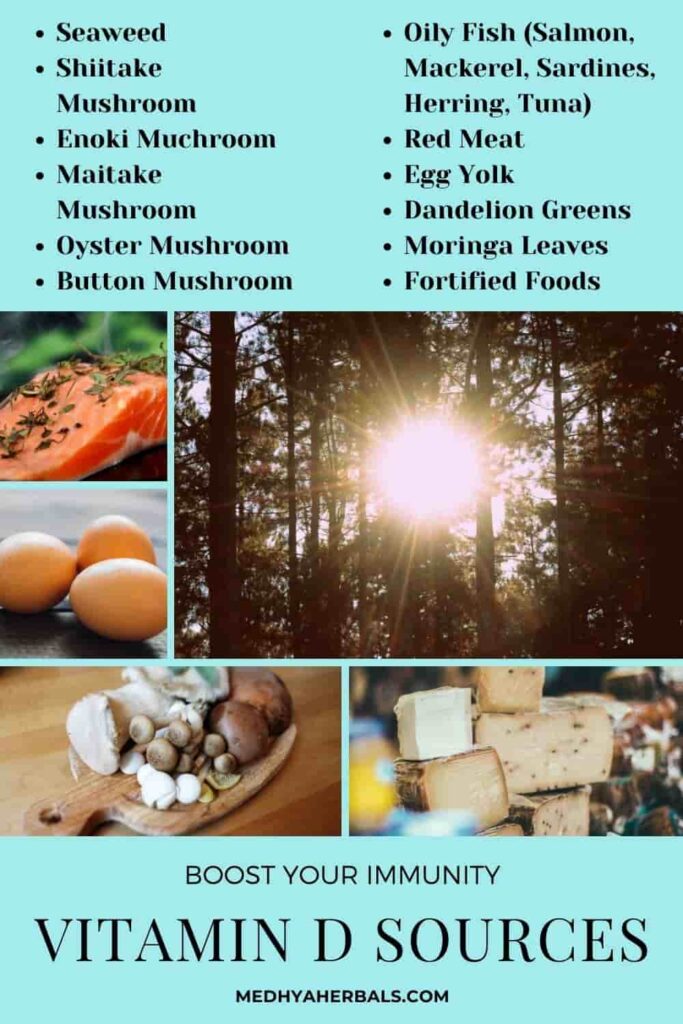 Vitamin K
Leafy greens or vegetables are rich in vitamin K. Vitamin K is another important mineral in maintaining bone density. It can help reduce the risk of fractures.
Eat at least one serving a day of kale, broccoli, Brussels sprouts, lettuce, spinach, or other leafy green vegetables.
Other Essential Nutrients for Bone Health
Healthy Fats
Iron
Magnesium
Boron
Phosphorus
Sulphur
B Vitamins
Vitamin C
Selenium
Proteins
4. Ayurvedic Tips for a Healthy Lifestyle to Increase Bone Density
Avoid and stop smoking and alcohol. This can be hard, especially if it has been a lifelong habit. But it is in your best interests. Join support groups, take therapies if necessary. Smoking is not at all friendly to your bones. Quit alcoholic beverages too. If you must take it, let it be in moderation.
Establish and follow a schedule around your activities, sleep and meals intake.
Sleep of 8-9 hours is required. Do not hold on to sleep and do not reduce sleeping hours.
Regular self-massage by warming oils such as sesame oil and ghee. In Ayurveda, it is known as Abhyanga. It will help to nourish your bones and skin with essential nutrients and calm your mind.
Avoid and manage stress to balance vata dosha. Practice breathing exercises and meditation to calm yourself down and relax in natural set ups.
5. Exercise to Strengthen Bones & Boost Bone Density
Exercise is good for your overall health, including bone health.
Remember we said that a sedentary lifestyle is a risk factor for osteoporosis? Someone who is sedentary can not have as healthy bones as one who exercises regularly.
Exercise places controlled stress on the bones that aid them in developing strength and density. It doesn't have to be extreme exercise, but something to keep the bones in shape.
Three forms of exercise you can do are as follows:
Weight-bearing Exercises
Include activities that make you bear your weight. They increase the weight-bearing capacity of bone joints. Such activities include:
Brisk walking with added weights. These weights can be borne in a backpack or pocketed vest. Try adding up to 10% of your own weight.
Jogging and running provide benefits to the skeleton.
Lunges increase agility and balance, thereby preventing the risk of falls.
Jumping adds strength to the joints of your hips, knees, and ankles. However, it is not recommended if are experiencing severe pain and weakness in your bones.
If you want to mingle while exercising, try dancing or tennis.
Strength-training Exercises
These exercises increase the strength of bones and density.
Use resistance bands, free weights, or barbells.
Strengthen your back with spinal extension exercises.
Balance Exercises
With proper balancing, you have less risk of falls. Balance exercises are thus:
Yoga poses can help increase strength, agility, and balance.
Lunges can fall under this category too.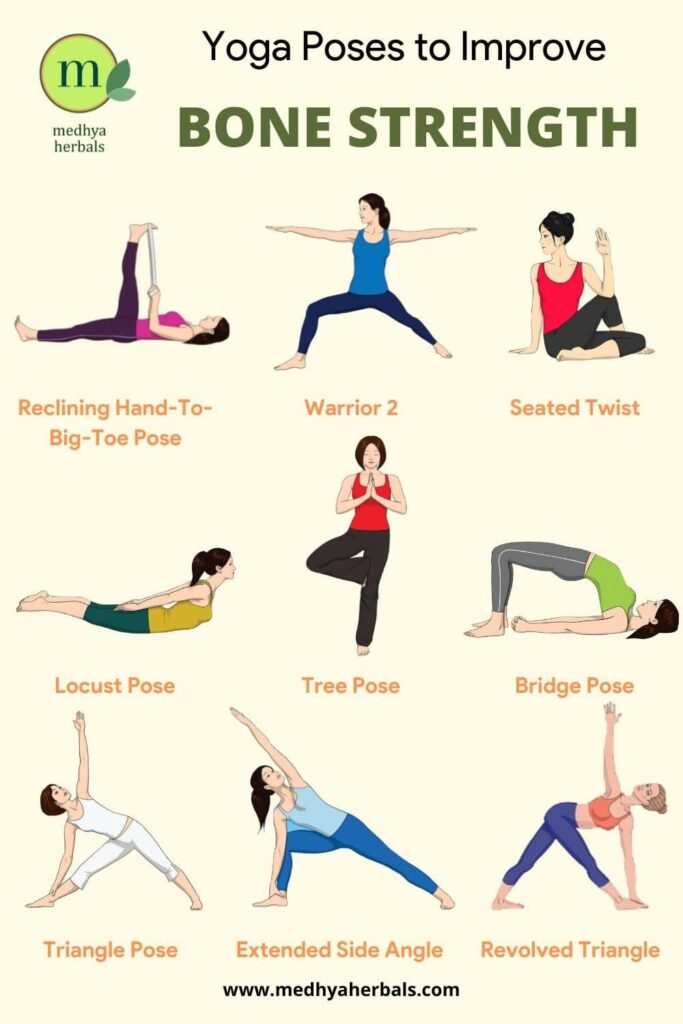 A few points to note on Exercise
Be careful if you are already experiencing osteoporosis. The bones are fragile and brittle, and you do not want to strain them too much, else, you can get fractures while exercising. Get in touch with a personal trainer if you need to.
Posture is very important too. Always maintain a good posture.
Prevention is always better
The best way to prevent menopausal osteoporosis is to prepare yourself for a lifetime of good health. Start now to prepare so that you won't have to deal with all the complications of osteoporosis in menopause later.
Perhaps you are already experiencing osteoporosis and menopause has set in with fractures and all? Now is not the time to beat yourself in regret. Adjust your lifestyle, explore options, and you can enjoy health.
If you are looking to support your health with Ayurveda during Menopause, then do check out Medhya Herbals' Ayurvedic Treatment for Menopause Symptoms. With 1:1 Ayurvedic Doctor consultations, personalised diet and yoga therapy, this will offer you the best natural ways to support your health and bones during and after menopause.
FAQ
1. Can Ayurveda reverse osteoporosis?
Ayurveda can help to slow down or reverse osteoporosis depending on the stage of bone density loss. Osteoporosis results from a depletion of minerals in the bones, so Ayurveda therapies that include consuming mineral rich foods and herbs can be helpful. Additionally, yoga postures that work to massage and stimulate the spine and pelvis are beneficial for reversing osteoporosis, as are massages using warm sesame oil.
In general, Ayurveda emphasizes prevention over treatment, so it is important to begin any preventative regimen early on in order to ward off conditions such as osteoporosis. Following an ayurvedic lifestyle – which includes following a vata dosha balancing diet and daily routine is extremely helpful in removing the stiffness, pain and loss of bones.
2. What are the risk factors for osteoporosis at menopause?
Osteoporosis and menopause have already been linked. But some women are at a greater risk than some others. What are these risk factors?
Age: After 30 years, you begin to lose more bone than you can make. Of course, the gap widens at menopause.
Smoking: Smoking increases the risk of osteoporosis. It can also lead to earlier onset of menopause, meaning you stop enjoying the protective effects of estrogen less. To top it off, smokers have less chance of healing from fractures.
Existing bone density: The more bone density you have, the better off you are. If you have more, losing some will not affect you as much as someone that doesn't have so much in the first place.
Body composition: Women who have a higher body mass are adapted to bearing more weight with their bones. They are more likely to have stronger bones with a higher bone density. Compare this to petite and thin women.
Gender: Women have four times the risk of osteoporosis as men.
Family history: This condition of weakened bones can be genetic. If your parents or grandparents had fractures due to osteoporosis, it is more likely that you will too.
Race and ethnicity: could also play a part. Europeans and Caucasians have a higher risk.
A sedentary lifestyle.
Intake of alcoholic beverages.
A past history of amenorrhea (absent periods), which is indicative of hormonal imbalances like low estrogen levels.
3. What is the Role of Estrogen Hormone in Maintaining Bone Density?
Estrogen plays a role in the maintenance of bone mass. It does this in several ways.
Reduces the sensitivity of bone to parathyroid hormone (a hormone that causes bone resorption). When bones respond less to parathyroid hormone, there will be less resorption.
Increases the production of calcitonin. Calcitonin is another hormone. What this one does is prevent too much calcium from running around in your bloodstream. So how does it achieve that? One way is to push the excess calcium into your bones for storage. The bones use the calcium to build themselves up.
Acceleration of calcium absorption from the intestine. If you've eaten something with calcium, estrogen helps to ensure it is absorbed into your blood and then the calcium can get into your bones.
Makes you excrete less calcium from the kidneys.
It can also directly affect the bones.
Estrogen can also help maintain bone mineral density (BMD) by binding to osteocytes and preventing them from breaking down bones.
All of these are targeted towards keeping calcium inside the bones.
4. How can I increase my bone density during menopause?
There are a number of things you can do to increase your bone density during menopause. First and foremost, you should make sure that you are getting enough calcium and vitamin D. You can get these nutrients through diet or supplements. Be sure to consult with your doctor before starting any new supplement regimen.
In addition to calcium and vitamin D, there are other nutrients that are important for bone health, such as magnesium, phosphorus, and protein. Eating a diet rich in these nutrients will help keep your bones healthy and strong. Exercise is also important for bone health. Weight-bearing exercises like walking, running, and strength training help Stimulate osteoblast activity and increase bone density.
If you are concerned about your bone density, you can consult Medhya Herbals' Ayurvedic doctors to learn how to support your bones with Ayurveda.
REFERENCES: