Ashwagandha is a powerful adaptogen and a revered Ayurvedic elixir for rejuvenation, nourishment, and strength. It is a natural supplement to lower cortisol and balance thyroid hormones.
It literally translates to the "strength of the stallion". It is also commonly known as Indian ginseng, for its ability to boost mental and physical stamina and its extraordinary stress-relieving properties.
Ashwagandha – An Ayurvedic Rasayana for Body and Mind
It is categorised as a Medhya Rasayana in Ayurveda for its positive effect on mind. Medhya in Sanskrit refers to the mind and mental/intellectual capacity. Rasayana in Ayurveda refers to formulations or single herbs that carry rejuvenating, anti-aging, intellectual promoting, and immunity boosting properties.
The root of Ashwagandha is regarded as a tonic, aphrodisiac, narcotic, diuretic, anthelmintic, astringent, thermogenic and stimulant in Ayurveda.
The root smells like an Ashwa, horse in Sanskrit. It is believed to strengthen the body systems such that the individual gains the power and stamina like a horse.
It has Snigdha guṇa (Unctuous) with Balya (Tonic) and Vaya Sthapana (Anti-aging), so it directly acts as Rasayana.
Also, it has Tikta Rasa (Bitter Taste) and Laghu guṇa (Light) properties, so it promotes metabolism, boosts the growth and quality of all the seven Dhatu or body tissues.
Ashwagandha – A powerful Adaptogen to activate your energy systems
Promotes Intellect and Cognition
It enhances the function of the brain and rejuvenates the nervous system leading to an increase in the cognitive ability of all age groups starting from young children.
Removes Anxiety and Strengthens the Central Nervous System (CNS)
It produces GABA like action as it decreases neuron activity and inhibits nerve cells from over firing. So, it has anti-stress and anti-anxiety activities.
Stabilizes mood and helps sleep better for its abilities to positively boost the functioning of the nervous system.
The adoptogenic activity of Ashwagandha aids in stress response of our body. It increases our capacity to handle physical and mental stress.
It prevents neuronal damage in hippocampus region of the brain that arises from stress response of Hypothalamus-Pituitary-Adrenal axis activation and glucocorticoids elevation.
Clinical trials showed that it can slow, stop, reverse and remove neurotic atrophy and synaptic loss, the main causes of neurodegenerative disorders.
It is effective in treating central nervous system (CNS) disorders, particularly in epilepsy, stress, and neurodegenerative diseases such as Parkinson's and Alzheimer's disorders.
Supports Immune System Functioning
Improves the body's defense against disease by improving the cell-mediated immunity.
It also possesses potent antioxidant properties that help protect against cellular damage caused by free radicals.
It aids in increment of anti-oxidant enzymes such as superoxide dismutase, catalase, and glutathione peroxidase.
It has anti-ulcer and anti-tumor properties. It prevents stress-induced ulcers of the gastrointestinal tract.
It is powerful anti-arthritic support as it soothes the nervous system from pain response for its analgesic and anti-inflammatory properties.
An aphrodisiac, it enhances vitality and fertility in men by improving semen quality and in women by supporting uterine functionality.
Promotes Tissue Growth and Hemoglobin
Growth Promoter and Hematinic in children. One clinical study showed that it aids in increasing of serum hemoglobin, red blood cells, body weight and hand grip in children.
Another study showed that administration of powdered Ashwagandha (3g/day) for one year in healthy elderly volunteers increased serum hemoglobin, red blood cells, improved hair melanin and seated stature.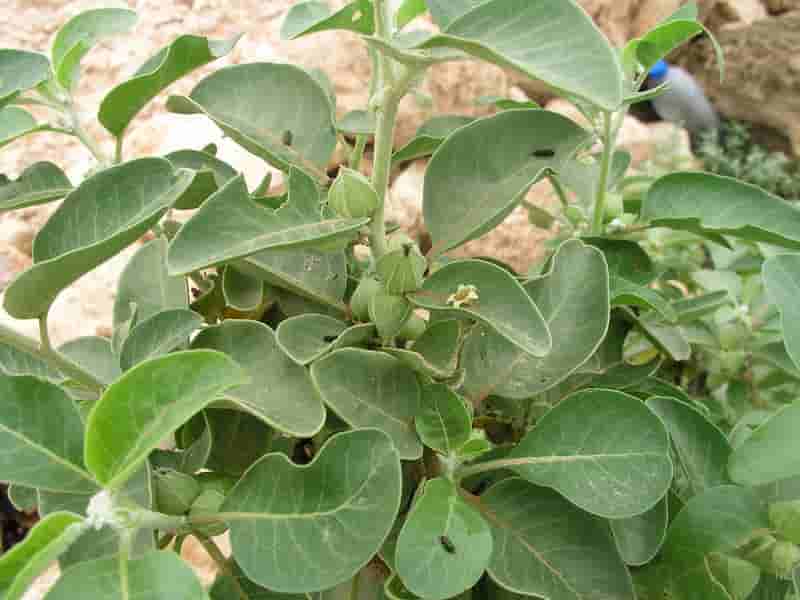 Modes of Consumption
Ashwagandha root is commonly available in powdered form and mixed with water, ghee (clarified butter) or honey.
The recommended dose is 6 to 10 g, twice a day. Powdered and mixed in a hot cup of milk before bedtime helps treat insomnia and anxiety.
Caution
Large doses of Ashwagandha can have side effects in terms of increased anxiety as it acts as a stimulant. For pregnant women, the commonly prescribed dose of Ashwagandha is not recommended.
References
Anti-stress Activity of Ashwagandha, International Ayurvedic Medical Journal.
Scientific Basis for the Therapeutic Uses of Ashwagandha (Antioxidant and Rejuvenating effects), Alternative Medicine Review.