The systems of the body are in a delicate balance. The body has to maintain normal levels of nutrients, hormones, fluids, temperatures and more, all at the same time. It is a complex system with amazing multitasking capabilities. It has no choice but to be working all the time, or else(or despite that) undesirable conditions start to arise. One of such conditions is hypoglycemia.
Hypoglycemia is a condition in which there is a shortage of sugar in the blood. It occurs when blood sugar levels drop below the normal levels. It is also referred to as insulin reaction or insulin shock. We can thus infer that insulin has a major role to play in the cause and management of this condition.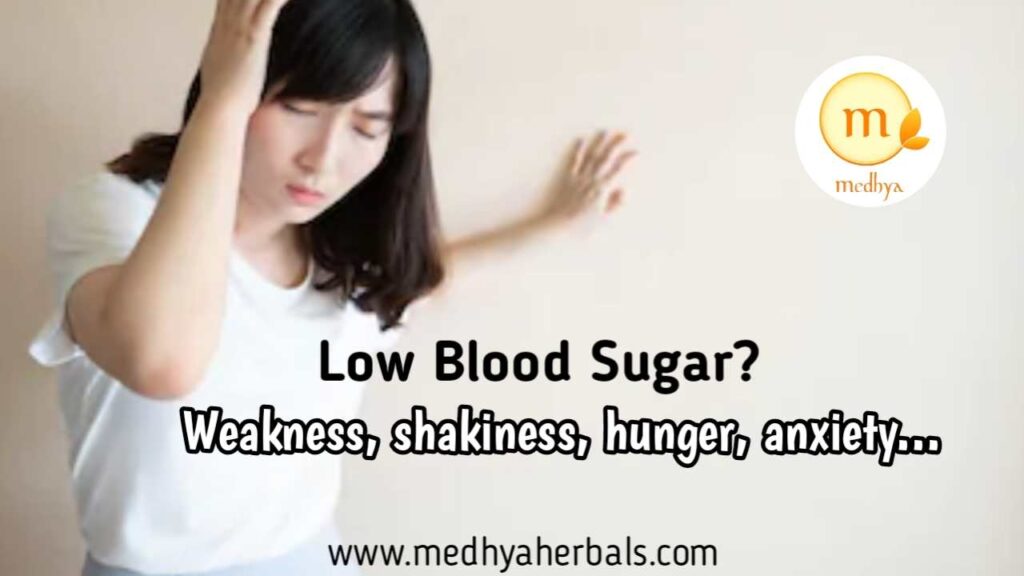 Symptoms of hypoglycemia.
The symptoms that arise due to low blood sugar levels are mostly triggered by a release of epinephrine(adrenaline). This hormone is the emergency hormone, and it is released to help with the triggering of fight-or-flight responses.
When the body senses that the blood sugar levels is getting lower than the threshold it needs to maintain life and health, it sees this situation as an emergency. As a result, it releases the hormone adrenaline(aka epinephrine). Adrenaline then causes responses such as:
Hunger;
Shakiness;
Drowsiness/light-headedness;
Confusion;
Anxiety;
Weakness;
Difficulty speaking;
Nervousness;
Nausea, etc.
The role of insulin, glucagon and glucose in low blood sugar.
After a meal, the levels of glucose in the blood rise. Glucose is the form in which the body uses energy. It is commonly said that glucose is the energy currency of the body. The cells of the body can easily absorb glucose for use through the bloodstream.
The hormone, insulin, helps the body to use glucose as energy. Also, when the levels of glucose rise higher than the body needs, it is converted into glycogen. Excess glucose can also be converted into fat for storage. Glycogen can be stored for later use, like between meals, when no new glucose is being supplied.
If the levels of glucose do fall low, and the body is in need of energy, then another hormone, called glucagon is produced. Glucagon helps to break down glycogen back into glucose, the energy currency that the body is familiar with.
There is however a problem in diabetic patients. In these people, the response to glucagon is impaired, so the signals to convert glycogen back to glucose are not well carried out. The adrenaline that we talked about before would intervene to raise the blood sugar levels back to normal here.
But the unfortunate thing is that, some diabetic patients take insulin or medications that boost insulin production. Consequently, there is always insulin to convert glucose to glycogen, further lowering the blood sugar levels. This leads to hypoglycemia.
Ayurveda.
In Ayurveda, hypoglycemia is seen as prevalent in people who have a pitta prakruti(that is to say, their normal composition is predominantly pitta dosha), and people who have pitta vikruti(that is, people with a pitta imbalance).
This elevated pitta increases the levels of insulin. Insulin lowers blood glucose levels so that it results in hypoglycemia.
More causes of hypoglycemia.
To understand the causes of hypoglycemia, let us explore these other factors:
Medications: Medications can cause hypoglycemia. Examples of such are diabetic drugs, like insulin or insulin production boosters, as was mentioned above. Some certain pill combinations can also lead to symptoms of hypoglycemia.
Hormones: Hormonal imbalances can also cause the blood sugar levels to be very low. For example, hyperinsulinemia(without insulin resistance), low glucagon levels/glucagon deficiencies etc. This means that glucose is converted into glycogen very fast, whereas there is a problem converting glycogen back to glucose when needed.
Tumors: like insulinomas(tumors inside the pancreas that produce excess insulin). Excess insulin makes it difficult to maintain normal glucose levels, and cause almost perpetual low blood glucose levels.
Enzyme deficiencies: like hereditary fructose intolerance.
Diseases.
Taking small meals, delaying or skipping meals.
Increased levels of physical activity.
Taking alcoholic beverages.
These, among others, are risk factors for hypoglycemia.
Severe Hypoglycemia: When it can be life-threatening.
The symptoms of hypoglycemia can range from severe to mild. In most cases, the patient can usually take care of their own self. However, when it comes to severe hypoglycemia, then it might be necessary to have someone around to help.
Here, the blood glucose level is very low, and it can cause that patient to pass out. As such, it can be life-threatening.
Severe hypoglycemia is more common in type-I diabetes, though it can be seen in people with type-II diabetes also.
It is necessary to always have a glucagon kit at the ready. Someone around can then give the glucagon injection to help raise the blood sugar levels. The patient should regain consciousness in about 5-10 minutes, though might experience symptoms of nausea and vomiting.
CAUTION! Do not give insulin to someone with severe hypoglycemia. Food and drinks might not be a good idea in this case too, as the patient might choke on it.
Hypoglycemia Unawareness – another complication.
Hypoglycemia unawareness is a situation in which hypoglycemia sets in without warning signs of low blood glucose.
Usually, when the blood glucose level is running low, adrenaline kicks in and causes the symptoms of sweating, shakiness, etc. But in this case, adrenaline doesn't kick in. It is not produced at all.
This can happen if hypoglycemia happens too frequently that the body 'gets used' to it. It is like the body actually adapts to running on low blood sugar, and so it doesn't see the situation as threatening. After all, it happens all the time, so it's probably normal. This is however an abnormal normal.
This situation where the body fails to produce emergency hormones due because it has gotten used to the emergency is called Hypoglycemic Associated Autonomic Failure(HAAF).
Eventually, this results in a vicious cycle where frequent concurrences of hypoglycemia causes HAAF. The HAAF further leads to more severe hypoglycemia. The body gets conditioned to the next level of severity and HAAF also graduates. This is a deadly progression.
Fortunately, the cycle can be broken with a few weeks of strictly maintained blood glucose levels.
Non-diabetic hypoglycemia.
People without diabetes can also have hypoglycemia. There are two kinds of hypoglycemia that non-diabetics can develop, and they are: Reactive Hypoglycemia and Fasting Hypoglycemia.
1. Reactive Hypoglycemia.
This is also known as postprandial hypoglycemia. It sets in at about four hours after eating. If a blood test taken while the symptoms lasts shows a blood glucose level that is less than 70mg/dL(milligrams per deciliter), and the symptoms resolve after the blood glucose level is restored to 70mg/dL or more, then it is reactive hypoglycemia.
It can be resolved by taking small meals frequently(about every three hours), physical action, eating a balanced diet, and avoiding taking high sugar foods, especially on empty stomach.
2. Fasting Hypoglycemia.
It arises after one has spent some time not eating, like overnight or between meals. It can also be caused by physical activity. Fasting hypoglycemia can be diagnosed if the level of sugar in the blood falls as low as 50mg/dL or less. This type can also be caused by diseases, medications, alcohol, intolerance etc. In kids, it can also be seen, where the kid has an intolerance to fasting. They usually are more tolerant by age 10 however.
How to treat hypoglycemia.
Hypoglycemia is a condition that requires good management with constant monitoring. In fact, monitoring is key here. Be aware of the symptoms, and take action immediately you feel it coming up.
Follow the "15-15 Rule." That is to say, when you feel the symptoms arising, measure your blood glucose level. See if it is within your target range. Generally, your blood sugar level should not fall below 70mg/dL. If it is too low, take 15grams of carbohydrates. Check again in 15 minutes to see if the figure is back to normal. If it is not, repeat again. 15 grams of carbs, check again in 15 minutes.
If you are not able to measure your blood sugar level, then go ahead and treat the symptoms. See if you feel the symptoms resolving in 15 minutes. If not, treat again, till you feel the symptoms recede.
Quick ways to get your blood sugar levels up.
3-4 glucose tablets.
1/2 a cup of fruit juice, any fruit juice.
1/2 cup of soft drink.
1 cup of milk.
1 teaspoon of sugar or honey.
5/6 bars of candy.
These all help to get glucose levels up very quickly anytime you feel the symptoms coming up.
Managing hypoglycemia with Ayurveda.
Being an ancient system of medicine, Ayurveda has extensive documentations on various health conditions and their remedies which have been tried and tested over time. Here are just a few of the ways to treat hypoglycemia with Ayurveda:
Licorice Tea(yashti madhu): One teaspoon of licorice tea in one cup of water is sufficient. It helps to quickly raise blood sugar levels. However, hypertensive patients should be cautious of this, as it tends to increase water retention and raise the blood pressure.
Yoga asanas like the peacock pose, elevated lotus, camel, etc, all help to strengthen the pancreas, which produces glucagon.
Nasya: 5 drops of brahmi ghee in each nostril relieves symptoms of nausea, sweating and confusion quickly.
Ayurvedic medications like shatavari and ashwaghanda capsules also help very much.
Lifestyle and dietary tips for hypoglycemia.
Hypoglycemia needs to be monitored and managed appropriately. A patient must be willing to make diet, lifestyle and nutrition changes to be able to battle it effectively. Here are some helpful tips:
Meat a dietitian and develop a meal plan that is fitting and that won't aggravate symptoms.
Eat a pitta diet- avoid hot and spicy foods, fermented and sour foods, and citrus fruits(as they are acidic).
Avoid alcoholic beverages and cigarettes.
Always keep your blood sugar levels monitored.
Check blood glucose levels before physical activities like exercises or sports. If it is less than 100mg/dL, take some snacks to get it up.
Snacking before bed helps to prevent fasting hypoglycemia and keep the sugar level from going too low during the night.
Exercise for at least 30 minutes.
Do not drive if you feel the symptoms of hypoglycemia setting in. It could be fatal if an insulin shock sets in while you are at the wheel.
These tips can help you live a healthier live. However, you should always consult your health-care provider for a better understanding of your symptoms and options available to you.