Menopause diet focuses on the foods and nutrients that support a woman's health during Perimenopause and after Menopause.
While the dietary principles are very similar to those of a healthy being, Menopause Diet involves a little more discipline towards meal portions, meal timings, and choice of food items.
In this article, you will learn about nutritional requirements for women according to the menopause symptoms and health issues she faces.
Also, you will find food lists of the best, worst foods and of the essential nutrients for Menopause Diet according. Let's get started!
Menopause – A time of Transition
Menopause is a time of transition, where a woman undergoes changes in the internal functioning of her body as well as external outlook. This transition begins as early as the late 30s for some and later around the early 40s for most of the women.
Lifestyle choices, Dietary intake, and often hereditary factors complicate menopause transition for women. This results into several Menopause symptoms such as weight gain, reduced bone density, heart problems, and vasomotor symptoms as hot flashes.
Best Diet for Menopause
During menopause, the digestive fire and metabolism of a woman slows down. It leads to several digestive disorders and eventually nutritional deficiencies.
One should follow a balanced diet for Menopause that is rich in fresh, natural, and wholesome foods. This will ensure intake of adequate amount of dietary nutrients.
However, just eating healthy foods is not enough! You may still face nutritional deficiencies if your metabolism is poor or if you have underlying digestive system problems.
Hence, it is important to include foods that support digestion and metabolism. One should also follow healthy dietary habits and a lifestyle that supports your digestive fire and heals your digestive system.
This will ensure that you are able to absorb the nutrients from the foods that you are taking in.
What Foods are good for Menopause?
Menopause Foods includes elements from a selection of different food groups to cover your nutritional needs. During perimenopause, a woman is prone to nutritional deficiencies.
Lack of nutrition impacts the functioning of her body systems, leading to functional symptoms of fatigue, anxiety, poor bone health, weight gain, and poor heart health.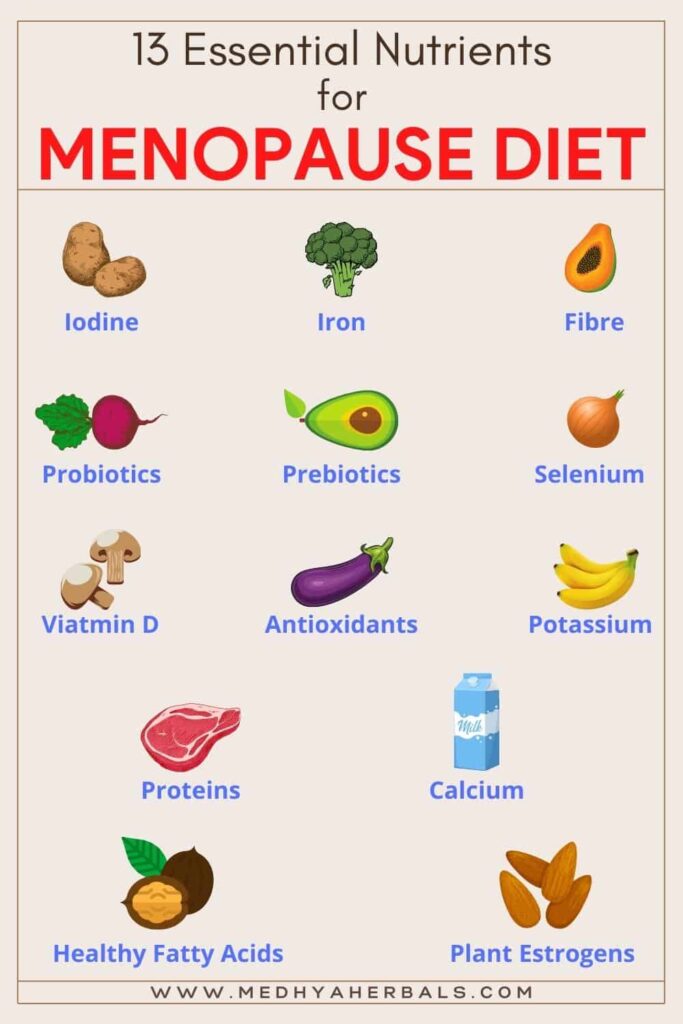 Here is a list of nutrients and foods that are essential for a healthy and balanced Menopause Diet:
Join pain and back pain along with high risk for fractures are some of the biggest health problems faced by women in perimenopause and post menopause. One should include calcium rich foods to support bone health and joint health during menopause.
High intake of Estrogen rich foods or phytoestrogens can significantly improve your health at menopause. They provide plant based estrogen that can help to regulate your fluctuating hormones during perimenopause.
Seeds such as flax seeds, pumpkin seeds, and sesame seeds
Soy products such as tofu, soy beans, miso paste, and fermented soy products
Nuts and dry fruits such as almonds, walnuts, figs, and apricots
Vegetables and Legumes
3. Vitamin D
It is an essential nutrient that supports your immune system health, heart health, and bone health. Vitamin D generation from the sunlight reduces as we age.
That's why elderly (60+ years) need to spend more time under the Sun to produce same amount of Vitamin D.
Usually 10 -15 mins per day for 3 days a week is optimum to generate enough Vitamin D.
Early morning (2 hours after the sunset) and late evening (2 hours before the sunset) timings are considered to be the ideal timings of sun exposure.
4. Omega 3 Rich Foods
Omega-3 rich foods promote health of the body and brain. Several studies indicate that Omega 3 foods can reduce psychological distress, anxiety, and mood swings. Additionally, Omega 3 foods prevent inflammation in the body, hence supporting heart health and immunity. Omega 3 foods also support fat metabolism.
Nuts and seeds such as flax seeds, walnuts, hemp seeds, almonds, and chia seeds.
Fish and other seafoods such as oysters and shrimps
Beans and lentils such as soy beans, kidney beans, and black eyed beans
Seaweed
Sprouts
5. Antioxidants
Antioxidants are essential to support a healthy immune system, hence prevent recurring infections that are commonly observed during menopause. Additionally, antioxidants reduce inflammation and support healthy functioning of the all the body systems including heart, digestive system, blood and plasma tissues.
Berries such as grapes, goji berries, black berries, jamun, and blue berries
Vegetables such as beetroot, spinach, potato, pumpkin, and gourds
Fruits such as apples, mango, start fruit, and jack fruit
Sprouted grains and vegetable sprouts
Iron rich foods are essential during perimenopause, when your periods are irregular. Many women face low Haemoglobin levels due to heavy bleeding or due to iron deficiency. Iron rich foods also help to prevent Menopause symptoms related to Fatigue, restlessness, and lack of focus.
Vegetables such as beetroot and leafy greens such as drumstick leaves, spinach, and amaranth leaves.
Beans and lentils such as kidney beans, black eyed beans, horse gram, and black gram.
Dried fruits such as dates, raisins, apricots, and figs
Nuts and Seeds
Herbs such as Amla, curry leaves, coriander, and basil
7. Potassium Rich Foods
Potassium is vital to keep your circulatory system and digestive system intact. One should avoid common salt in the diet and increase potassium rich foods to prevent water retention, swelling, and edema. Potassium also prevents constipation by support movement of the food through intestines.
Green leafy vegetables such as spinach, drumstick leaves, curry leaves, amaranth leaves, and kailan
Dried fruits such as prunes, raisins, apricots, figs, and dates
Cucumber, Zucchini, ash gourd, and other squashes
Mushrooms
8. Iodine and Selenium rich foods
Iodine and Selenium are essential for the functioning of the thyroid. A majority of the women suffer from poor thyroid function due to fluctuating hormones during perimenopause. Inclusion of Iodine and Selenium rich foods will prevent related symptoms of sluggishness, hair fall, and poor skin tone.
Seaweed such as kelp for Iodine
Baked potato and sweet potato with peel for Iodine
Eggs and dairy for Iodine
Iodized salt and pure sea salt
Brazil nuts, sunflower seeds, and pumpkin seeds for Selenium
9. Fibre Rich Foods
Dietary fibre is vital to boost the functioning of a sluggish digestive system during perimenopause. Dietary fibre also acts as food for the gut bacteria, hence keeping your metabolism, immunity, and brain health in good shape. Include a variety of fibre rich foods and supplements to support your health in perimenopause.
Green leafy vegetables, cruciferous vegetables such as cabbage, cauliflower, and broccoli, and Sprouts
Whole Grains, Beans, and Lentils
Psyllium husk
Nuts and seeds such as flax seeds and chia seeds
Probiotics support the health of our gut microbiome. They form an essential part of Menopause Diet. Probiotics help to maintain required number of gut microbes as they are food sources that give healthy bacteria, fungi, and yeast to our body.
A healthy gut microbiome is key to our physical and mental health.
Fermented foods such as pickles, fermented bean paste, and fermented drinks as kanji for probiotics
Curd, Yogurt, and Cheese for probiotics
11. Prebiotics
Prebiotics act as food for our gut microbiome. They support both the quality and quantity of healthy microbes.
Whole foods such as fruits, vegetables, whole grains, beans, and lentils
Sprouted grains and beans
Fungi and mushrooms
12. Proteins for Menopause Diet
Proteins are the building blocks of our physical body. Adequate amount of proteins is required in your meals to avoid muscle loss and fatigue. In fact, insufficient amount of proteins in your diet often leads to sluggish thyroid, poor fat metabolism, and nutritional deficiencies.
Beans, Lentils, and whole grains such as quinoa
Dairy such as milk, curd, and cheese
Lean meat products
Green leafy vegetables and cruciferous vegetables
Sprouted grains and vegetables