High Estrogen Symptoms due to Estrogen Dominance is one of the most common Hormone Imbalance that women struggle with, besides Insulin Resistance and Hypothyroidism.
High Estrogen doesn't only affect females (it is a female sex hormone after all!), but also males (surprise surprise, Estrogen is present in males too).
For men, most of the symptoms of high Estrogen are usually towards the physical features. However, for women high Estrogen levels really turn her health upside down!
Some of the highly prevalent high Estrogen symptoms in women include heavy and painful periods, heavy hips and thighs, big breasts or breast lumps, and mood swings.
In this post, you will learn what it means to have high Estrogen, what causes high Estrogen symptoms, signs that you should take note of, and Ayurvedic tips to naturally balance Estrogen levels! Let's dive in.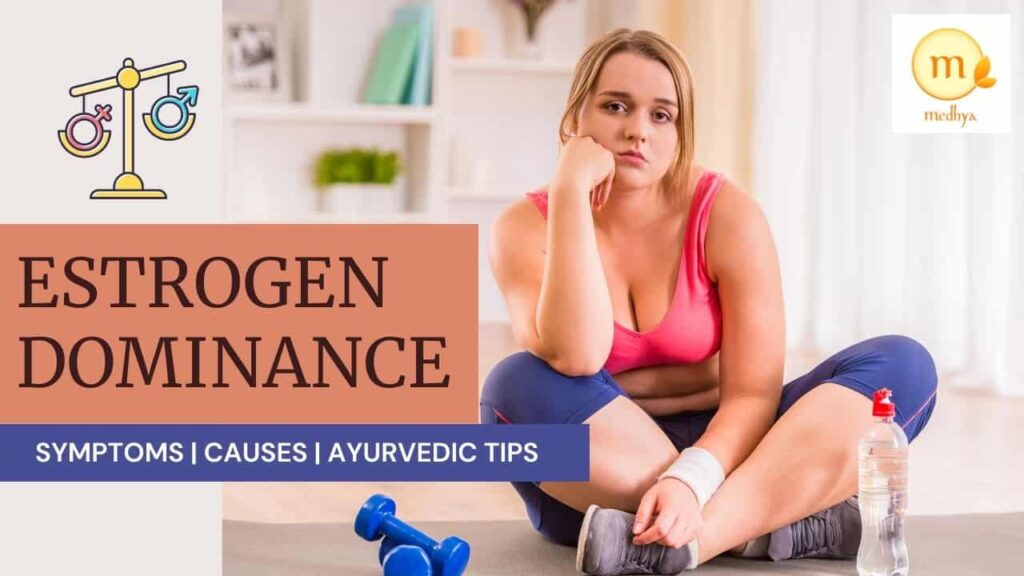 What You'll Learn | Click on Topic to Go There
Estrogen: A Hormone of the Women
Well not exactly! As I just said, Estrogen is also present in men and in small amounts, it is vital for their health too. But, more importantly Estrogen is a hormone of the women, because it is responsible for providing female body characteristics such as the pear shaped body, growth of breasts, pubic hair, and some other essential features.
Along with Progesterone (another female sex hormone), Estrogen practically controls a woman's menstrual cycle, menstrual flow, and her overall reproductive system health.
However, the role of Estrogen doesn't end here. It also communicates with and regulates the functioning of our vital body systems such as Metabolism, Circulatory System, Bones, Mood and Mental Wellness.
Learn here about the functions of Estrogen in your body.
That's why when the levels of Estrogen are disturbed (low or high), it poorly affects our health in nearly every aspect.
What causes High Estrogen Symptoms?
Estrogen dominance can happen in two ways:
Estrogen is absolutely high. This means that your body has much more Estrogen than it should normally have.
Estrogen is not so high, but Progesterone is very low. This really leads to high Estrogen levels relative to Progesterone. And this kind of hormone imbalance often leads to its own set of inconvenient high Estrogen symptoms.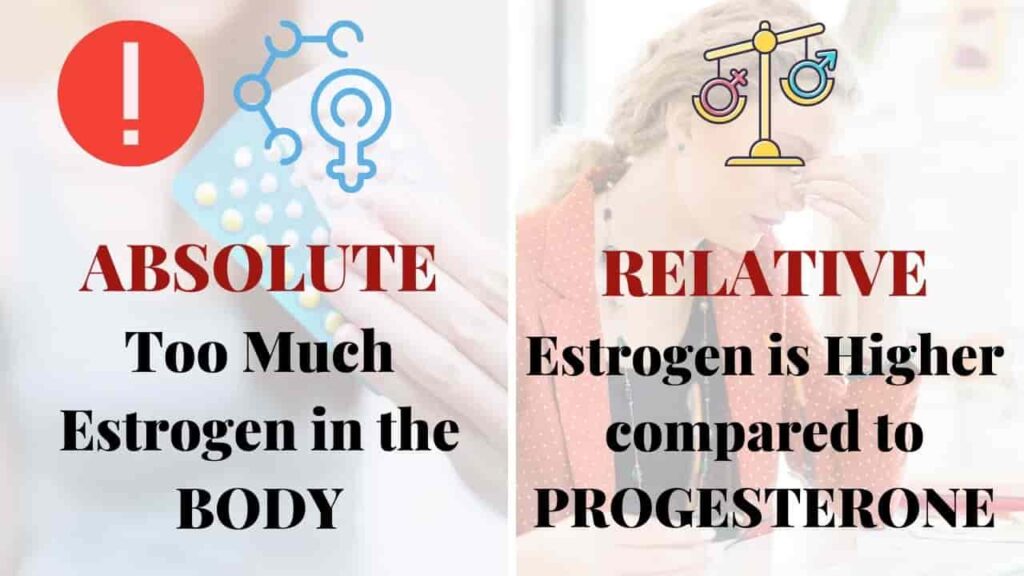 Now, let's dig in the reasons of high Estrogen levels inside your body:
In majority of the cases, a malfunctioning liver is the primary cause of high Estrogen inside the body. In fact, for males; liver is to be blamed for high Estrogen.
This is because, liver is where excess Estrogen gets neutralized and disposed off from the body.
And when it doesn't work properly; you end up accumulating all that you should have gotten rid of!
Some of the birth control pills contain synthetic estrogen. And when you take it on regular basis, it really disturbs the natural hormone balance that your body should have.
3. Obesity
Fatty tissues are capable of generating natural Estrogen in the form of Estrone.
And when you have high levels of belly fat (also called as visceral fat), it leads to excessive Estrogen in your body.
4. Genetic
You may be exposed to high levels of Estrogen as a fetus. Or the genetic factors may be passed down to you from your parents.
5. Menopause
During menopause, progesterone production drops significantly and Estrogen may stay as such or decrease just a little.
This often leads to relative high Estrogen (higher as compared to Progesterone) and hence hormone imbalance.
They can lead to excessive and unabated production of Estrogen, leading to high estrogen levels.
Excess Estrogen from the body is flushed out primarily via the digestive tract.
If you are not taking in sufficient fibre in your diet or you are struggling with constipation, then it is highly likely that your intestines will have excess Estrogen and other toxins lying in the digestive tract for long. Eventually, they are reabsorbed and create hormone imbalance symptoms as Estrogen dominance.
8. Excess Stress
Stress in the form of physical and mental exertion or emotional stress disturbs all the natural functions of the body as metabolism, reproductive function and circulation.
High levels of Cortisol that result from stress disturb estrogen and progesterone production, promote insulin resistance and create a nervous system malfunction.
This leads to Estrogen dominance and high Estrogen symptoms along with low Progesterone levels.
9. Endocrine Disrupting Materials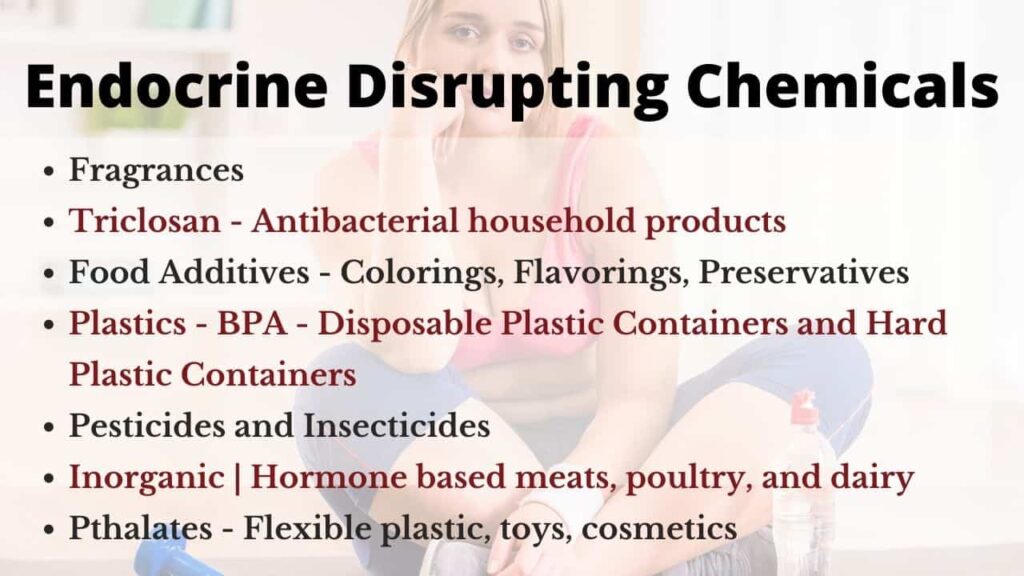 On daily basis we are exposed to numerous chemicals in the form of food ingredients, environmental chemicals, and those in personal care products.
Artificial fragrances, materials such as plastic, synthetic colours, and preservatives often mimic the natural Estrogen in our body. This creates an too much Estrogen.
What are the tests to check High Estrogen Symptoms?
Estrogen dominance test can be done by different methods:
1. Blood Test
One way is through a blood test. A sample of blood is taken from a person and then analyzed. This is used for regularly menstruating women. The egg produced by the woman in turn produces a form of estrogen that is then tested for.
2. Saliva Test
Alternatively, doctors could perform a saliva test. This is used to evaluate the type of estrogen a woman will produce after menopause.
3. Urine Test
Finally, there's also the dried urine test. This measures estrogen metabolites in urine. That is, the by-products of the hormone, estrogen, are produced.
Estrogen has different forms, and in a woman with normal levels of the hormones, the expected result is shown in the table below:
| | | |
| --- | --- | --- |
| | Estrone | Estradiol |
| Prepubescent female (before puberty) | Undetectable – 29 pg/mL | Undetectable – 20 pg/mL |
| Pubescent female(at puberty) | 10 – 200 pg/mL | Undetectable – 350 pg/mL |
| Premenopausal female(before menopause) | 17 – 200 pg/mL | 15 – 350 pg/mL |
| Postmenopausal female(after menopause) | 7 – 40 pg/mL | <10 pg/mL |
Levels of Estrogen during different stages of life in a woman
The measurements are taken in a picogram (10−12 of a gram) per milliliter.
High Estrogen Symptoms and Signs of Hormone Imbalance
Now that you understand the role of Estrogen in our body, it is time to know high Estrogen symptoms and signs of Estrogen dominance.
Some of the symptoms of Estrogen dominance are similar to the hormone imbalance symptoms that one struggles with during perimenopause and during menstrual cycle.
These symptoms are actually an indication of high Estrogen relative to Progesterone in her body. And this usually happens during the natural hormone shifts during these phases of life.
However, some of the symptoms of Estrogen dominance are actually an indication of very high Estrogen levels in a woman's body.
And this category specifically is not so good, simply because it creates a havoc on your health.
1. Irregular periods: Heavy Bleeding, Clots, and Short Menstrual Cycle
The menstrual cycle is controlled by a woman's sex hormones Estrogen and Progesterone. Therefore, hormonal imbalances will result in irregular menstrual flow and menstrual symptoms.
High Estrogen levels lead to heavy bleeding with clots, spotting in between the periods, and often prolonged flow.
So, if your period is carrying on beyond 7 days, or you need to change pad too often, or you have a cycle shorter than 21 days; then you need to pay attention to your hormone balance and Estrogen balance.
2. Heaviness in the body: Flabby arms, big breasts, and heavy hips and thighs
High Estrogen levels increase the rate at which muscles get degenerated. It also stimulates water retention.
Both of this lead to flabbiness and heaviness in the body, specifically in the places that should have high muscular mass to carry your weight.
Additionally, Estrogen stimulates the growth of tissues in the breast, at hips, and thighs. This leads to increase in the size of these body parts.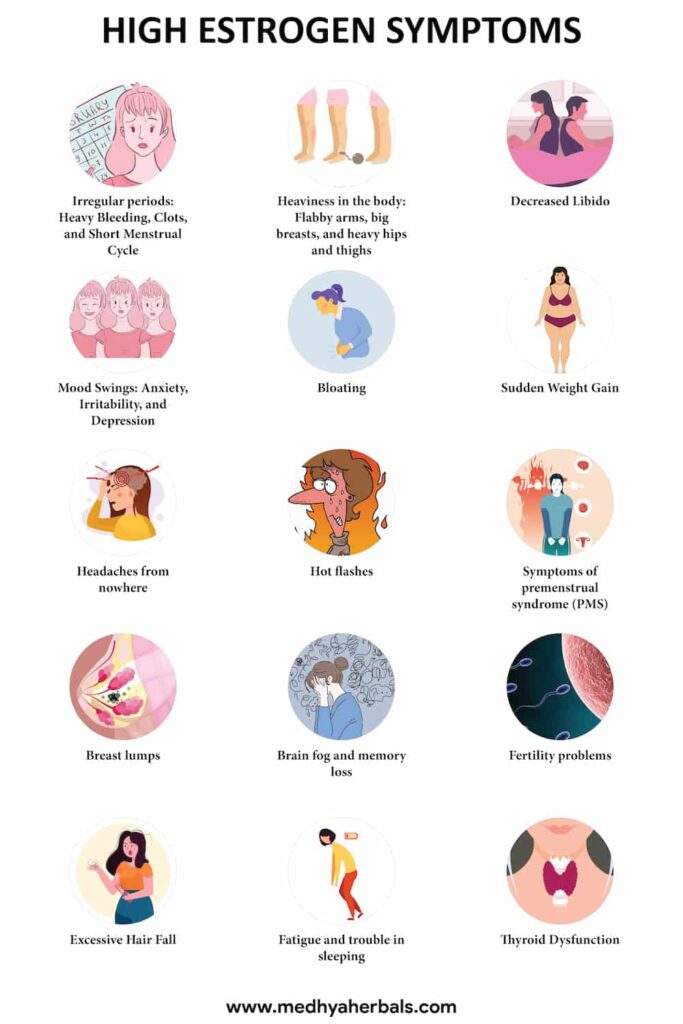 3. Decreased Libido
Your libido and sexual drive is highly impacted by Estrogen levels. Both high and low levels of Estrogen can significantly lower your desire to get intimate.
4. Mood Swings: Anxiety, Irritability, and Depression
High levels of Estrogen in your body significantly effect your mental wellness. When Estrogen rages, it leads to mood swings, irritability, anxiety, restlessness, and often depression.
Estrogen imbalance poorly affects the health of your gut, leading to episodes of bloating, gas, and water retention. It also affects your appetite.
When you struggle with consistent bloating and digestive issues, you need to take a look into your hormone balance and overall digestive system health.
6. Sudden Weight Gain and Excess Body Fat
You have neither changed diet, exercise nor lifestyle routines, yet you are gaining weight? Or you may notice that you have difficulty losing weight. This can be credited to Estrogen dominance in your body.
High estrogen can lead to both water retention, poor metabolism, and storage of fat. All of this contributes to weight gain in the form of water and fats. This gives a puffed up look and hard to lose weight.
Women are more prone to headaches. How about that for a fun fact? Well, add this. Anyone with higher levels of estrogen than usual is more likely to experience headaches and migraines also.
You might experience uncontrolled body temperature in terms of high heat or sudden coldness. Some of the common symptoms are heat flashes and excessive sweating like in menopause.
Since a similar event of hormones occurs in estrogen dominance and PMS, some similar symptoms crop up also. This includes breast tenderness, headaches, acne outbreaks, and more dramatic mood swings.
10. Breast lumps
Fibrocystic lumps can develop in your breasts if the estrogen is dominant. The breast begins to feel like a lump or rope. The breast becomes tender and painful to the touch, mostly at the top or side.
11. Brain fog and memory loss
You feel confused and you have trouble recalling details. This can also be a result of high estrogen levels.
Problems can arise with fertility due to overboard estrogen levels. To be factual, hormonal imbalances are never favorable for fertility.
However, in the case of these problematic estrogen levels, the problem is compounded. Why? Most of the women, who experience it are over 35 years of age. This is also the time of life that fertility starts to decline.
13. Excessive Hair Fall
Estrogen levels affect the growth of hair follicles and also the strength of your existing hair.
Unbalanced estrogen (both low and high) leads to dryness and hair fall. This is also related to low Iron levels or Iron deficiency that often accompanies hormone imbalance.
High levels of estrogen can cause persistent tiredness. To make things worse, you can't get to sleep when you even try to.
This leaves you exhausted and feeling of "tired and wired".
15. Thyroid Problems and Hypothyroidism
High levels of Estrogen often affect the functioning of our endocrine system and liver such that the free thyroid hormone levels get suppressed. It is often a vicious circle as low thyroid also leads to high Estrogen and vice versa.
What are the health risks of high Estrogen Levels?
Some of the health risks associated with high Estrogen levels include:
Obesity
Infertility
Hypothyroidism
Breast Cancer
Uterine Cancer
Endometrial Cancer
How can I lower my Estrogen level?
High Estrogen level can be handled at its root by making suitable changes in your diet and lifestyle.
When you start taking in foods that naturally up your levels of Progesterone and help you get rid of the excess Estrogen in your body, then you can treat your hormone imbalance. Here are some steps for you: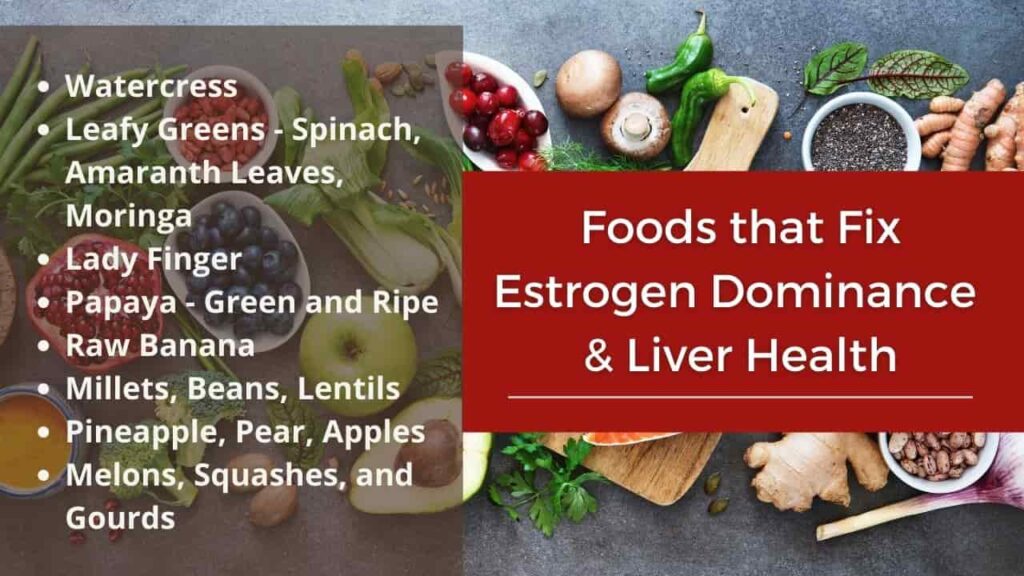 Ayurvedic Diet to lower high Estrogen Symptoms
Eat natural, healthy, and wholesome food that is freshly prepared.
Focus on foods groups and nutrients that support liver health and fat metabolism. Here you will find list and guidelines on liver healthy foods.
Fruits and vegetables are an essential part of a well-balanced diet that supports natural hormone balance. They are lower in calories, provide essential micronutrients such as Vitamins, Minerals, and Antioxidants.
Consume plenty of complex carbohydrates. they will keep you full and provide B Vitamins and essential minerals. Some examples are root vegetables, whole grains, beans, lentils and green vegetables.
Additionally, cruciferous vegetables such as Cabbage, Cauliflower, and Broccoli are great to include as they are rich in proteins and antioxidants. These vegetable inhibit the conversion of sugar and other carbohydrates into fat and provide body with ample fibre to bind the excess estrogen out of the digestive tract.
Eat healthy fats such as nuts and seeds in moderation. They will reduce inflammation, naturally balance hormones and support loss of belly fat.
Take probiotics and fermented foods in your diet.
Worst Foods to Avoid when struggling with High Estrogen
Remove sugar in the form of white sugar, artificial sugar and all sugary processed foods.
Reduce and remove caffeine. It leads to quick spike in your activity level, but eventually causes energy crashes. This makes you eat more sugary foods.
Remove alcohol and smoking altogether. Both of these have similar stimulating effect as caffeine on the body, a quick energy boost and then crash. Also, alcohol and smoking cause and make hormone imbalance worse.
Avoid excess table salt. It causes water retention in the body and thus may contribute to increasing weight.
Remove fruit juices, sweetened beverages, carbonated beverages and flavored waters. All of these contain lots of sugar which disturbs insulin sensitivity and hence creates conditions for high Estrogen in long term.
Avoid processed foods and quick meals. They push in empty calories and devoid you of essential nutrients from your meals.
Reduce your intake of simple carbohydrates and fast foods.
Vegetable oils that are highly refined and hydrogenated are number 1 source of inflammation in the body besides sugar. Avoid processed foods, fried foods, snacks and dietary consume of oils such as corn oil, safflower oil, canola oil, soybean oil and many other processed varieties.
Lifestyle changes for High Estrogen Symptoms
1. Remove Endocrine Disturbing Chemicals
Make your environment more friendly for healthy hormonal processes. Some chemicals in our everyday products are harmful to the health of our hormonal system, and our health by extension.
Remove environmental toxins and body toxins by practicing a healthy lifestyle.
Reduce the number of plastics you have to use, use stainless steel bottles and glass food containers too.
Avoid plastic straws
Remove all processed foods, which contain artificial preservatives, food chemicals and colorings that lead to buildup of Estrogen and toxins in the body.
Get rid of chemicals based personal care and household products that deposit extra Estrogen in your system.
Practice Ayurvedic detox or Panchakarma to clear off the toxins with Ayurvedic herbs and therapies.
Remove stimulants such as alcohol and smoking that load your body's detox pathways.
Excess stress build up high cortisol levels in the body. Cortisol suppresses metabolism as it prepares the body for the fight and flight response. It also disturbs the production of our reproductive system hormones as Estrogen and Progesterone.
Thus, high stress makes you prone to gain excess weight and symptoms of Estrogen dominance. Manage and lower stress by:
Deep breathing exercises and yogic breathing
Spending time in nature and with your loved ones
Remove and reduce stress triggers
Take time off and invest in self care measures
Deep body massage
Go for Sauna and relaxing activities such as massage that can improve circulation in your body and flush excess Estrogen out.
3. Sound Sleep
With our hectic schedules nowadays sleep is often neglected, but if you want to lower your Estrogen levels and balance hormones, then this needs to change. Here's why:
Lack of sleep really disturbs your hormone levels, your cortisol and hunger hormones increase. This makes you crave for sugary and high calorie foods. It creates perfect ground for high Estrogen symptoms.
Due to lack of sleep, you end up disturbing the levels of Melatonin in your body. This is a sleep hormone that also directs the functioning of your reproductive system hormones. Low Melatonin translates to irregular ovulation, which creates high Estrogen symptoms in return.
Insufficient sleep increases the level of fatigue and mood swings. You either skip exercise or not able to do as much as you would have if you had rested enough. This makes you lose an excellent opportunity to bust Estrogen out of your boy.
On the other hand, sufficient hours of restful sleep reduce the level of cortisol and increase your satiety hormones. It also paves the way for natural detoxification of your body to lower Estrogen levels.
That's why it is so important to have good sleep at night.
4. Regular Exercise
Be physically active to naturally flush excess Estrogen. Exercise that involves sweating out is one of the best ways to flush excess Estrogen out of your skin, melt the body fat and improve the health of your liver and detoxification pathways.
It helps to use up calories stored in body as fat. In addition, it also relieves tension and tones up the muscles of the body.
When you follow a consistent exercise regime, it will help you to reduce high Estrogen symptoms. And slowly you will be able to melt away the excess body fat, which is creating a vicious cycle of high Estrogen.
Walking and Yoga are the best exercises to begin with. However, stay regular with your chosen fitness regime and add complex workouts as and when required.
Here are some ways in which you should stay active:
Walking briskly for 30 mins a day is an achievable target that you can begin with.
Try as much as possible to not live a sedentary lifestyle. Always take up a chance to move and not sit.
Use steps instead of elevators, involve in sports rather than computer/video games and do more physical activity rather than getting things done by others.
Perform activities to gain muscle as it helps burn calories faster.
Take up volunteering activities in the neighborhood to keep yourself moving. Exercise lightly after each meal.
Do not engage in overtly stressful activities. More stress means more cortisol. More cortisol disturbs all the hormones..
Ayurvedic Herbs for Hormone Balance and Estrogen Dominance
Here is a list of Ayurvedic herbs that can help you to balance hormones, prevent and reduce the intensity of estrogen dominance.
These herbs are not concentrated form of supplements, which often aggravate hormone imbalance symptoms.
Also, Ayurvedic plant based remedies remove the root cause of hormone imbalances by acting on specific body tissues. Thus, you also avoid the side effects that often come with generic medications.
However, these herbs are potent in nature. They can have deep effect on your body and mind. Hence, they should always be consumed under a trained Ayurvedic Physician. Please do not do self treatment with herbs.
Aloe vera gel – Reduces Heat, Detoxifies, Improves circulation, stimulates uterus and thyroid
Kapikacchu – Hormone Balance, Antioxidants, uterine tonic, improves mood
Yashtimadhu (Licorice) – Promotes hormone balance, gut health and improves brain function
Dashamula – Hormone balance thyroid and progesterone, improves circulation, detoxifies
Saffron – Hormone Balance and Progesterone, Detoxifies
Amla – Detoxifies, Boosts Metabolism, Reduces Heat and Inflammation
Arjuna Bark – Reduces heat and balances Pitta, promotes hormone balance, uterine tonic
Motherwort – Balances Pitta, reduces heat, prevents hot flashes, heavy bleeding and fibroids
Lady's Mantle – Balances hormones, prevent heavy periods and reduces period pain
Shatavari – Uterine tonic, reduces heat, Hormone Balance, Improves Mood, Detoxifies
Triphala – Detoxifies, Supports digestion, reduces heat and inflammation
Yoga Poses to Balance Hormones
Yoga goes much deeper than just the physical movement of the body. Regular practice of suitable yoga asana help to tone the muscles thus increase strength, relax the mind to reduce stress levels and also increase bone density.
That's why yoga is one of the best ways to naturally support your hormone balance and keep your detox pathways active.
Here are some yoga asana that you can practice to find relief from Estrogen dominance symptoms:
Setu Bandhasana (Bridge Pose)
Bhujangasana (Cobra Pose)
Dhanurasana (Bow Pose)
Ardha Matsyendrasana (Seated Half Spinal Twist Pose)
Natarajasana (Supine Dancing Shiva Pose)
Chakki Chalanasana (Churning Mill Pose)
Janu Sirsasana (One Legged Seated Forward Bend Pose)
Surya Namaskara (Sun Salutations)
Deep Breathing Exercises and Pranayama
Pranayama and breathing exercises support detoxification pathways as liver and lungs. It infuses sufficient oxygen in the brain and body, thus reducing inflammation and stress symptoms.
Here are the pranayama that are helpful for hormone balance:
Kapalbhati Pranayama
Bhastrika Pranayama
Anuloma Viloma Pranayama
Three Stage Deep Breathing
Check out Hormone Balance with Ayurveda, a holistic health programme.
Receive personalized Ayurvedic treatment and step-by step guidance on diet and lifestyle to balance hormones and find relief from high Estrogen symptoms naturally.
Before you Go!
Hormonal imbalances like estrogen dominance always set up an unpleasant chain reaction. Worse still, there are long-term consequences that should be prevented.
Hence, you should address your estrogen dominance at once.
Now we want to hear from you. What are you currently doing to prevent/manage Estrogen Dominance? Which ways do you find most effective?
Do write to us for any queries and feedback. We will get back to you the soonest.
Wishing you vibrant health!
References