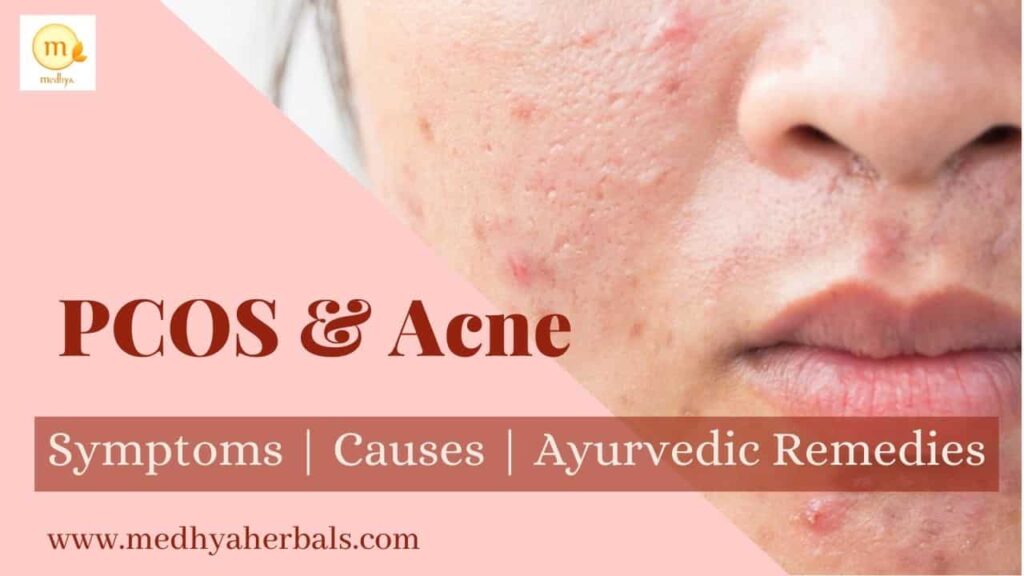 PCOS Acne treatment should really be done in a holistic manner involving your diet and lifestyle. This is because, the root cause of PCOS acne is not a lack of care of your skin.
Hence, if you simply keep applying topical solutions…it won't work!
In this post we will look into the causes and symptoms of PCOS Acne. And also Ayurvedic diet and lifestyle tips to get started with natural treatment of your skin problems.
Let's get started!
An overview of PCOS – Polycystic Ovarian Syndrome
It is a set of symptoms that presents in women of reproductive age, and is a result of hormonal imbalances.
PCOS is one of the leading causes of infertility in women of reproductive age. As such, it should not be handled with levity if found out.
PCOS can be triggered by genetic predisposition, exposure to chemicals in the environment or in-utero, excess weight, etc.
PCOS Symptoms vary from woman to woman. Also, different women have differing degrees of severity.
But with that, common symptoms and complications of PCOS can include:
Irregular periods or Infertility due to anovulation, i.e., no eggs are produced/released.
Excessive Weight gain;
Facial Hair and unwanted hair in other body parts
And skin conditions such as acne
You might want to take this free PCOS symptoms quiz to narrow down your risk of having PCOS.
An Overview of Acne
Acne is a skin condition. It can be of various types and also in varying degrees of severity. A person with acne can be seen with either whiteheads or blackheads on their face.
The acne can also show up as inflammations, with red protrusions or pustules. Some of these also are filled with fluid that can ooze out if pierced or burst.
Bursting pimples is not however recommended, as the bacteria causing it can be spread through the fluid to other parts of the skin. Also, it can lead to severe scarring if not handled with care.
Though acne is a common sign of puberty in adolescents, if it begins to stay longer than it should and nothing seems to work, then it might be presence of acne due to hormone imbalance or PCOS in specific.
Also, PCOS acne goes beyond the face. It spreads to the neck, chest, etc.
PCOS Acne: Can PCOS cause Skin Problems?
Yes! PCOS and skin problems are closely related. In fact, a number of women get PCOS diagnosis, when they start to struggle with severe acne that doesn't seem to go off!
In fact, of all women with PCOS, between 10 – 35% struggle with acne and skin breakouts.
Note though, that acne doesn't always mean there is PCOS. However, having PCOS puts you at an increased risk of hormonal acne.
Now that we've had a brief overview of both PCOS and acne, we can go further to explore the connection between them.
Hormone Imbalance in PCOS can actually affect your skin in a number of ways. Here are some examples:
Alopecia – Excessive hair loss and hair thinning
Hirustism – Unwanted hair on face, chest, and other body parts
Acanthosis nigricans – Darkening of the skin on the neck, underarms, and other body parts
Skin breakouts, acne, and pimples
These can all be traced back to hyperandrogenism. The focus of this post however is on PCOS Acne, so let's dig deeper into that!
PCOS Acne result from Hormonal Imbalances
PCOS is an hormonal imbalance, and acne can also result from hormonal imbalances. One major hormone that we can use to link up both of these conditions, that is, PCOS and acne, is androgens.
When the androgen levels are high, lots of things can happen.
1. Excessive Androgens in your blood stream
Excessive male hormones or Androgens in PCOS lead to the development of acne through a series of actions. Here's what happens:
There is excessive production of androgens by your endocrine system.
Also, there is disturbance in the mechanism of the body through which it can naturally get rid of excess hormones.
This leads to high levels of androgens in the blood stream of women with PCOS.
As if that was not enough, your body cells become more sensitive to this testosterone as it runs around the body.
This increased sensitivity also shows up in the sebaceous glands.
2. Sebaceous Glands start producing more oil and hair due to androgens
The sebaceous glands are glands associated with the hair follicles. They secrete an oily substance called sebum, which lubricates the hair follicles to keep them and the hair healthy.
Now, with an increased sensitivity to testosterone and excessive levels of the hormone, these sebaceous glands go into overdrive.
Consequently, they begin to overproduce sebum. This leaves the skin with excessive oil, which can block up the skin pores.
The excess of oil is a major precursor for acne.
3. The excessive oil makes things worse
Let's go further on this journey to understand how PCOS causes acne.
Now, the excess oil is already clogging up skin pores. In addition to that, this sebum dilutes linoleic acid.
Linoleic acid, by the way, is a chemical that assists the skin in sloughing(shedding) off dead skin cells from the surface of the skin.
With linoleic acid diluted, its function is compromised. The skin is left with excessive dead skin cells.
This combination of oiliness and accumulated dead skin cells further cement the skin pores.
The acne bacterium, propionibacterium, takes this chance giving a chance to colonize and multiply. It is this that now causes acne.
4. There's also increased inflammation in women with PCOS
Women with PCOS have higher levels of C-reactive protein (CRP). This is involved in immune responses that cause inflammation.
Inflammation is the body's way of saying, "I'm injured and trying to heal, don't touch me." With the pain and inflammation, you are forced to leave that body part untouched while it heals.
Since there are higher levels of this CRP, inflammation occurs more readily. This can serve to worsen the hormonal acne due to PCOS.
Ayurveda: exploring the relationship between PCOS and Acne
As per Ayurveda, the dosha responsible for acne depends on the type of acne.
If it is due to vata, it can be dry and raspy.
Pitta acne has fiery red protrusions that are particularly painful.
Acne that presents with swollen, pus-filled cysts is a kapha imbalance.
PCOS itself is also a problem mainly with the kapha dosha. However, other doshas also have a role to play.
These cascade of imbalances then lead to other complications, including skin conditions like acne.
Management and Prevention of PCOS Acne
It is now important to explore remedies for PCOS and acne. Here, the basic thing you want to do is to restore the androgen levels back to normal, and restore hormonal balance as a whole.
Treating the acne alone here will not work, because the acne is not the major problem. It is rather an extension of the polycystic ovarian syndrome.
In modern times, the go-to solution most of the time is to use oral contraceptives (birth control pills) to mask the symptoms. But then, that's all they do, mask the symptoms.
On the other hand, Diet and Lifestyle regulation is actually the first step in the management of PCOS Acne. So, let's explore it in detail.
Ahara – Food and Diet to manage PCOS Acne
Foods and Dietary Habits to Follow
Include a variety of fresh vegetables in both raw and cooked form.
Prefer Astringent, Sweet, and Bitter tasting vegetables, fruits, and grains. Here you can learn about the tastes of food.
Oils to prefer are Ghee, Olive Oil, and Coconut Oil.
Take salads in moderation during lunch time or morning, but avoid salads in evening.
Prefer cooling and normal temperature beverages such as coconut water, still water, and herbal teas.
Eliminate foods with a hot potency and hot temperature such as chilli and cayenne pepper.
Remove and avoid caffeine, alcohol, and nicotine.
Nutrition to support healthy skin
Magnesium – whole grain, cereals, nuts, dairy products, bananas, and chlorophyll-rich vegetables.
Calcium – dried fig, milk, and milk products, beans, pulses, seeds and nuts, cauliflower.
Vitamin D – Get enough exposure to Sunlight from morning and evening Sun. Consume Vitamin D foods like egg yolk and animal liver.
Vitamin K – Green vegetables, cereals, and animal food.
Manganese – cereals, bran, nuts, and tea. Praval Bhasma may be consumed as well.

Herbs and spices that support healthy skin
Fennel
Aloe Vera
Ashoka
Bhui Amla
Turmeric
Basil
Shatavari
Ashwagandha
Rose
Coriander
Mint
Lemongrass
Rosemary
Cardamom
Cinnamon
Foods to Avoid
Avoid excess salt, chilies, spices, sour foods, and pickles.
Reduce the use of caffeine, stimulants, refined sugar, and cold drinks.
Stop consuming junk food, and carbonated drinks.
Avoid untimely meals, multiple meals, late night foods, and snacks.
Stop the consumption of processed foods and packaged foods.
Vihara – Lifestyle Practices to manage PCOS Acne
Do not touch, squeeze, or pop the pimples.
Keep your skin clean by regularly washing it with normal temperature fresh water.
Avoid tight clothes and prefer lose fitting clothes that improve circulation.
Prefer natural fibres such as cotton and stay away from synthetic clothing.
Avoid all synthetic make-up and personal care products. Only apply natural and chemicals free products to your skin. Remember, nearly 60% of what you apply to your skin goes inside.
Avoid intense heat, hot temperatures, and excessive exposure to the hot midday Sun.
Handle stress by slowing down, enjoying, and relaxing. Be in the moment and do things for the sole purpose of joy rather than productivity.
Sleep well and maintain regular sleeping hours of 6-8 at night.
PCOS Acne can be debilitating! However, when you start to address the hormonal imbalances that cause it in the first place, you can really see improvement in your skin health.
So, get started today! And do share with us in comments on how this post has helped you. Or if you would like more information. We will get back the soonest.
Interested in learning about how to manage your Health Issues with Ayurvedic Principles, Healthy Diet, Lifestyle, and Yoga? Join Medhya's women exclusive community here.
References