The menstrual cycle is a necessary peril for female health. It brings a monthly change in her body that is often accompanied by discomforts such as pain, cramps, headaches, bloating, lack of energy and interest.
While these symptoms are frequently associated with menstruation, it is quite interesting to know that Ayurveda considers any symptoms as indications of hidden health disorders that need your attention.
Menstruation follows a regular monthly cycle for females and girls that have entered Menarche. It involves a synchronised play of multiple hormones and body systems, and it is a vital marker of female health.
Menstruation is an act of female reproductive system with which it prepares her body for potential pregnancy. Any disturbances in terms of menstrual symptoms, irregular, missed, or absent periods indicate potential health issues that need to be addressed.
Regularity and onset of Menstrual cycles, also known as Menarche begins the fertile phase of a girl's life.
Menstruation – Time to Cleanse and Rejuvenate
Regular menstrual cycle is necessary to maintain the balance of Dosha, body tissues, endocrine system, and reproductive system for females. It also indicates good health and is a sign of fertility. Females who undergo regular periods are better able to work with fertile windows and experience healthy pregnancy outcomes.
In Ayurveda, menstruation is considered to be a part of monthly cleansing for females. Menstrual blood is the waste product formed when blood tissues or Rakta Dhatu is generated from the Rasa Dhatu or Plasma Tissues. According to Ayurvedic principles, menstrual cycle allows monthly flushing of the unwanted materials and malignant tissues.
Due to the cleanse and loss of blood and energy, the female body is rendered weak. This effect is visible on body systems and body functions such as the digestive system and immunity.
In Ayurveda, menstruation is considered to be the time to rejuvenate, relax, and nurture the body and mind. For a healthy menstruation one needs to:
Avoid over stimulation of the senses
Consume fresh, nutritious, and light foods that would nourish the tissues and stimulate digestive fire
Sleep and rest well to avoid fatigue
Avoid processed, fried, and spicy foods
Engage in light and refreshing physical activity
Avoid excessive and strenuous exercises
Three Dosha for three stages of Menstrual Cycle
Each Dosha, and hence the respective energies play an important role in different phases of the monthly cycle. The dynamic forces of growth (Kapha), transformation (Pitta), and movement (Vata) guide the three stages of Menstruation.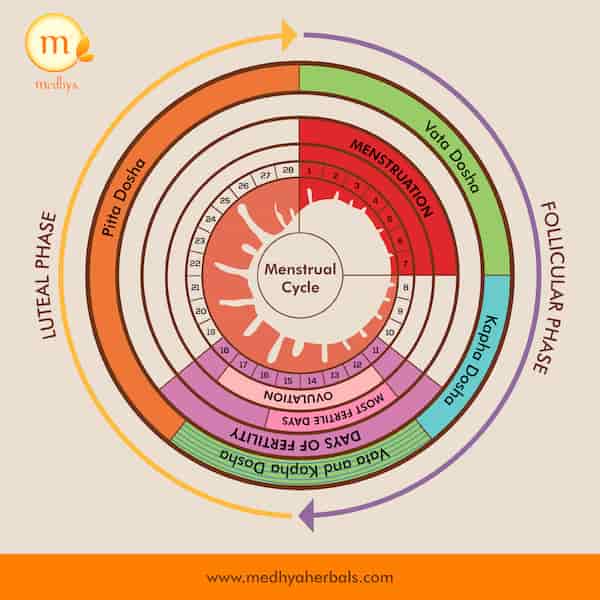 Kapha Dosha dominates the Follicular or Proliferative phase
Follicular phase is the first phase before the release of the egg. This phase starts after menstruation and lasts just before Ovulation, and is the growth phase. In this stage, the endometrium in the uterus thickens and becomes glandular.
Any imbalance in Kapha would lead to the formation of clots and mucusy layer that is not capable of performing its required function.
Pitta Dosha dominates the Ovulatory phase
Ovulatory phase follows the Follicular phase, and goes around the egg release. It starts with Ovulation and lasts just before Menstruation. In this stage, Pitta Dosha acts through the blood tissues and the endometrium becomes more engorged with blood vessels. This prepares the uterus to nurture the fertilized egg, should it come.
Any imbalance in Pitta would lead to excessive growth of the layer, and hence more than usual bleeding.
Vata Dosha dominates the Luteal phase
The secretary or the luteal phase is the last phase of the menstrual cycle after the egg release. In this stage, the uterus gets rid of the endometrium layer via the downward force of Apana Vayu – Vata Dosha, and menstrual flow is established.
Any imbalance of Vata Dosha would lead to restricted or painful flow, bloating, and PMS symptoms.
Three Dosha guide onset of Menstruation
The average age of menarche is 12 to 15 years. The first day of menstrual bleeding is the date used for the last menstrual period (LMP).
As Pitta Dosha governs the Plasma and Blood tissues, girls that have Pitta dominant Prakriti usually have an early Menarche ranging anywhere in between 9 to 12 years.
Additionally, girls that have Kapha dominant Prakriti usually have Late Menarche, ranging between 13 to 16 years.
Ayurveda – Healthy Menstruation is pain-free and Regular
Once a female has attained menarche, she will undergo monthly menstrual uterine bleeding for which average duration lies between 3-5 days. The average length of the cycle in adult females is considered to be 28 days.
Length of the cycle (days between the first day of the last period and the first day of the upcoming period) is longer at the beginning such as 21 to 45 days. However, this shortens down to 21 to 31 days once the menarche is established.
An irregular and painful menstruation is a sign of ill health of multiple body systems such as endocrine system and reproductive system. It also affects the health of multiple organs and body systems such as digestive system, cardiovascular system, fertility, and nervous system.
Following are considered to be the characteristics of healthy menstrual flow. If any of the above characteristics are missing, it is interpreted to be a sign of imbalance in Dosha.
Bright red in color, similar to a red lotus.
Does not stain clothing. If the flow stains clothes, it indicates the presence of toxins and blocked channels.
Is odorless – does not have any foul smell.
On average, the amount of the flow is four anjalees – a cup formed by closing fingers of your one hand.
Does not lead to any kind of pain, body dysfunction, and discomfort.
Menstrual Cycle in Ayurveda
In Ayurveda, menstruation is considered as a time to cleanse and rejuvenate. Menstrual cycle provides the female body an opportunity to flush out the toxins and impurities on a regular basis. Along with toxins, some amount of Ojas – purest form of energy is also lost during the menstrual cycle.
In Ayurveda, Menstrual flow is considered to be made up of Plasma and Blood tissues. These tissues are also the first ones to be exposed to any imbalance in Dosha and hence they get vitiated, leading to health issues such as cramps, anxiety, burning sensation, headaches, pain in back and abdomen, constipation, and bloating, etc.
As the whole energy of the body is channelized towards the cleanse, menstruation requires ample of rest and a nourishing diet to help the body and senses rejuvenate.
Vihara – Lifestyle Tips for Healthy Menstrual Cycle
One needs to avoid excessive physical work. Since the body lacks energy, slow down during menstruation, take rest, and indulge in nil or relaxing activities such as slow walks, balancing yoga, and pranayama. Too much physical activity vitiates Vata Dosha and is often the reason behind delayed and painful periods for athletes.
Avoid excessive talking, loud noises, and loud laughter. The primary reason behind this is again to keep the Vata Dosha in balance and also not to stress the sensory system. Mentally relaxing activities would support your rejuvenation process and allow you to get recharged after menstruation.
Avoid or do not indulge in sexual intercourse. Reason for this is to avoid vitiation of Vata Dosha, hence painful periods.
Do not sleep during the day time as it leads to vitiation of Kapha Dosha and hence makes you prone to allergies. While resting is recommended, sleeping is prohibited during the day time. This is emphasized even more for Kapha dominant females.
Follow a balanced routine that includes sleeping early (before 10 PM) and getting up early (before 6 AM). This will your natural Circadian rhythm to be in balance and also keep your Dosha in check.
Do not suppress natural urges such as urination, defecation, and sneezing. This is to avoid change in the direction flow of Vata Dosha from downward to upward.
Eat at consistent times during menstruation (although this holds true for most the days, but more during periods). Do not suppress hunger and do not overeat.
No alcohol should be consumed during menstruation. Alcohol increases both Vata and Pitta Dosha, leading to excessive dryness, pain, excessive bleeding, and burning sensation.
List of Herbs and Spices to ensure a healthy Menstrual Flow
Herbs and Spices are an integral part of the Ayurvedic Diet. They promote digestion, provide one with essential nutrients and antioxidants, and relax your senses. Following herbs and spices would support a healthy flow and pain-free menstrual cycle. They should be included in the diet during and after the menstruation, some on a regular basis and the rest during the periods.
Cardamom
Black Pepper
Cumin
Cinnamon
Saffron
Ashoka
Kachnar Guggulu
Anantmul
Carom Seeds or Leaves
Food Habits for Healthy Menstrual Cycle
Let food be your medicine and medicine be your food! This is a popular saying and one of the basic pillars of Ayurveda. A healthy and balanced diet nourishes your body and supports the vital energy of life.
Since the digestive system weakens down during menstruation, one needs to avoid cold, heavy, sour, and hot foods.
Do not consume processed foods, extremely oily, burnt or grilled foods. Avoid chili altogether.
Consume warm, unctuous, easily digestible, and lightly spiced foods.
A light diet that consists of easily digestible vegetables, grain forms, and fruits should be consumed. It should be lightly spiced up with digestion promoting spices and herbs such as cinnamon, black pepper, mint, carom seeds, ginger, and cardamom.
Do not overeat. Consume food in small portions such that they are easy to digest and do not overload the digestive system.
Use healthy fats such as ghee, mustard oil, sesame oil, and coconut oil during menstruation to prepare your meals.
Stop or reduce caffeine during menstruation. Caffeine increases Vata Dosha and Pitta Dosha. It also reduces sleep.
Reduce your salt and sugar intake. For sugar, replace it with natural sweeteners such as molasses, jaggery, and honey.
Hydrate the body well with herbal teas and concoctions during menstruation. This will nurture your body and mind and also balance the Vata Dosha. Use herbs such as Cardamom, Ginger, Fennel, Saffron, and Cinnamon. This will also kindle your digestive fire.
Ahara – Foods for a nourishing diet during Menstruation
Here is the list of some foods that you should include in your diet to stay energetic and calm.
Snake Gourd
Sweet Potato
Raw Papaya and Ripe Papaya
Raw Banana and Ripe Banana
Milk and milk products – in moderation
Green Beans
Squashes
Nuts and Seeds in moderation
Lentils and Beans – Mung Beans, Pigeon Peas, Horse Gram
Fruits as dates, apricots, peaches, mango, melon, pineapple, banana, papaya, jackfruit etc