Scanty periods, heavy bleeding, menstruation extending beyond two weeks, or spotting in between the cycles are some of the many variations of menstrual cycle in real women.
We often come across that the average length of a menstrual cycle is 28 days and that the menstrual flow lasts for 3-5 days. However, the reality is far from normal!
Stress, lack of nutrition, extreme or low physical activity are just some of the triggers that can lead to irregular menstrual cycle or even sow the seeds of a chronic health condition that needs your attention.
Specifically in modern era, today's woman is pressed at both ends. Not to mention exposure to endocrine disruptors.
And the cumulative effect of all of this is hormone imbalance and irregular periods!
This post sheds light on what is normal and what's not. Let's dive in!
Ayurvedic View of Menstrual Cycle
Ayurveda notes that a healthy menstrual cycle is characterized by a menstrual flow that lasts a few days and recurs after every few weeks (usually between 3 weeks to 5 weeks).
A regular and pain free menstrual flow signifies fertility and healthy functioning of a woman's hormones and reproductive system.
According to Ayurveda, the menstrual cycle can be split into three stages: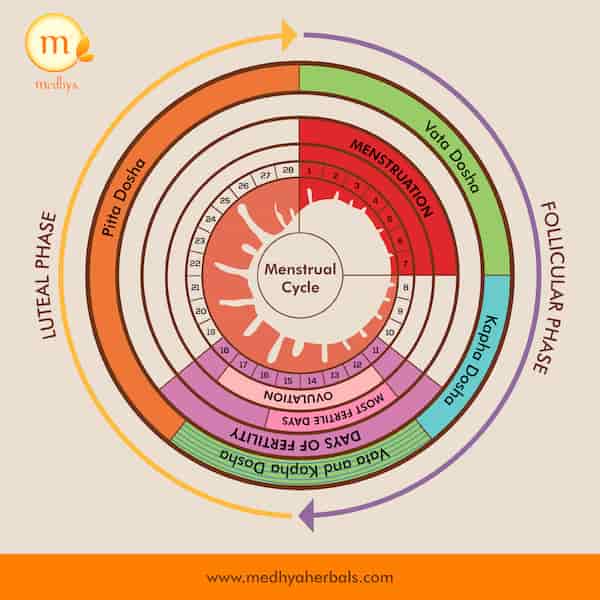 Menstrual Cycle – Vata Dosha Stage
This is the stage of menstrual bleeding. In this stage of the cycle, there may be pain, mood swings, and cramps, etc. These symptoms are even more pronounced if there is vata dosha imbalance
Growth of Uterine Lining – Kapha Dosha Stage
This is the nourishing stage. In this phase, the uterine lining is built and follicles start to grow. Imbalances in kapha dosha can lead to excessive mucus, lethargy, and water retention, etc.
Ovulation and Thickening of Uterine Lining – Pitta Dosha Stage
This stage is marked by ovulation or release of the egg and by further thickening of the uterine lining. In cases of Pitta Imbalance, one may struggle with irritability or angry outbursts, excessive heat, diarrhea, or skin outbreaks like acne.
The 3 Stages of a Menstrual Cycle: A Synchronised Play of Hormones
A menstrual cycle consists of 3 stages as described below. In this example we have taken the duration of menstrual cycle to be 28 days and assumed that ovulation happens on Day 14.
However, for majority of the women, the length of the cycle and ovulation day varies depending her body type and health status.
1. Phase 1 – Follicular Phase, when Follicles start to Mature
The first day of the menstrual cycle is marked by the first day of flow, with bright red bleeding. At the same time, the process to the next ovulation starts.
A gland in the brain (pituitary gland) releases FSH (follicle-stimulating hormone). FSH recruits 15-20 follicles (little packets containing immature eggs).
Only one of them becomes a mature egg, and it suppresses the others eventually. If two mature, you can have fraternal twins.
The follicle that is maturing produces another hormone, called estrogen. This one prepares the womb for pregnancy. It does this by thickening the endometrial layer(innermost layer of the womb), in advance of the arrival of a fertilized egg.
The estrogen in turn causes the production of GnRH ( gonadotroptin-releasing hormone). The GnRH further goes to cause the pituitary gland to secrete LH (leutenizing hormone).
With these in place, the matured egg emerges from the follicle on about day 12.
The LH also causes an increase in levels of testosterone. This hormone increases the libido.
The increased libido is well-timed with the most fertile part of the cycle, that is, ovulation.
2. Phase 2 – Ovulatory Phase, when Egg is Released
This is when the egg is released due to increasing levels of LH and FSH. The egg then enters the fallopian tube(a connecting passageway between the ovary and the uterus). It waits there to be fertilized.
If sperm is not available to fertilize the egg after 24 hours, it disintegrates. The follicle (with the egg exited) becomes the corpus luteum, which has the task of producing a hormone called progesterone.
3. Phase 3 – Luteal Phase
This is the final stage, and it only occurs if fertilization does not occur. In this case, corpus luteum no longer produces progesterone.
Therefore, the hormone's levels drop, and the endometrial lining begins to shed. This shedding is what presents as blood flowing out.
On the other hand, if fertilization does occur, corpus lutuem continues producing progesterone, and this keeps the endometrial lining of the womb from shedding. Therefore, implantation of the embryo in the uterus can occur.
To say that in English, pregnancy occurs if the egg does get fertilized. If not, there is menstrual flow.
Menstrual Cycle: What's Normal?
The menstrual cycle is a complex interplay of hormones operating in a synchronised manner. This is just an attempt to briefly summarize what happens during a menstrual cycle.
What is a normal menstrual cycle? It must be stated at this point that, what defines "normal" when speaking of menstrual cycles is actually a wide range. Each woman is unique, and each has peculiarities.
Likewise, their menstrual cycles are peculiar. What is normal for this woman may not be normal for the next woman.
The key is to note what is normal for you and watch it. If there is a wide variation in "your own" regular cycle, then that change is not normal.
With that said, let's go on to see what a normal cycle is.
The length of your Menstrual Cycle depends on your Body Type
Your cycle length varies per your Prakriti or body type. Also, your menstrual cycle is not always the same length, it varies depending on the season, and it also changes with any health imbalances.
Vata Body Type: usually have a longer or irregular cycle.
Pitta Body Type: usually have a shorter cycle with heavy flow.
Kapha Body Type: usually have a regular cycle without much inconvenience.
The length of a normal menstrual cycle ranges from 21 days to 35 days
This length of the menstrual cycle is calculated as the first day of the last menstrual period (when you had red colored flow) to the first day of the next period (again red colored flow).
You should track yours over three months to learn more about your cycle length and to detect abnormalities if any.
The average length of the menstrual cycle is 28 days, around 4 weeks. Since, every woman has a unique built, so is the menstrual cycle.
For majority of the women, who go through a healthy menstrual cycle, it can range from anywhere between 21 days, 3 weeks to 35 days, 5 weeks.
While one has a variable length of the cycle, it should always fall in the range of 21 days to 35 days, for it to be considered healthy.
If you have shorter than 21 days or longer than 35 days on a consistent basis, then you should see a Doctor.
The length of a normal period of flow varies from 2 to 8 days
Don't confuse the length of the menstrual cycle and that of the menstrual period. The cycle lasts from one period of flow to the other, as defined above.
On the other hand, a period is the actual phase of menstrual flow. It is the stage when you experience bleeding.
A normal period lasts for an average of 5 days, with an allowance of 3 days, plus or minus. That is to say, the length of a normal period is between 2 – 8 days.
Normal intensity or rate of bleeding during a menstrual period
Bleeding can vary in intensity from woman to woman again. However, ideally, a rate of bleeding that requires you to use 3 pads/day is considered normal, with an allowance of 2 pads/day, plus or minus.
Again, that is to say that using between 1-5 pads/day during your period is normal, and you have nothing to worry about if this is the case with you.
Caution: Normal is Not Always Normal!
To reiterate for emphasis, "normal" here is used very loosely. Let's study Miss Jane and Miss Aisha.
Miss Jane and Miss Aisha both had periods lasting for 6 days this month.
For Miss Jane, her periods lasted for 6 days last month and the month before that. She also had 6 days this month. Thus, she has had a "normal" period.
On the other hand, Miss Aisha had her period last for 4 days last month and the month before that. Now, she has had 6 days this month. While 6 days is still within the range of a normal period, for Miss Aisha, it is not normal. She bled for two days longer than usual. Something is not right, and she should get it checked out.
What is considered to be an Irregular Period?
Just as what's normal is in a wide range, so also is what's abnormal. We can say anything out of the ranges stated above falls to the abnormal.
Take note that irregular period is often common among women of early reproductive ages (in Menarche) or late reproductive ages (approaching menopause). However, variation in women of mid-reproductive age is yet unclear.
Here are some of the ways in which period is considered to irregular:
1. Amenorrhea or Absence of Menstrual Flow
This is a condition in which there is outright absence of menstruation, even through the woman is in her reproductive years. Loss of menstrual flow either due to health condition or temporary health imbalance can lead to Amenorrhea.
It is not the same as Menopause, which is complete cessation of menstrual cycle beyond the reproductive age, at about 45-50 years.
Secondary Amenorrhoea is declared when when there is no menstruation for 6 months and there is no pregnancy either. It happens due to underlying imbalances and not due to a health condition.
2. Oligomenorrhea or Extremely Long Menstrual Cycle
This a when the menstrual cycle is longer that normal. That is, the cycle lasts for more than 35 days. To put it another day, it is not until after 35 days before the cycle repeats. This is beyond usual.
3. Polymenorrhea or Extremely Short Menstrual Cycle
Polymenorrhoea is opposite to oligomenorrhoea. In polymenorrhoea, the menstrual cycle is shorter than 21 days. In other words, there is menstruation more than once withing 21 days or three weeks. This is shorter than the normal range.
4. Hypomenorrhea or Light Menstrual Flow
This one involves the period, and not the whole cycle. It is characterized by period that lasts for less than 2 days with little blood. The blood flow is so light that during the period, there's only a need for 1 pad/day or even less.
5. Menorrhagia or Heavy Menstrual Flow
Menorrhagia is quite the opposite to hypomenorrhoea. It is characterized by flow lasting for longer than 8 days. The flow is so heavy that it requires 5 pads/day, or more. There might also be blood clumps that come out with the heavy flow of blood.
While there can usually be some degree of pain and cramping during menstruation, with dysmenorrhea, it is especially painful.
There is spasmodic pain in the first two days, which can be felt in the lower abdomen and is radiating to the legs.
Abnormal menstrual Cycle – Causes and Natural Remedies
This table below summarizes some of the symptoms of irregular periods and natural remedies to find relief:
S/N
Symptoms
Causes
Remedies
1
Brown, spotty stains
Old oxidized blood that remain in uterus from last cycle due to low progesterone levels
Get progesterone levels back up by:

1. Herbs such as Vitex and Shatavari. These help the pituitary gland make more luteinizing hormone to support progesterone.

2. Eat foods rich in Progesterone. Some examples are egg yolks, seeds, sea weed, spirulina, and banana flower.

3. Increase your intake of B Vitamins such as Folic Acid, B12, and Healthy fatty acids.
2
Heavy bleeding with clots (Menorrhagia)
Excess estrogen that builds up excessive endometrial lining.
1. Aloe vera to detoxify liver so it can help break down excess estrogen.

2. Uterine massage to decongest uterus and reduce clotting.

3. Staying hydrated.

4. Eating leafy greens.
3
Short periods with light bleeding (Hypomenorrhea)
Low estrogen due to nutrient deficiencies or adrenal burnout
1. Eat proteins to build up estrogen.

2. Eat diet containing omega 3 fats.
4
Short cycles (Polymenorrhoea)
Poorly functioning thyroid glands leading to low thyroxine levels.
1. Eat iodized-salt to get the thyroid hormone levels up.

2. Take sea veggies as they are a good source of thyroxine.
Interested in learning about how to manage your Health Issues with Ayurvedic Principles, Healthy Diet, Lifestyle, and Yoga? Join Medhya's women exclusive community here.
Do write to us for any queries, comments, and feedback. We will try to get back the soonest we can!
References
Normal Menstrual Flow and the Control of Ovulation
Normal Menstrual Flow