Zinc Deficiency can hamper the growth, organ function, and functioning of vital body systems. Zinc is an essential micronutrient and Mineral for the human body. It is widely present inside our body systems in the enzymes and metal-proteins.
What You'll Learn | Click on Topic to Go There
Interesting Facts about Zinc
It plays an important role in cell growth, differentiation and metabolism.
More than 300 enzymes are dependent on Zinc.
Zinc is important for the structure of proteins and cell membranes.
It is important in gene expression.
Zinc is vital for proper functioning of the immune system. It stimulates our immune to defend against bacteria and harmful pathogens.
Health Benefits of Zinc
Prevents Pneumonia
Studies show that supplementation of Zinc in children leads to reduction in the prevalence of pneumonia in developing countries.
Prevents Metabolic disorders
Studies show that Zinc might be beneficial in controlling metabolic disorders like obesity and insulin resistance in children.
Prevents HIV
Studies show that daily administration of Zinc enhances the immunity and reduces the infection with opportunistic bacteria in AIDS patients.
Prevents Atherosclerosis
Administration of Zinc has beneficial effect in the treatment of inflammation and atherosclerosis.
Low zinc levels were observed in children of parents with premature atherosclerosis.
Prevents Age-related vision problems
Macular degeneration can lead to blindness in elderly. Macula is part of retina that is responsible for central vision. As age increases, Zinc deficiency occurs. Thus enzymes dependent on Zinc in the macula are affected.
Studies indicate that Zinc supplementation or increased intake of Zinc food sources can help to prevent the condition.
Recommended Dietary Requirement (RDA) for Zinc
| | |
| --- | --- |
| Age | Requirement (mg/day) |
| 0-6 months | 2 |
| 7 – 12 months | 3 |
| 1 – 3 years | 3 |
| 4 – 8 years | 5 |
| 9 – 13 years | 8 |
| 14 – 18 years Male | 11 |
| 14 – 18 years Female | 9 |
| ≥ 19 years Male | 11 |
| ≥ 19 years Female | 8 |
| Pregnancy ≤ 18 years | 12 |
| Pregnancy > 19 years | 11 |
| Lactating woman ≤ 18 years | 13 |
| Lactating woman > 19 years | 12 |
Zinc Absorprtion and Balance
Zinc is liberated from food as free ions during the digestion process. Then, it binds with other chemicals before it arrives in the small intestine. The absorption of Zinc from the small intestine is dependent on its concentration in foods.
Studies show that Zinc-deprived humans absorb this element with increased efficiency, while humans on a high-zinc diet show a reduced efficiency of absorption.
When it is absorbed, about 70% of it is bound to albumin protein. So, any disturbance in albumin in blood will affect Zinc. Half of Zinc is excreted in faeces. The remaining is excreted in urine and through skin, hair and sweat.
Diet Tips and Zinc Rich Foods to Naturally Raise Your Zinc Levels
Meats and animal based Zinc rich foods
Zinc bioavailability (the fraction of zinc retained and used by the body) is relatively high in animal based zinc foods. This is because, animal based foods contain amino acids (cysteine and methionine) that improve zinc absorption.
Some examples are:
Seafood such as Shellfish,
Red meats as beef and liver.
Eggs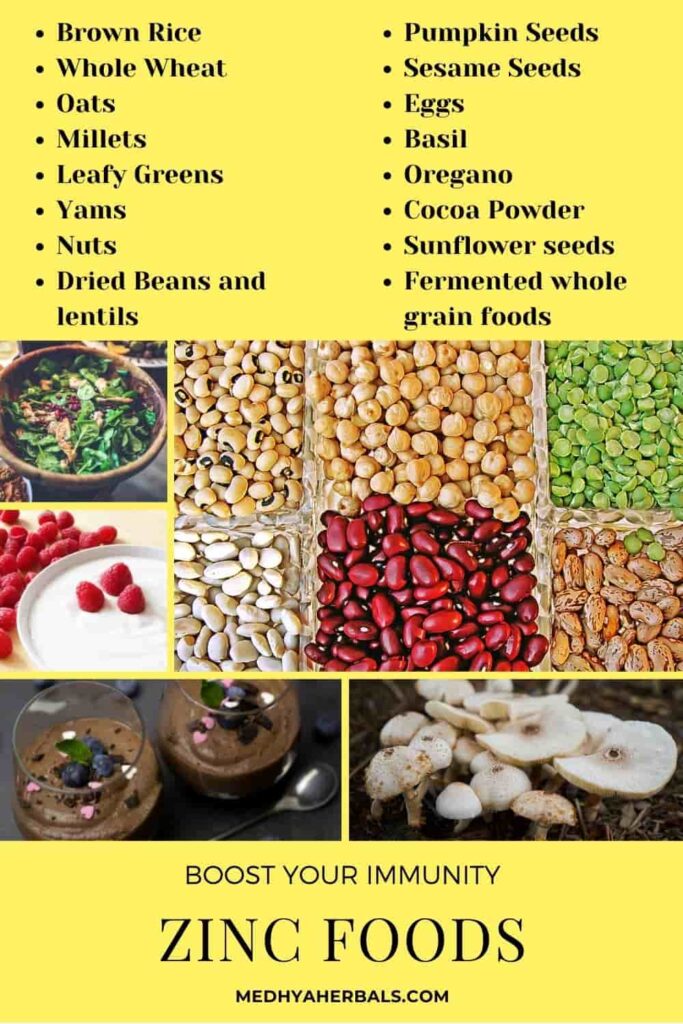 Top Plant Based Zinc rich foods
The zinc in whole grain foods and plant proteins is less bio available. This is due to high content of phytic acid in these foods. Phytic acid reduces zinc absorption in the body.
That's make sure that whole grains are properly cooked or sprouted to reduce the effect of phytic acid.
Brown Rice
Whole Wheat
Oats
Millets
Dried Beans and lentils
Leafy Greens
Yams
Nuts
Sunflower seeds
Pumpkin Seeds
Sesame Seeds
Fermented whole grain foods
Basil
Oregano
Cocoa Powder
Dietary Tip: 4 tablespoons of sesame seeds, or pumpkin seeds, or 2 cups of sprouted beans will cover your daily requirement for Zinc.
Zinc Deficiency
Low levels of zinc in the body can severely affect the functioning of several body systems such as skin, digestive system, nervous system, immunity and fertility.
Zinc deficiency can affect growth especially in infants and children.
Causes of Low Zinc Levels in the Body
Inadequate dietary intake, as high cereals and legumes intake with less meat intake.
Malabsorption as in case of inflammatory bowel syndrome.
Increased fecal excretion of Zinc as in diarrhea.
Infections can decrease Zinc concentration in blood.
Genetic disorders as acrodermatitis enteropathica where impaired Zinc absorption and uptake occur. It is characterized by diarrhea.
Symptoms of Zinc Deficiency
In general, clinical manifestations of zinc deficiency vary with age:
In early infancy, diarrhea is a prominent symptom.
Zinc deficiency also leads to impaired cognitive function, behavioral problems, impaired memory, learning disability, and neuronal atrophy in babies and children.
Skin problems become more frequent as the child grows older.
Alopecia, growth retardation and recurrent infections are common in school-age children.
Chronic non-healing skin ulcers and also recurrent infections are common among the elderly.
High risk groups for Low Zinc Levels
Infants and children: due to high rate of growth.

In the first 5-6 months of life, an infant can get adequate Zinc intake from his mother's milk if she is well-nourished with Zinc.
After this time, introducing of food which is with low Zinc as cereals causes the problem of Zinc deficiency.
Zinc requirement for malnourished children is estimated to be higher than normal children, between 2mg/Kg and 4mg/Kg.

Adolescents: highest due to growth spurt

The physiological requirements for zinc peak during adolescence at the time of the pubertal growth spurt, which generally occurs in girls between 10 years and 15 years and in boys between 12 years and 15 years.
Even after the growth spurt has ceased, adolescents may require additional zinc to replenish depleted tissue zinc pools.

Pregnant and Lactating women: need more Zinc demands.
Elderly: as absorption problems occur by age. Also, consumption of red meat is decreased.
Others: Alcoholics and people with chronic renal disease have Zinc deficiency.
Solutions for Zinc deficiency
Supplementation
In cases of diarrhea, supplementation of Zinc for 14 days, 10 mg/day for children under 3 years and 20 mg for older children is recommended.
Zinc supplements found in form of sulphate, gluconate and acetate.
In cases of anemia and other micronutrients deficiency, Zinc supplementation is 5 mg/day for children between 7 months and 3 years and 10 mg/day for older children.
Fortification
Zinc is added as Zinc sulphate (which is expensive) or Zinc Oxide. The absorption of both showed to be similar.
Fortification of infants' milk formula with Zinc as 1mg/Liter
Also, in food as in flour, it is suggested that Zinc can be added in range of 30-70 mg per kg.
Bio-fortification
It differs from fortification as it intends to increase the concentration of Zinc in the growing plants as wheat, maize and rice.
Adding Zinc fertilizers, in the form of Zinc sulphate as it is more soluble and can increase Zinc phytoavailability in the soil, thus increase the cultivation of plants enriched with Zinc.
Interaction of Zinc and other nutrients
Phytic Acid
It is a major inhibitor of Zinc. Phytic Acid is found in legumes and cereals. It contains high-density negative charge phosphates and forms insoluble complex with Zinc, so it decreases Zinc absorption.
Some studies suggest consuming calcium is beneficial to prevent this insoluble complex to occur.
Techniques such as soaking, germination, and fermentation promote enzymatic hydrolysis of phytic acid in whole grain cereals and legumes by enhancing the activity of endogenous or exogenous phytase enzyme.
Also, non-enzymatic methods such as milling have been successful in reducing phytic acid content in plant-based staples.
Iron
High concentrations of iron in watery solutions can decrease Zinc absorption. Some studies show that iron fortification of solid food as bread does not affect Zinc absorption.
Proteins
Proteins have a positive effect on Zinc absorption. Consumption of animal proteins (e.g., beef, eggs and cheese) improve the bioavailability of zinc from plant food sources.
Copper
High Zinc intake (50mg/day) for long period can decrease the absorption of copper as it enhances the synthesis of metallothionein. This protein traps copper and hinders its absorption from small intestine.
References